Naulakha (Rudyard Kipling House)
Introduction
The only property conceived and built by preeminent English author and Noble Laurette, Rudyard Kipling, Naulakha was completed in 1893. The property was named after a book about a precious Indian jewel co-authored with Kipling's friend, Wolcott Balestier, brother of his future wife. It was at Naulakha that Kipling wrote some of his better-known works, to include The Jungle Book, Captain Courageous, The Day's Work, and The Seven Seas. The Kipling family lived there until a dispute with his brother-in-law ended their idyllic existence in 1896, when they returned to England. The property sat largely abandoned for 50 years until it was sold to the Landmark Trust in 1992. It was designated a National Historic Landmark in 1993 and is now available for vacation rentals and for tours when not otherwise engaged.
Images
The front of Naulakha. Notice that the door to the home is located in the rear due to Kipling's desire for privacy.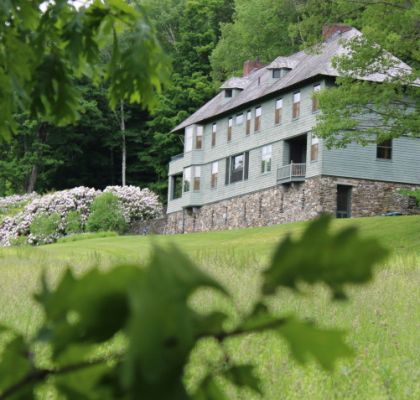 From this angle, it is apparent why Kipling sometimes referred to Naulakha as his "ship."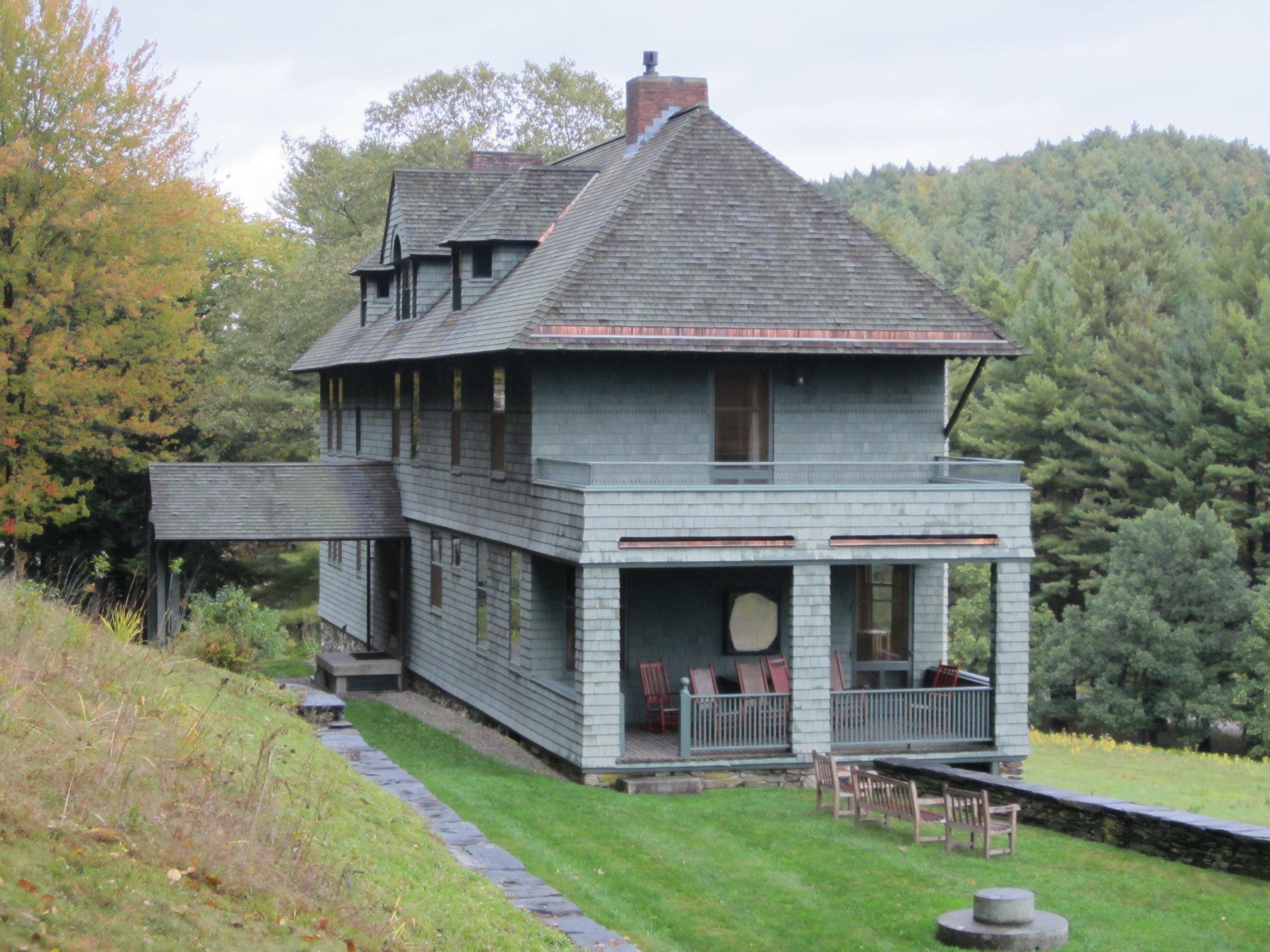 An interior shot of Naulakha.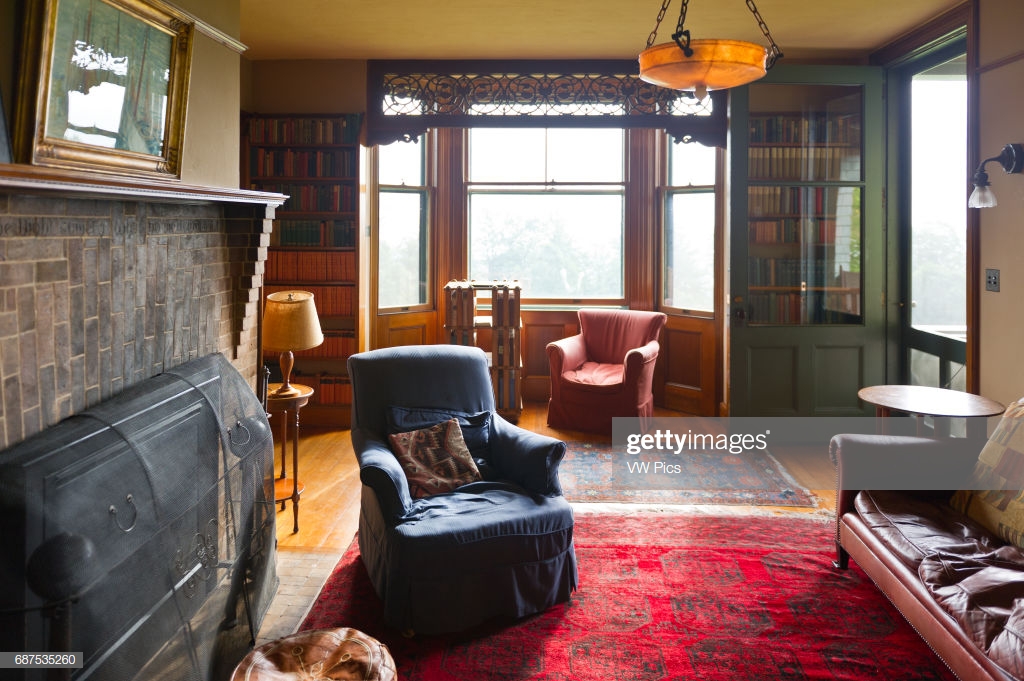 Kipling in his study at Naulakha.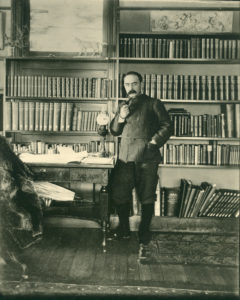 A "before and after" shot of Kipling's study.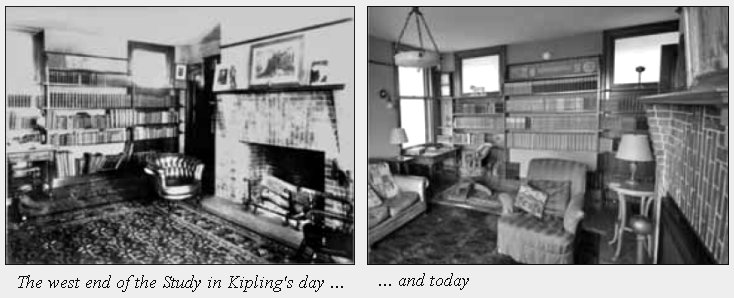 Backstory and Context
Born in 1865 in Bombay, India to English parents, Rudyard Kipling was educated at an English boarding school prior to returning to India in 1882. He worked, for a time, as an assistant newspaper editor and began to write poems and short stories. He later returned to England, in 1889, via a trip across Asia, Japan and the United States, where he met, briefly, with Mark Twain. It was in London where he met an American author and publishing agent, Wolcott Balestier. Through Wolcott, Kipling met his sister, Caroline Starr Balestier, and the two married in early 1892, shortly after the untimely death of Wolcott.
The couple honeymooned with the Balestier family in Battleboro, Vermont prior to heading across the U.S. and then to Japan. They were forced to return to Vermont soon after their bank failed, taking their finances with it. Kipling came to enjoy the natural beauty and isolation of the sparsely populated area, and purchased eleven acres from his brother-in-law, Beatty Balestier. It was on this land that he built Naulakha.
With a great deal of input from Kipling, Henry Rutgers Marshall designed a simplistic 2.5-story American shingle structure with Indian bungalow influences. Kipling often referred to it as his "ship" as it resembled both a Mississippi riverboat and a Kashmiri houseboat. While Naulakha was being built, the Kiplings rented a nearby cottage where their first child, Josephine, was born and where he began work on The Jungle Book. When Naulakha was completed, it was as simple on the interior as the exterior and offered stunning views of the Connecticut River Valley and Mount Monadnock. It also offered something Kipling prized above almost all else, privacy.
The property also contained a tennis court and carriage barn and Kipling spent his days, aside from writing, hiking and snowshoeing the nearby hills, golfing, landscaping his property and entertaining guests, such as Arthur Conan Doyle, who presented Kipling with a set of downhill skis. After four short years of contented living, Kipling's brother-in-law was reported to have threatened his life and Kipling filed charges, unwittingly opening his life to unwanted publicity. Rather than deal with the intrusions, the Kipling family headed back to England in 1896. Their attempt to return in 1899 was thwarted by an outbreak of pneumonia which took Kipling's daughter, Josephine. The family never returned to Vermont.
As for Naulakha, the Kiplings sold it to a family friend, Mary Cabot, in 1903. It was eventually acquired by the Holbrook family and abandoned from 1942 until 1992 when it was sold to the Landmark Trust. The Trust restored it to its late-19th century appearance and left many of Kipling's possessions, left when he returned to England, in place. Naulakha also contains a small museum devoted to Kipling's time spent in Vermont. It is now available for rental from the Landmark Trust and for tours when not occupied.           
Sources
Guyon, Anne. "Where Kipling Reared Mowgli (in Vermont)." New York Times. March 18, 2010. Accessed August 16, 2019. https://www.nytimes.com/2010/03/19/travel/escapes/19kipling.html
Tansey, David. " Naulakha National Register of Historic Places Nomination Form." United States Department of the Interior/National Park Service. April, 1993. Accessed August 16, 2019. https://npgallery.nps.gov/NRHP/GetAsset/NHLS/79000231_text
Kipling, Mike. "Naulakha after Kipling." Kipling Society. September, 2015. Accessed August 16, 2019. http://www.kiplingsociety.co.uk/rg_afterkipling.htm
Faher, Mike. "Naulakha still going strong." Brattleboro Reformer. May 22, 2012. Accessed August 16, 2019. https://www.reformer.com/stories/naulakha-still-going-strong,252732
Biogrpahy.com Editors. "Rudyard Kipling Biography. Biography. April 27, 2017. Accessed August 16, 2017. https://www.biography.com/writer/rudyard-kipling
Additional Information