Mercer County War Museum
Introduction
The Mercer County War Museum is open Monday through Friday from 10:00 AM to 4:00 PM. This museum is dedicated to the men and women from Mercer County who served in the United States military. They have been in the business of honoring Mercer County's veterans since 1997. The museum includes all of the wars and names of Mercer County soldiers. Pictures and displays are available inside the museum and their website includes some pictures, videos, and information.
Images
Those Who Served Plaque at entrance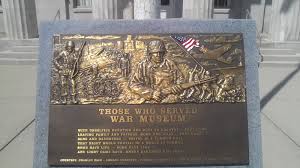 Display at Mercer County War Museum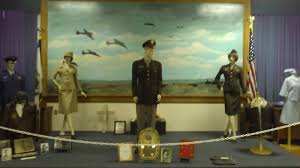 Backstory and Context
Mercer County War Museum is located in Princeton, WV. What is significant about this museum is the way they recognize and honor members of the United States Military. Many people may visit to learn more about the wars, soldiers of Mercer County, and soldiers of other areas. This Mercer County War Museum shows a lot of information through displays, pictures, and videos. The learning experience through this museum is outstanding.
Those who visit the Mercer County War Museum may expect to see artifacts from early wars like the Civil War to modern day wars. One room of the museum is dedicated to artifacts from multiple wars and information on the wars. This room shows the type of uniforms different branches and ranks of the military wore. Many pictures hanging on the walls or in cases show the area of the war, the way life was, and the equipment used. There is also different types of equipment and items that were used on display with information of what they are and what they do.
Another interesting room of the museum is the "Those Who Served" Memorial room. This room is made up of many different displays showing the men and women who served their country. The displays are separated the name of the war. Within each war there are the names of the soldiers who served and pictures of them or pictures of the war. This room and the displays within were made specifically to honor the men and women who served and is an important part of this museum. There is a lot of interesting details and information to learn about in this museum and the best part is admission is free.




Sources
"Those Who Served Museum," accessed November 2, 2014, https://thosewhoserved.shutterfly.com/ "Travel to Princeton," accessed November 2, 2014, http://www.wvliving.com/Spring-2014/Travel-to-Princeton/ "Historic Sites," accessed November 2, 2014, http://mobile.mobiq.mobi/MercerCounty/historic-sites
Additional Information