Books at Fair Oaks
Introduction
According to Sylvia Render, prominent businessman Dr. Edward J. Lilly (1813-1890) "let Charles enjoy what was considered the finest collection [of books] in the community-most of it imported from England and Scotland" (19). Dr. Lilly's home still stands today on Morganton Road almost directly across from the former site of Confederate statue at the intersection of East and West Dobbin.
Images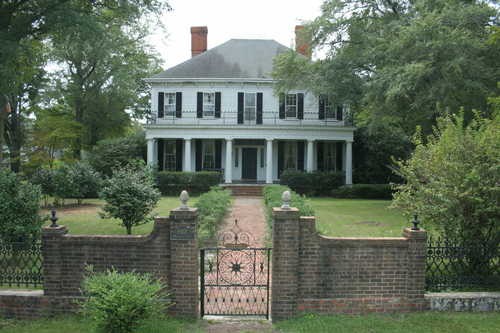 Backstory and Context
Also known as "Fair Oaks", the home was built in 1858 and was occupied by the Federal Army during Sherman's time in Fayetteville in 1865 ("Fair Oaks"). The house is located less than a mile from the site of the arsenal which was destroyed during Sherman's occupation.
According to the Fayetteville Area Convention and Visitor's Bureau: "During General Sherman's occupation of Fayetteville in 1865 some of the Union troops camped on the grounds. A silver tray bearing the bullet holes of Sherman's soldiers, who used the tray for target practice, still remains in the Lilly family."
The home is currently a private residence so it can only be viewed from the street. There's very little parking available in the nearby area.
Another view of the home can be seen from Lilly Drive (named after Dr. Lilly) which runs parallel to Morganton Road along the southern side of the property. The outbuildings are viewable from this area.
Sources
"Fair Oaks." Fayetteville History Tour, 2014, http://fayettevillehistorytour.com/fair-oaks/.
Render, Sylvia. Charles W. Chesnutt. Twayne Publishers, 1980.
"Stop 29: Fair Oaks House." Visit Fayetteville NC, 2019, https://www.visitfayettevillenc.com/listing/stop-29%3a-fair-oaks-house/4204/.
Additional Information