Carroll Mansion
Introduction
Carroll Mansion earned its name and place in Baltimore history because of its most famous resident, Charles Carroll. Carroll is best known for being the last surviving signer of the Declaration of Independence, but he was also a Maryland native who served his state as a politician and as a philanthropist. After Carroll's family sold the residence, it went though a series of owners and usages, including being a saloon and tenement home to immigrants. Finally, Carroll Mansion was restored to its original 19th century appearance and opened for tours to those fascinated by the history of Charles Carroll and the mansion that carries his name. Today, Carroll Mansion is available to tour on the weekends and can be rented for special events.
Images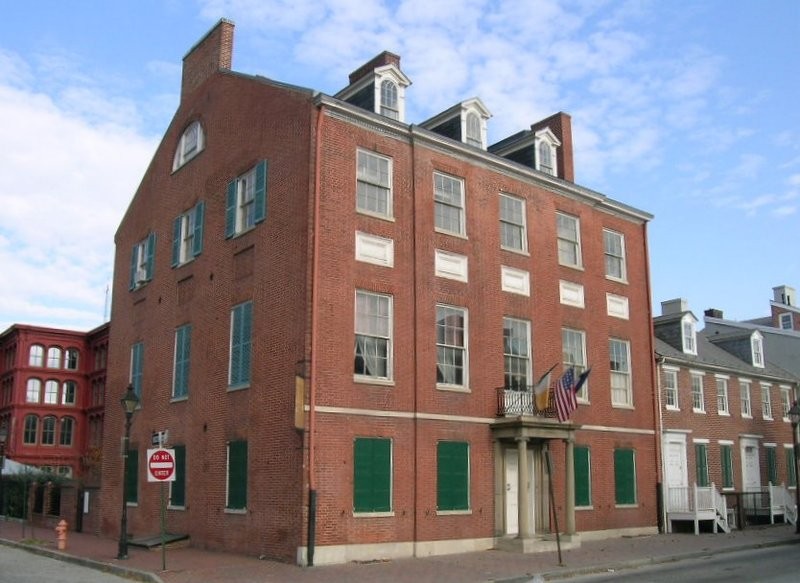 The Carroll Mansion as it would have appeared in the early 1800s.
The Terrace Area at The Carroll Mansion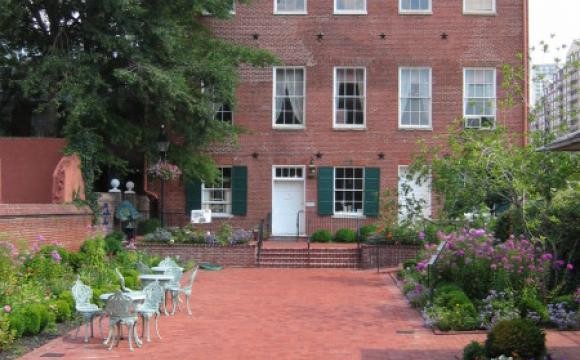 Backstory and Context
The Carroll Mansion is famously linked to Charles Carroll (1737-1832), the last surviving signer of the Declaration of Independence. A Maryland native, Carroll was elected to represent the colony at the Continental Congress in July 1776. After making history as the sole Catholic signer of the Declaration, Carroll returned to the now state of Maryland and was a co-creator of Maryland's Constitution. Carroll went on to serve in both the U.S. Senate and the Maryland Senate until opting to focus primarily on serving his state. After losing his reelection in 1800, Carroll retired from politics but remained active in Baltimore, becoming a founding director of B&O Railroad and establishing the First and Second National Banks.1

The home that would come to bear the name of its most famous resident had a rich history before Carroll's family purchased it and after they sold it. The first structure to stand on the property was built in the first decade of the 1800s. In 1811, Christopher Deshon purchased the house and made extensive renovations before selling it to Richard Caton and his wife Mary in 1818. Mary Caton was the daughter of Charles Carroll, who spent many winters at his daughter's home and brought in numerous prominent guests. Carroll passed away in the mansion that carries his name in 1832 at the age of 95. Richard and Mary continued to live in Carroll Mansion until their own deaths and their youngest daughter, Emily, took ownership of the family home.2

In 1856, Emily deeded Carroll Mansion to the Sisters of Mercy, who rented it out to a series of tenants including a liquor distributor and a restaurateur who ran a saloon at the home. By the 1890s, Carroll Mansion was being rented out as tenements for immigrants. One tenant, Dr. Samuel Niestadt from Russia, lived in Carroll Mansion as a boy and provided tours of the home to make some extra money, regaling visitors with legendary stories about Charles Carroll. After serving as tenement apartments, Carroll Mansion was turned into sweat shops used by tailoring firms.2

Throughout the 1900s, Baltimore was indecisive on how to best use and preserve the history of Carroll Mansion. First there was discussion of turning it into a museum, but those plans fell through. Then it was used as a vocational school for over a decade. In 1935, Baltimore received a $27,000 grant from the Works Progress Administration to restore the house as a recreation center run by the Department of Parks and Recreation. In the early 1960s, Mayor Theodore McKeldin requested Carroll Mansion be restored to its original appearance and be opened to the public for touring.2 Carroll Mansion is now operated by Carroll Museums, Inc. and is finally recognized for being a historical treasure in Baltimore.

Sources
1. Charles Carroll of Carrollton. Carroll Museums. Accessed August 12, 2019. https://www.carrollmuseums.org/explore/charles-carroll-of-carrollton/.

2. Carroll Mansion. Carroll Museums. Accessed August 12, 2019. https://www.carrollmuseums.org/explore/carroll-mansion/.


Additional Information