Coite–Hubbard House
Introduction
Constructed in 1856, this Italianate house is now the residence of the president of Wesleyan University. It was built by Gabriel Coite, who worked in New York for decades before retiring to Connecticut and becoming a state senator and treasurer. Coite sold the house to Jane Miles Hubbard in 1863, and in 1904, it was purchased by Wesleyan University.
Images
Coite–Hubbard House dates to 1856.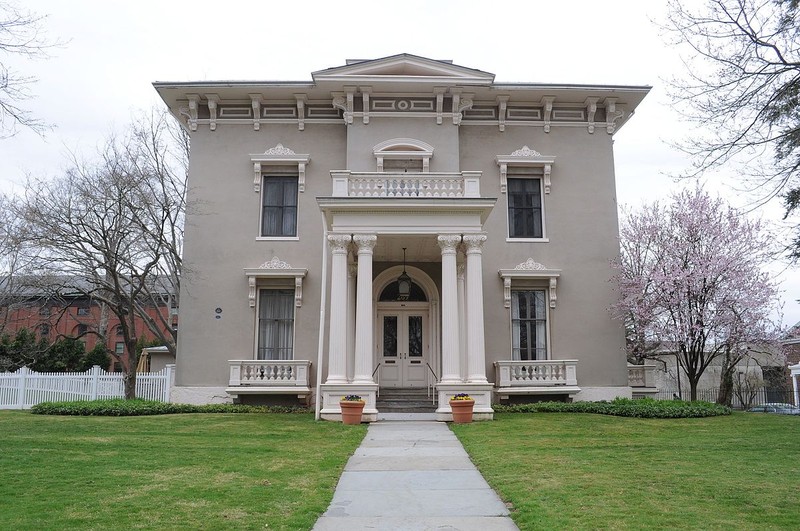 Backstory and Context
Located on the Wesleyan University campus in Middletown, Connecticut, this large historic home was built in the Italianate style that was popular in the mid-19th century. Distinctive design features include Renaissance Revival elements at the windows, a cupola, stucco-covered walls, a bracketed roof overhang, and a front portico that was built as a porte-cochère. The house interior boasts detailed plaster moldings and cornices, and each room contains a marble fireplace surround (three of which have been removed). 
By the 1960s, the building was in such a poor state of repair that university officials considered choosing a new location for the President's residence. After deliberation, however, they decided to renovate the historic house, adding steel beams to improve structural integrity, installing modern updates such as air conditioning, and redoing the stucco.
David Ransom, who researched this property for its National Register of Historic Places nomination form, sums up the Coite-Hubbard House's significance as follows:
The exquisite decorative detail and fine proportions of the Coite-Hubbard House, both inside and out, make it an outstanding example of the Italianate style that was fashionable in the mid-19th century. The house today dominates the neighborhood from its fine site as it did a century and a quarter ago, an imposing, skillfully executed, and pretentious example of the building arts of mid- 19th century.
Before the construction of this house in 1856, pistol manufacturer Simeon North lived on the property. North is known for coming up with the idea of interchangeable parts at the same time as Eli Whitney. In 1855, North's descendants sold the property to Gabriel W. Coite. The former house must have been either moved or demolished to allow for the construction of a new house on the land.
Born in Pennsylvania in 1810, Gabriel Coite conducted business in New York for around two decades before moving to Middletown (in 1853) and becoming a State Senator (1860) and then State Treasurer (1862). Coite had the present house built shortly after moving to Middletown, and he sold it to Jane Miles Hubbard in 1863. Hubbard and her servants lived in the large house; she was a well-known Middletown resident and widow of Samuel Hubbard, a former Congress member and Postmaster General under President Fillmore. 
The Wesleyan Board of Trustees had the opportunity to purchase the Coite-Hubbard House for $30,000 in 1904. Since then, the house has been the official residence of the Wesleyan University President. 
Sources
"The Gabriel Coite House, Middletown, CT" The Picturesque Style: Italianate Architecture. August 9th 2013. Accessed December 9th 2019. http://picturesqueitalianatearchitecture.blogspot.com/2013/08/the-gabriel-coite-house-middletown-ct.html.
Hubbard, Robert, Kathleen Hubbard, and the Middlesex County Historical Society. Images of America: Middletown. Charleston, SC. Arcadia, 2009.
Ransom, David. "Coite-Hubbard House." National Register of Historic Places Inventory--Nomination Form. U.S. Dept. of the Interior, National Park Service. June 05, 1978. Accessed August 10, 2019. https://npgallery.nps.gov/NRHP/GetAsset/NRHP/78002846_text.
Image 1: https://commons.wikimedia.org/wiki/File:Wesleyan_University_-_President%27s_House_01.jpg
Additional Information