Andrew Jackson Chesnutt's Grocery
Introduction
Andrew Jackson Chesnutt, the father of author Charles Chesnutt, returned to Fayetteville from Ohio in 1866 and set up "business in a grocery store in Gillespie Street between the Market House and Russell Street" (Helen Chesnutt 4). As of the publication of an 1885 Sanborn Fire Insurance map, most of Gillespie Street between Franklin and Russell Streets was either vacant or occupied by livery stables, so it stands to reason that the grocery store existed between the Market House and Franklin Street.
Images
Market Square and Gillespie Street in March 1885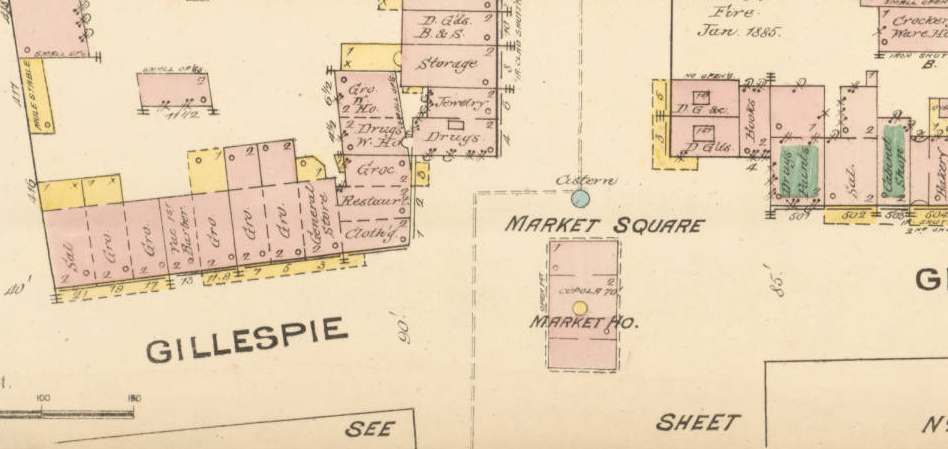 Backstory and Context
The grocery store would have been located in this general area, though an exact location isn't known.
According to Sylvia Render, Charles helped in the grocery store each day after school while absorbing the conversations of the customers (18).
In 1871 Charles' mother died after a long decline in health. Within a year the store failed because of Andrew Chesnutt's "too generous credit practices (Render 18). 
Sources
Chesnutt, Helen M. Charles W. Chesnutt: Pioneer of the Color Line. University of North Carolina Press, 1952.
Render, Sylvia. Charles W. Chesnutt. Twayne Publishers, 1980.
Image Sources
https://dc.lib.unc.edu/cdm/compoundobject/collection/ncmaps/id/5097/rec/9

Additional Information