USS Laffey (DD-724)
Introduction
Now anchored in Charleston Harbor in South Carolina, the USS Laffey (DD-724) supported the Allied landings at Normandy, fought in the Pacific during World War II, supported atomic bomb testing and fought in the Korean War.
Images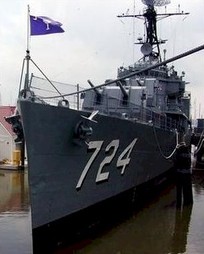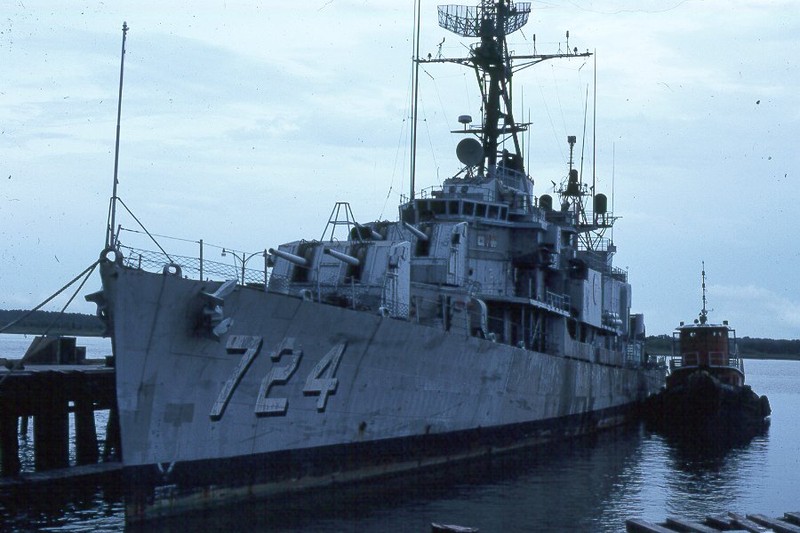 Backstory and Context
The USS Laffey is one of three naval ships located at Patriots Point on Charleston Harbor in Mt. Pleasant, SC. Visitors may tour the entire ship and see how the Laffey's sailors lived and worked.
The Laffey, an Allen M. Sumner Class destroyer was commissioned on Feb. 8, 1944, and named in honor of the USS Laffey (DD-459), which was sunk during the Battle of Gaudalcanal (Nov. 1942). The Laffey name is derived from a Civil War Medal of Honor winner, U.S. Navy Seaman Bartlett Laffey.
Seaman Laffey, a native of Ireland, joined the U.S. Navy in 1862 and served aboard the stern wheel gunboat USS Marmora. He was awarded the Medal of Honor for actions in defense of Union troops during an attack by Confederate forces at Yazoo City, Mississippi. Seaman Laffey's citation reads, "The President of the United States of America, in the name of Congress, takes pleasure in presenting the Medal of Honor to Seaman Bartlett Laffey, United States Navy, for extraordinary heroism in action off Yazoo City, Mississippi, 5 March 1864. Embarking from the U.S.S. Marmora with a 12-pound howitzer mounted on a field carriage, Seaman Laffey landed with the gun and crew in the midst of heated battle and, bravely standing by his gun despite enemy rifle fire which cut the gun carriage and rammer, contributed to the turning back of the enemy during the fierce engagement." Laffey lived until 1901 and is buried in Mattapan, Massachusetts.

The USS Laffey served as a school ship before supporting the Allied landing at Normandy and later was sent to finish out World War II in the Pacific Theater. On April 16,1945, off Okinawa, the Laffey lost 31 men and saw another 71 wounded, during hits and near misses from five kamikazes and three Japanese bombs. The Laffey's crew saved its ship and was credited with shooting down eleven Japanese aircraft. During this engagement the Laffey was dubbed, "The Ship That Would Not Die." The Laffey later supported atomic bomb testing at Bikini Atoll, earned two battle stars during the Korean War and was decommissioned in 1975.

Patriots Point and the Laffey are open daily from 9:00 a.m. to 6:30 p.m. Hours vary on Thanksgiving, Christmas Day and New Year's Eve. Admission prices are: Adults : $20, Children 6-11: $12, Seniors 62+: $17 and active duty military members in uniform are admitted free. The admission price includes access to the Laffey, the USS Yorktown (aircraft carrier), the USS Clamagore (submarine), a Vietnam support camp and a cold war submariners' memorial.

Sources
1. "USS Laffey," Destroyer History Foundation, accessed Oct. 31, 2014, http://destroyerhistory.org/benson-gleavesclass/ns_laffey/ 2. "Bartlett Laffey," Military Times, accessed Oct. 31, 2014, http://projects.militarytimes.com/citations-medals-awards/recipient.php?recipientid=235 3. Patriots Point, accessed Oct. 23, 2014, http://www.patriotspoint.org
Additional Information