Limerick-Frazier House
Introduction
The historic home was built in 1876 near Swede Hill by immigrant and stonemason Joseph Limerick, and later purchased in 1905 by John W. Frazier, an son of slaves who was a professor at Samuel Huston College. The home represents both the chapter of Austin's history where immigrants and migrants help boost the population, much of it into East Austin. Later, as a result of segregation, East Austin grew into an African American neighborhood. After John died, hhis widow, Laura Allman Frazier, operated the house as lodging for African American students and travelers because they were not allowed to stay at white hotels.
Images
Limerick-Frazier House, built in 1876, Austin, Texas.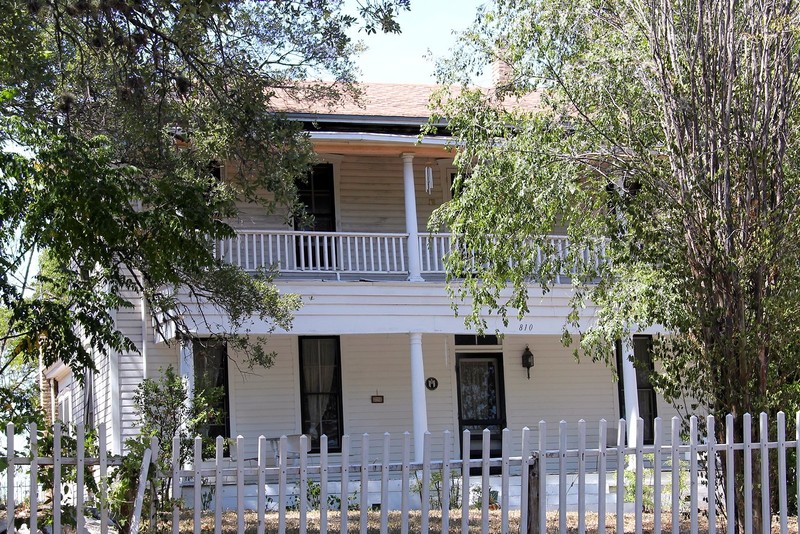 Backstory and Context
The 1876 Limerick-Frazier House is a modified I-plan house with a connection to both immigration and African-American history in Austin. Immigrant stonemason Joseph Limerick built the house, although he and his wife Elizabeth never occupied the home. By the time Professor John W. Frazier purchased the house in 1905, the home's location within East Austin had evolved into a predominantly African-American community, in part due to official and informal segregation policies common to Austin and many U.S. cities. As such, the history of the house reflects this demographic change in Austin.
Only 600 people called Austin home in 1850, but ten years later, in 1860, the population had reached nearly 4,000. An influx of immigrants and U.S. migrants, along with the arrival of the railroad in 1871, combined to usher in a new, more intense period of growth in Austin; the population exceeded 11,000 by 1880. Thus, the physical size of Austin also grew demonstrated by the dozen subdivisions constructed in East Austin between 1870 and 1880 (mainly located near the railway). The demographics of late-nineteenth-century East Austin were marked by its racial and ethnic diversity, with such groups as Germans, Swedes, and African Americans moving into the neighborhood.
Joseph and Elizabeth Limerick purchased the East Austin lot in1852. Joseph, born 1798, was a laborer who immigrated to the United States (Austin) around 1850. He worked in Austin as a stonemason and active real estate investor, with the lot purchase in 1852 as part of his investing. The Limericks built the house in 1876, but they never lived there.
A.J. Adkisson, who owned a marble business with his son, and his wife Abigale purchased the property from the Limericks in 1880 and lived in the home until 1893 when they sold it to the Herrick Family. In 1905, John and Laura Frazier purchased the house from the Herricks and lived there until 1977.
John W. Frazier, and educator was born to slave parents in Stockdale, North Carolina during the Civil War (1864). In 1880, at age 16, Frazier entered Bennett Seminary (now Bennett College) in Greensboro, North Carolina, graduating in 1886. After graduating, he promptly took a job as a teacher in Victoria, Texas where he remained for fourteen years. In 1900, he moved to Austin and taught mathematics at the newly formed Samuel Huston College (now Huston-Tillotson College). Both John and Laura worked for several organizations such as groups that promoted academic excellence and social justice.
His move to Austin coincided with a decided demographic shift in Austin due to the nearly complete displacement of Austin's Black population into East Austin. During the years after Reconstruction (1865-1876), white Austin residents largely moved west and north, a pattern that persisted through the mid-twentieth-century and ultimately shaped the city's demographic landscape, which in many ways remains today.
After 1900, Black communities located west of downtown Austin became the target of passive discriminatory practices designed specifically to displace African American landowners. For instance, zoning laws prohibited the raising of livestock within city limits, Black schools were shut down, the city routinely terminated property leases, and insurance companies and banks made attaining loans and policies almost impossible (the act of "redlining"). In 1928, city planners even went so far as to develop a plan that specifically called for the creation of a Negro district in East Austin, though it was never "officially" implemented. Indeed, by 1940, there existed almost no evidence of any Black communities outside of East Austin.
A byproduct of urban segregation involved the creation of a tight-knit Black community complete with businesses, churches, and colleges that solely catered to African Americans. Meanwhile, Laura Frazier operated the house as a place of lodging for African-American students and travelers during the 1930s.
In recent years, it has become popular as a home that celebrates African American history through cooking, serving as a museum and cultural center where culinary competitions took place during the Black Arts Movement's annual BAM! Festival, among other food-focused events.
To view the house is to see several chapters of Austin's history. The physical existence of the house can be tied to Austin's early population boom, which included many immigrants. However, over time, as Jim Crow laws and segregation policies became the norm, East Austin grew as an African American community, set apart from the rest of Austin. It's primary residents, John and Laura Fraizer, were born to planters and slaves in the Carolinas during the Civil War.
Sources
Surte, Apama Suhas and Gregory Smith. "Nomination Form: Limerick-Frazier House." National Register of Historic Places.
nps.gov.
March 30, 2005. Located digitally at https://atlas.thc.state.tx.us/NR/pdfs/05000238/05000238.pdf.
"Limerick-Frazier House." Culture Map: Austin.
culturemap.com.
Accessed August 7, 2019. http://austin.culturemap.com/guide/shops/limerick-frazier-house/
Tipton-Martin, Toni. "Limerick-Frazier House."
Edible Austin
(Austin). Food sec. 2009. http://www.edibleaustin.com/index.php/food-1/161-melting-pot/506-limerick-frazier-house
Trowbridge, David. J. "How Austin Became Segregated: The City Plan of 1928."
Clio.
June 21, 2014. https://www.theclio.com/web/entry?id=5517
Widner, Cindy. "Black History in Austin: 15 Notable Landmarks." Curbed: Austin.
curbed.com.
June 3, 2019. https://austin.curbed.com/maps/austin-Black-history-places-sites
Photo Source

Limerick-Frazier House: By Larry D. Moore, CC BY-SA 3.0, https://commons.wikimedia.org/w/index.php?curid=16079373
Additional Information