Lake Lemon Conservancy District
Introduction
Lake Lemon was the primary source of water for Bloomington from 1953 until the late 1960s. Today it serves as a recreational spot for local residents and visitors alike. Since 1985, the Indiana Department of Natural Resources has released 73 bald eagle chicks, resulting in an increasing number of sightings at Lake Lemon. Lake Lemon is known as one of Indiana's top bass fisheries. Lake Lemon Conservancy District is located south of the lake, and known for its rich nutrient conditions which provide an ideal habitat for many aquatic plants. The most abundant species include American lotus, cattail, and spatterdock.
Images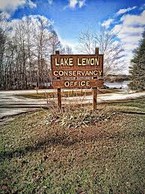 Backstory and Context
Following the construction of Lake Monroe, Lake Lemon was no longer the primary source of water for Bloomington. Due to the financial burden of an unused water supply, in the late 1980s, the City of Bloomington started to look for a group that would be interested in managing the reservoir. In response, lake residents Earl Eberle, Larry Ritter, and Bud Howard formed the Lemon Conservancy District (LLCD) in 1995. The LLCD is comprised of volunteer directors of Lake Lemon landowners and is responsible for the stewardship of the lake. In the Spring of 2010, the LLCD purchased the required equipment to manage a dredging and shoreline stabilization effort called the Lake Lemon Restoration Project.
Sources
Brackney, S. (2018, July 05). Lake Lemon. Retrieved February 6, 2019, from https://www.indianapolismonthly.com/traveler/lake-lemon/
Lake Lemon Conservancy District. . Accessed August 05, 2019. http://www.lakelemon.org.
Additional Information