Stewart's Hideaway
Introduction
Stewart's Hideaway is a bench seating area in the middle of Indiana University's Dunn's Woods. The area is dedicated Milt and Judi Stewart, two IU benefactors. Milt Stewart graduated from Indiana University in 1971 with a J.D. Established in 2016 after the Stewart family donated $7.7 million to IU's Maurer School of Law. The site is marked with an engraved stone that reads "May this special place always provide opportunity for respite, reflection, and rejuvenation."
Images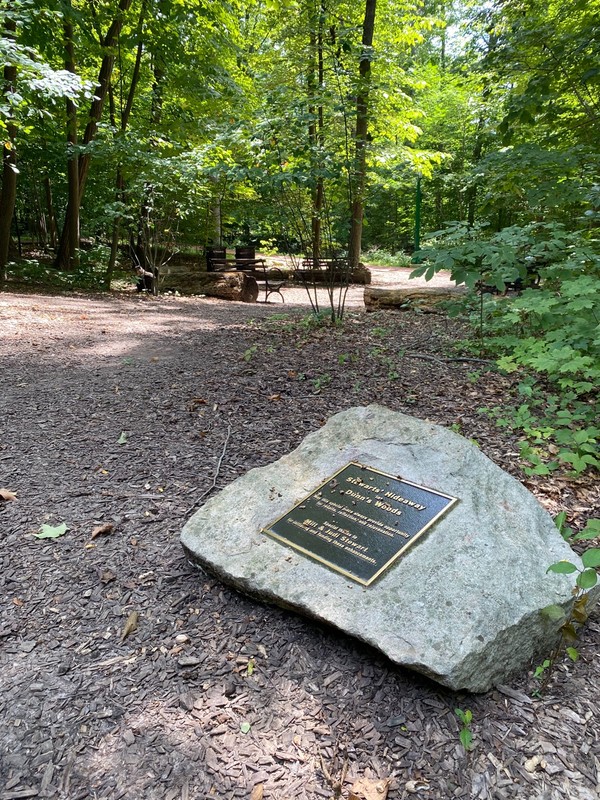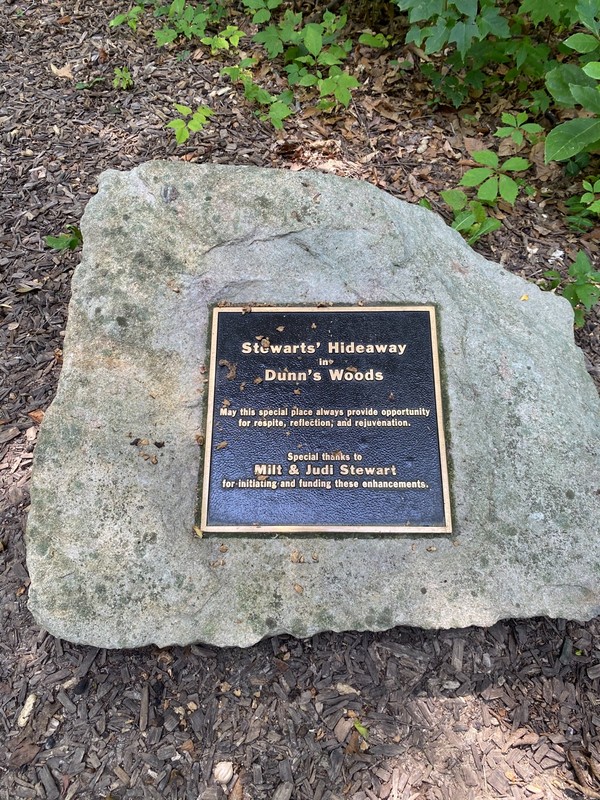 Backstory and Context
Milt and Judi Stewart, the people whom this area is dedicated to, are two benefactors that have been active in the advancement of Indiana University (IU) since 1998. Milt graduated from Indiana University's Maurer School of Law with a B.A. in 1968 and a J.D. in 1971. He went on to work for a very successful business law firm based out of Seattle, WA named Davis Wright Tremaine. The couple has given over $7 million in donations to IU and since 2010 has funded a global law internship program titled The Stewart Fellows Overseas Externship Program, which gives law students internship opportunities in foreign markets such as Brazil, China, Mexico, Japan, and many more. Since 2010, the program has helped over 200 students find internships across the globe. Judi Stewart, who did not attend Indiana University, is an artist and current member of the IU Art Museum's advisory board, a position she has held since 2000. She also actively supports the Colloquium for Women of Indiana University.
In 2016, a section of Indiana University's Dunn's Woods was designated "Stewart's Hideaway" to commemorate the Stewart's for their gracious actions. The hideaway has 4 benches for students and Bloomington residents to sit on and take in the surrounding forest and plant life that resides in it. It is a perfect place to sit down and enjoy a book or eat lunch with peers. Behind the benches are large logs that outline the hideaway's oval shape. In the hideaway's announcement video put out by The Indiana University Foundation, Milt states that out of all the things he and his wife have done for IU, Stewart's Hideaway was "the least expensive, and the most important." In that same video, Milt talks about how prior philanthropy at Indiana University helped him succeed as a poor college student. The relationships and networks he was able to make while attending Indiana have allowed him to give back and let students have a space to possibly make those same relationships with their peers and superiors.
Sources
Demkovich, Laurel. IU alumnus and wife give $7.7 million to law school, Indiana Daily Student. October 3rd 2016. Accessed August 17th 2020. https://www.idsnews.com/article/2016/10/iu-alumnus-and-wife-give-7-7-million-to-law-school.
Honoree: Judi Stewart, Indiana University Honors and Awards. Accessed August 18th 2020. https://honorsandawards.iu.edu/search-awards/honoree.shtml?honoreeID=7998.
Additional Information