Kirkwood Observatory
Introduction
Indiana University's Kirkwood Observatory was completed in 1901 and named in honor of Daniel Kirkwood, a renowned astronomer and Indiana University math professor who died a few years prior. The observatory offers programming and resources that combine history and science. The domed observatory houses a .03 meter refracting telescope that is open to the public every Wednesday after sunset from March through November. The observatory also offers a solar telescope and a variety of exhibits and educational programs.
Images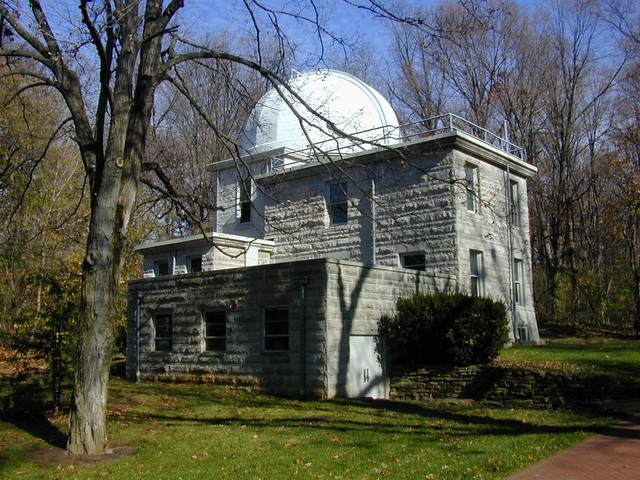 Backstory and Context
At the time the observatory's telescope was only twelve inches, considered then as the height of technology. The Kirkwood Observatory quickly became a leader in the nation in the field of astronomy. Its scientists conducted groundbreaking research on comets, meteors, asteroids, and visual binary stars. In 1907, Wilbur A. Cogshall was named Director of the Kirkwood Observatory. He set up an optical shop in the basement of the observatory, which he used to create eight, twelve, and twenty-four-inch refractors for the telescope. This proved instrumental in the taking of photographs of the famous Halley's Comet, as well as other comets. 
The building was renovated in 2001, and though the telescope is no longer used for scientific research, it is still used for educational purposes. Free viewings through the telescope are offered on Wednesday evenings, and special group showings are available by scheduling an appointment with the Department of Astronomy. Open houses for the solar telescope are often held every second Saturday.   
Sources
"Kirkwood Observatory Information." Astronomy Department, Indiana University Bloomington. Accessed on July 31, 2016. http://www.astro.indiana.edu/kirkwoodinfo.shtm
Additional Information