USS Yorktown (CV-10)
Introduction
Now anchored in Charleston Harbor in South Carolina, the USS Yorktown (CV-10) and its sailors fought gallantly in the Pacific during World War II. The Yorktown, which is named in honor of the American Revolutionary War win at the Battle of Yorktown is the main attraction at Patriots Point naval museum. The Yorktown houses a naval aircraft display and a museum dedicated to Medal of Honor winners.
Images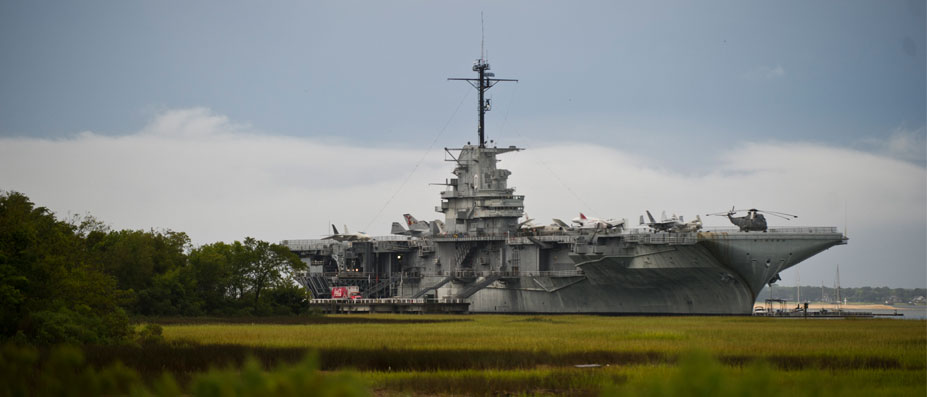 Backstory and Context
The USS Yorktown (CV-10) is the main attraction at Patriots Point, the nation's fourth largest naval museum. Located on Charleston Harbor in Mt. Pleasant, SC, the Yorktown houses a large naval aircraft display as well as a museum dedicated to winners of the Medal of Honor.
Visitors can tour the entire ship and see a variety of aircraft which have served in the US Navy throughout the history of naval aviation. Aircraft on display include an F-4 Phantom, F-8 Crusader, F-14 Tomcat, F-18 Hornet, FG-1D Corsair, UH-1 Huey, N-2 Stearman Kaydet, S-3 Viking, TBM Avenger, A-6 Intruder, A-7 Corsair II, AH-1 Cobra, B-25 Mitchell bomber, F4F Wildcat, F6F Hellcat and several others. The planes are on display on the carrier's deck and in the below deck hangar bays.
The Yorktown hosts a variety of education programs including an overnight camping experience aboard the aircraft carrier.

The Yorktown, an Essex Class aircraft carrier was commissioned on April 15, 1943. It was the tenth aircraft carrier in the U.S. fleet and named in honor of the USS Yorktown (CV-5), which was sunk during the Battle of Midway in June 1942. The Yorktown name is derived from the Revolutionary War Battle of Yorktown. The Yorktown fought in the Pacific Theater of World War II from shortly after its commissioning through the surrender of Japan. The carrier later served during the Vietnam War from 1965-1968, recovered the Apollo 8 astronauts in 1968 and was decommissioned in 1970.

Patriots Point and the Yorktown are open daily from 9:00 a.m. to 6:30 p.m. Hours vary on Thanksgiving, Christmas Day and New Year's Eve. Admission prices are: Adults : $20, Children 6-11: $12, Seniors 62+: $17 and active duty military members in uniform are admitted free. The admission price includes access to the Yorktown, the USS Laffey (destroyer), the USS Clamagore (submarine), a Vietnam support camp and a cold war submariners' memorial.

Sources
1. "Yorktown," Dictionary of American Naval Fighting Ships, Department of the Navy, Naval History and Heritage Command, accessed Oct. 23, 2014, http://www.history.navy.mil/danfs/y1/yorktown-iv.htm 2. Patriots Point, accessed Oct. 23, 2014, http://www.patriotspoint.org 3. USS Yorktown CV-10 Association, accessed, Oct. 23, 2014, http://www.ussyorktown.net
Additional Information