Celtic Cross Quilt & The Rowan County Kentucky Barn Quilt Trail
Introduction
The Rowan County, Kentucky Barn Quilt Trail was established in 2004 after efforts made by Jean Cline, a Morehead, Kentucky resident and former high school teacher. Along with a group of volunteers, Cline organized and established the quilt trail project, with the intention of having each quilt square reflect aspects of Rowan County culture and history in addition to marking the location of historically and architecturally significant buildings. The first quilt square was placed on Morehead State University's campus in 2004, with one of the trails most photographed quilt squares, the Celtic Cross square, being put up in 2009 at the Smothers family's barn along Caudill Cemetery Road.
Images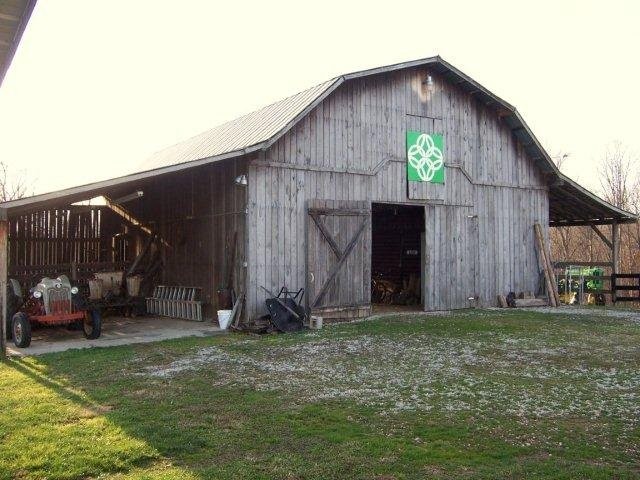 A close up of the Smothers' quilt square.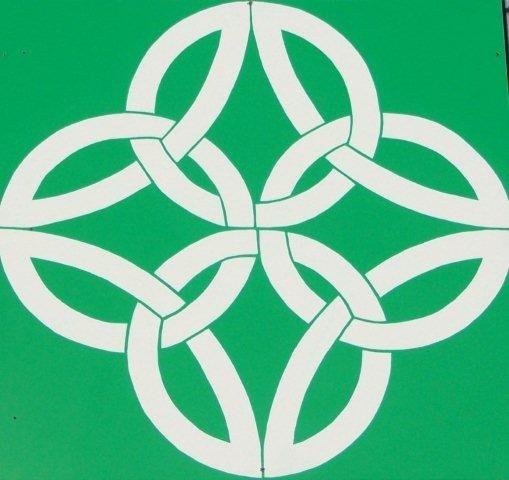 Backstory and Context
In 2004, Rowan County, Kentucky resident Jean Cline, a former home economics teacher, heard of the launch of a quilt trail in Carter County, Kentucky. After learning that the purpose of a quilt trail is to emphasize historically significant architecture and landscapes in any given area, Cline began her own, local efforts to establish a quilt trail based in her home county. Cline informed friends and fellow community members of her initiative and soon gathered a group of volunteers and willing participants. Together, Cline and her peers designed and implemented the Rowan County Barn Quilt Trail.

As a "barn" quilt trail, Rowan County's trail is one which is comprised of a series of quilt squares painted on a wooden or metal based and then hung or sat near one of the historically or architecturally notable buildings in Rowan County. According to the initiative put forth by Cline and her fellow volunteers on the Rowan County trail's website, the quilt squares created for the project were meant to honor the significance of farming and quilting in the eastern Kentucky region. The first quilt square to result from the project was hung on October 13, 2004 on the Physcial Utilities Plant building, located along Wilkinson Boulevard on Morehead State University's campus. The quilt square features a maple leaf and is designated The Maple Leaf Square along the official Rowan County Trail. Since its dedication, it has since gone on to be named the official Rowan County quilt pattern.

One of the most frequently visited and photographed quilts on the trail is the Celtic Cross quilt square. The 4ft x 4ft quilt square was hung in 2009 by Leon and Molly Smothers on the side of their family barn along Caudill Cemetery Road just off of Sharkey Road outside of Morehead. This particular quilt pattern was sponsored by Molly Smothers as well as Rowan County's First Christian Church, of which Smothers serves as minister. The design is inspired by her own Irish heritage, as her maternal grandparents migrated to America at the turn of the twentieth century.

Today, there are fifty-six quilt squares located along the Rowan County Barn Quilt Trail, all of which have been cataloged on the trail's website, linked below.
Sources
History of the Rowan County Quilt Trail. tripod.com. Accessed August 05, 2019.

The Celtic Cross Quilt Square. tripod.com. . Accessed August 05, 2019. http://rcquilttrail.tripod.com/celticcrosswebpage.htm.


Additional Information