McBirney Mansion
Introduction
McBirney Mansion is a historic home situated on a hill overlooking the Arkansas River. It was built by its first owner, James H. McBirney, who, in 1928, co-founded the Bank of Commerce in Tulsa. In terms of design, the mansion is a fine example of the Gothic Revival architecture. It features a facade made with brick, stucco, and stone, and there are stained glass windows as well.
Images
McBirney Mansion is one Tulsa's grandest homes. It was built in 1928 and is a fine example of Gothic Revival architecture.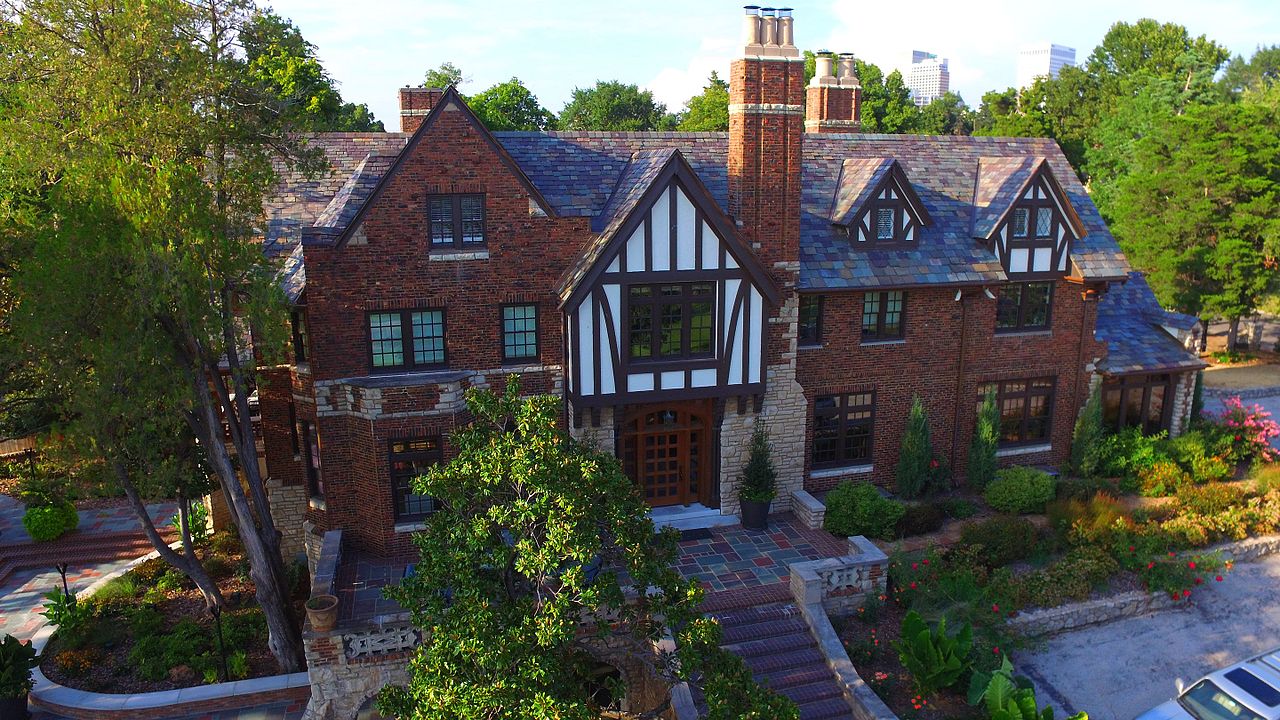 Backstory and Context
Born in 1875, James H. McBirney immigrated to America with his parents at a young age; they settled in southeast Kansas. As an adult, James was one of the tens of thousands of settlers who staked a claim in the Land Run of 1893 in Oklahoma. Unfortunately, the land he laid claim to, in what is now the town of Enid, was deemed to be for public use and as a result, he was forced to give up his claim.

This turned out to be a good development, however. He got a job working at a company that owned a semi-pro baseball team in Bartlesville. A few years later in 1897, he got a job as a janitor at the Tulsa Banking Company, which also had a baseball team. He quickly worked his way up in the bank, becoming vice president in 1904. That same year he also co-founded the Bank of Commerce with his brother. James would go on to build two of the first skyscrapers in the city: and eight-story building for the new bank and the ten-story McBirney office building.

James passed away in 1944 at the age of 74; his wife died in 1975 at the age of 95. In the coming decades, the home was a private residence, office space for a law firm, a bed and breakfast, and an event venue. In 2014, the current owners bought the old mansion and renovated it back into a private residence.
Sources
Evatt, Robert. "McBirney Mansion to become a private residence again, but you can tour it for charity." December 18, 2015. https://www.tulsaworld.com/business/mcbirney-mansion-to-become-a-private-residence-again-but-you/article_98607daf-da7f-5af3-b97c-b307fc123bc6.html.

Ledbetter, Sherri. "Home Sweet Home." Tulsa People. 2014. http://www.tulsapeople.com/Tulsa-People/September-2014/Home-sweet-home.

Ruth, Kent. "Mcbirney, James H. Mansion." National Park Service - National Register of Historic Places Nomination Form. November 13, 1976. https://npgallery.nps.gov/GetAsset/b22506a1-29d6-479f-8033-7a96bad99ede.

Photo: Wikimedia Commons https://en.wikipedia.org/wiki/McBirney_Mansion_(Tulsa,_Oklahoma)#/media/File:Mcbirney_front.jpg
Additional Information