Milk Bottle Building
Introduction
Though quite small at 350 square feet, the Milk Bottle Building is one of the most unique and well-known structures in Oklahoma City. Built in 1930, the triangle-shaped building stands prominently along Classen Boulevard and features a large milk bottle made out of sheet metal on the roof. It was built around 1948 by the business that occupied the building at the time, Milk Bottle Grocery, which used it to advertise. Other milk companies use it to advertise as well in subsequent years. The building, which was added to the National Register of Historic Places in 1998, is also notable for being situated along the historic Route 66 highway, which runs from Chicago to Santa Monica, California.
Images
The Milk Bottle Building was built in 1930 and is one of the city's more iconic landmarks.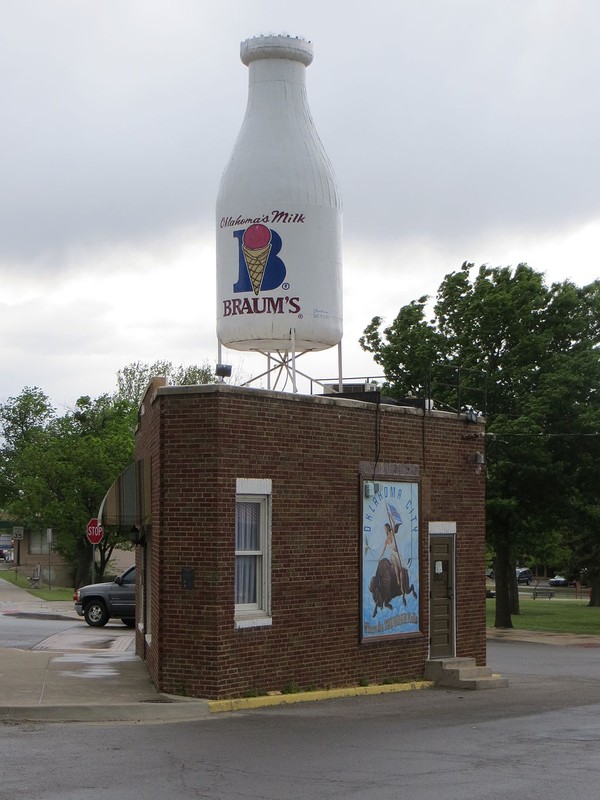 Backstory and Context
It appears that the first business to occupy the building was Cooper Cleaner & Dyer. Other businesses included an investment company, a fruit market, a barbecue restaurant, a grocery, which changed its name to Milk Bottle Grocery in 1948. That is when the bottle was added on the roof. In recent years, a boutique shop and Vietnamese restaurant occupied the building. It appears to be vacant as of August 2019.
Sources
Bailey, Brianna. "Oklahoma City's historic milk bottle building is empty again, but it won't be that way for long." The Oklahoman. December 18, 2015. https://oklahoman.com/article/5467237/oklahoma-citys-historic-milk-bottle-building-is-empty-again-but-it-wont-be-that-way-for-long.

Lupkin, Jocelyn. "Milk Bottle Grocery." National Park Service - National Register of Historic Places Nomination Form. March 5, 1998. https://npgallery.nps.gov/GetAsset/f5d371b6-e425-4f39-80f6-a9d4573ed76c.

"Milk Bottle Grocery, Oklahoma City, Oklahoma." National Park Service - Discover Our Shared Heritage Travel Itinerary, Route 66. https://www.nps.gov/nr/travel/route66/milk_bottle_grocery_oklahoma_city.html.

Photo: Wikimedia Commons
https://en.wikipedia.org/wiki/National_Register_of_Historic_Places_listings_in_Oklahoma_County,_Oklahoma#/media/File:OK-OKC-NClassen-milkbottlegrocery.JPG

Additional Information