The Assassination of Marsh Crook
Introduction
This historical marker honors the actions of F.M.B. "Marsh" Cook who was assassinated on July 23, 1890, by six men because of his efforts to challenge the exclusion of African American citizens from the polls. Although the Constitution called for African American men to be enfranchised with the ratification of the 14th and 15th Amendments after the Civil War, by the late 1870s white supremacists had effectively disfranchised most African Americans in Mississippi and other parts of the state. In 1890, delegates met to form a new state constitution for Mississippi. Jasper was killed for speaking out against changes to the state constitution that would make it even harder for African Americans to vote.
Images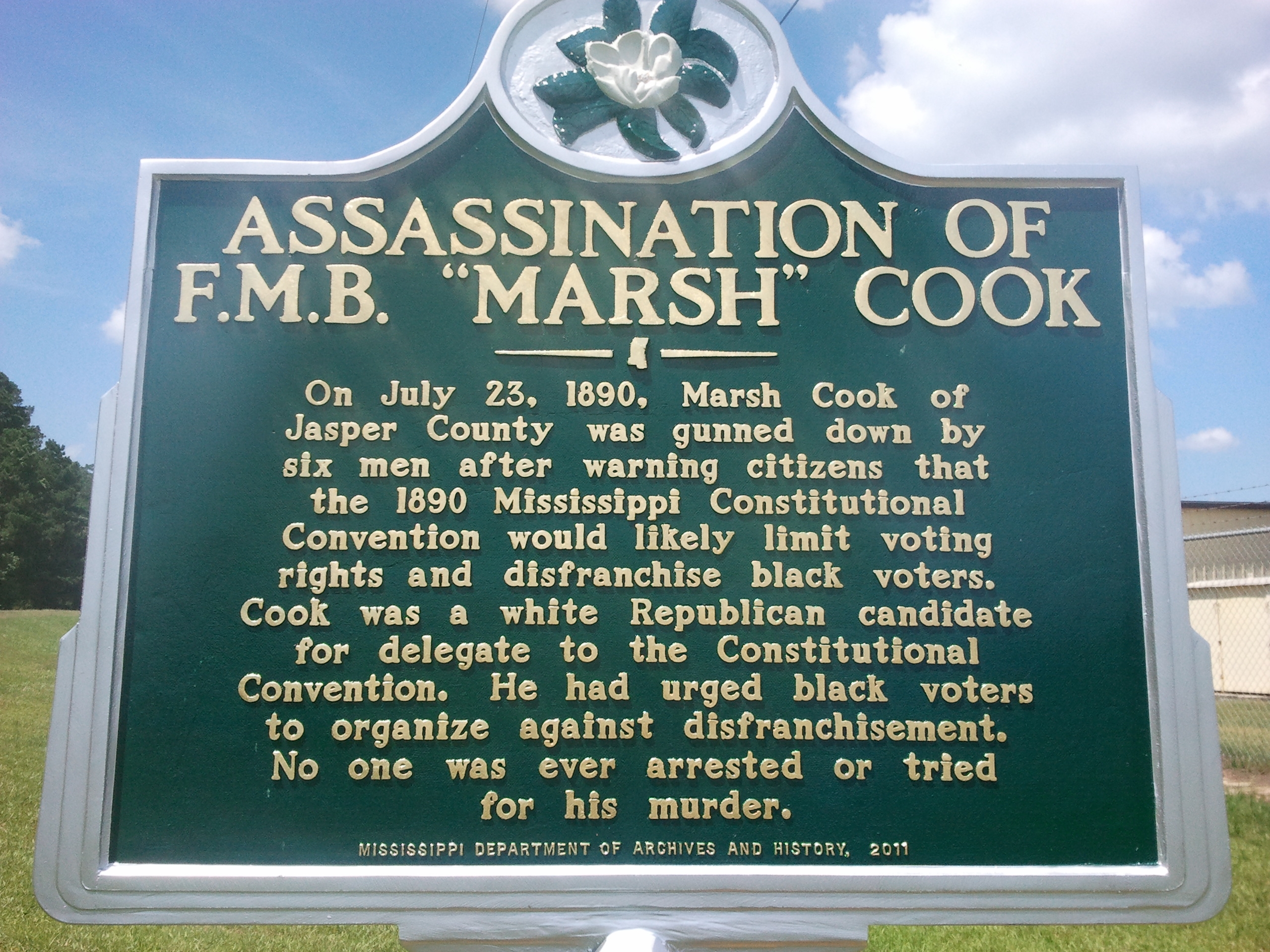 Backstory and Context
During the summer of 1890 Cook, campaigned as a delegate to represent Jasper County. The goal of his campaign was to oppose all attempts to create a state constitution that would limit African American voting rights. He encouraged local African Americans community organizations and citizens to organize and fight the creation of a state constitution that limited their voting rights.

Cook soon began to receive threats throughout the rest of his campaign and was found dead near Mount Zion Baptist Church the day after giving an inspiring speech about the upcoming convention. Local politicians claimed that Cook was assassinated because he was encouraging African Americans and Whites to fight each other. In 1890, the Mississippi State Constitution included a literacy test and poll tax that made it even more difficult for African Americans to vote.
Sources
Equal Justice Initiative. (2014). White advocate of Black voting rights murdered in mississippi.Equal Justice Initiative, Retrieved from http://racialinjustice.eji.org/timeline/1890s/ Citation