J. Frank Dobie House
Introduction
Civil right supporter and chronicler of Southwest Americana J. Frank Dobie lived in this home from 1926 until his death in 1964. The Texas author published roughly twenty-five books along with hundreds of articles in many of the nation's leading magazines and academic journals. From 1914 to 1947, Dobie served as a professor of English at the University of Texas. He also served in the U.S. Army during World War I and returned to Europe to teach at Cambridge during World War II. Today, Dobie he is best known for his opposition to censorship and support of civil rights which led to the end of his tenure at the University of Texas. For his principled stand and his many contributions to literature, Dobie received the Presidential Medal of Freedom from President Lyndon Johnson. Even after leaving the University of Texas in 1947, Dobie continued to mentor aspiring writers and hold events for faculty and students at his home until his death in 1964.
Images
James Frank Dobie House in Austin, Texas.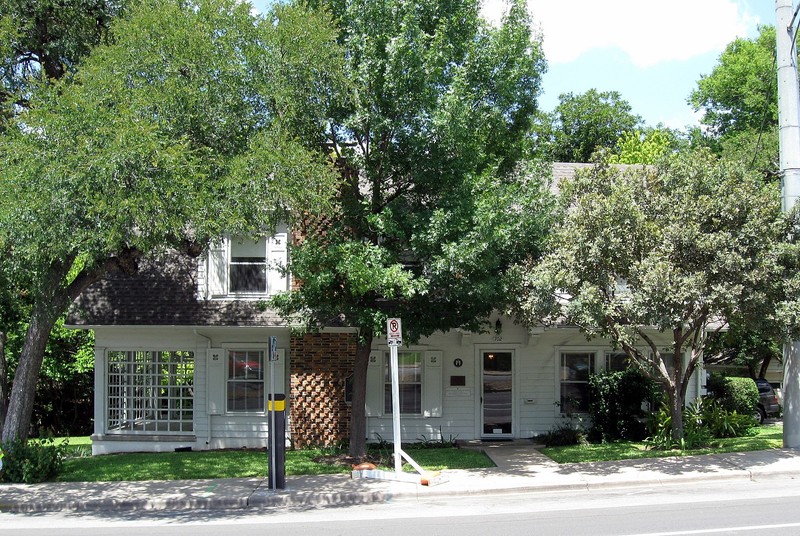 Dobie on the University of Texas campus in his trademark white suit, ca. 1930s. Southwestern Writers Collection/The Wittliff Collections, Texas State University.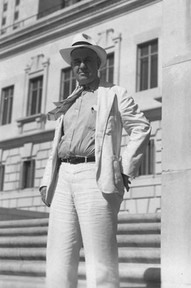 Backstory and Context
Built on gently sloping land along Waller Creek in Austin, now across the street from the University of Texas, the Colonial Revival style Dobie House became the residence of J. Frank and Bertha Dobie on Thanksgiving Day of 1926. The residence housed the office and library where J. Frank Dobie crafted writings that brought national literary attention to the folklore of Texas and the Southwest. In addition to his more than twenty books and extensive magazine and journal pieces, he worked as a professor for the University of Texas for more than thirty years (and two years at Cambridge in the U.K.), spoke out for civil rights, and against censorship or restrictions on freedom of thought. He also served in the military and received the Presidental Medal of Freedom.
J. Frank Dobie, who went on to become a teacher, storyteller, folklorist, historian, and well-known author, was born September 26, 1888, on a ranch in the brush country of South Texas. Despite living in the remote ranch lands, he developed a love for writing and literature, primarily due to his parents' insistence; they ordered books through the mail and nightly read the bible to J. Frank and his five siblings. As well, Dobie and his brothers an sisters were sent away to live with family in the town of Alice so that they may pursue a formal education (J. Frank was 16 at the time).
In 1906, at the age of eighteen, he enrolled in Southwestern University in Georgetown, where he met Bertha McKee with whom he married in 1916. While at Southwestern University, he developed a love for English poetry, particularly the Romantics and decided to pursue a career as a writer. After school, he worked for a short time as a reporter before returning to Georgetown in 1911 to teach. In 1913, he enrolled at Columbia to pursue his M.A., which led him to join the University of Texas faculty in 1914.
However, Dobie left the University of Texas for a period when he enlisted in the U.S. Army during World War I. He also took sabbaticals in 1920-21 to oversee his uncle's ranch in southern Texas and again in 1923-25 to serve as chairman of the English Department at Oklahoma A& M University (now known as Oklahoma State University). While in Oklahoma, he befriended author Carl Sandburg who later visited Dobie in Austin several times.
The 1920s also served as the start of Dobie's active role in the study and recognition of literary culture in the American Southwest. In 1922, while in Austin, Dobie helped reorganize the Texas Folklore Society; he served as the organization's editor and secretary for more than twenty years and edited nineteen volumes of the Society' s scholarly publications.
In 1925, Dobie published an article on cowboy songs in Country Gentlemen, a magazine with wide national circulation, his first known piece focused on the legends and customs of the cattle country. Four years later, in 1929, the University of Texas Department of English gave him permission to teach a course entitled "Life and Literature of the Southwest," an elective that grew to be one of the most popular offered at the university. Indeed, the course syllabus grew into a full-length publication (Guide to Life and Literature of the Southwest, 1943.)
With the publication of A Vaquero of the Brush Country in 1929 and Coronado's Children in 1931, Dobie achieved national literary recognition affording him the opportunity to publish in countless publications such as Vanity Fair, New York Herald-Tribune Magazine, American Library, Arizona Highways, The Atlantic, South Atlantic Quarterly, The Cattleman, and National Geographic. He also published twenty-five books such as The Longhorns, Apache Gold and Yaqui Silver. Most were published by major eastern publishing houses, particularly Little, Brown and Company of Boston, thereby ensuring widespread dissemination of his work. His work and national attention also pushed the University of Texas to award him the position of Full Professor, despite Dobie never having pursued a Ph.D.
Dobie routinely spoke out on social issues such as supporting Black voting rights in 1945 and openly supporting organized labor's right to strike. He also spoke out against censorship, demagogic religiosity, and those who deemed as ones who impeded freedom of thought. Furthermore, Dobie did not hide his disdain for specific college departments and education-trained teachers. In fact, Dobie had always enjoyed a tense relationship with the University of Texas, partly because of his liberal views and his refusal to obtain a Ph.D., but also because he called for the university to admit African American students in the 1940s, well before integration was favored by the college. In 1943, Dobie left the university to serve a two-year stint as a lecturer on American History in Cambridge, England (which he turned into a book, A Texan in England).
When he returned, he publicly (and sharply) criticized the college for firing University President Homer Rainey because of Rainey's liberal views, which pushed the Texas Governor to insist that the university fire Dobie. With chaos and tension abound, Dobie asked for another leave in 1947, but the university refused and the two parties decided to part ways (whether he was fired or resigned is up for debate).
Nonetheless, he remained at his home in the University area and was always associated with the University of Texas. He continued to meet with students informally in his backyard until his death in 1964. He also spent his time away from the university writing and, just days before his death, was awarded the Medal of Freedom by President Lyndon Johnson. His funeral was held in Hogg Auditorium on the University of Texas Campus, and he is laid to rest at the Texas State Cemetery in Austin.
Sources
Abernethy, Francis E. "Dobie, James Frank." Texas State Historical Association. tshaonline.org. Accessed July 29, 2019. https://tshaonline.org/handbook/online/articles/fdo02.
Dobie Jr., Dudley R. and Bruce Jensen, "Nomination Form: J. Frank Dobie House." National Register of Historic Places.
nps.gov.
Located digitally at https://atlas.thc.state.tx.us/NR/pdfs/91000575/91000575.pdf.
"J. Frank Dobie: A Guide to the J. Frank Dobie Papers, 1898 -1988." Texas State University: The Wittliff Collections.
txstate.edu.
Accessed July 29, 2019. https://www.thewittliffcollections.txstate.edu/research/a-z/dobie.html.
"J. Frank Dobie House." Poets & Writers.
pw.org.
Accessed July 29, 2019. https://www.pw.org/literary_places/j_frank_dobie_house.
Photo Sources

James Frank Dobie House: By RayAYang - Own work, CC BY-SA 3.0, https://commons.wikimedia.org/w/index.php?curid=7597670.
Pic of James Frank Dobie: Southwestern Writers Collection/The Wittliff Collections, Texas State University-San Marcos, retreived from Humanities Texas at https://www.humanitiestexas.org/programs/tx-originals/list/james-frank-dobie.
Additional Information