Biloxi Beach Wade-In Historical Marker (Bloody Sunday)
Introduction
This marker commemorates the actions of over one hundred civil rights protesters who were attacked by a white mob on April 24, 1960. The protesters were raising attention to the exclusion of African Americans from public beaches in the South and expected to be arrested. Instead, the all-white police force watched as a white mob attacked the protesters. It was not until a court victory eight years later that the city no longer barred African American citizens from using the beach.
Images
The marker was dedicated in 2009 and is in the parking lot by the beach.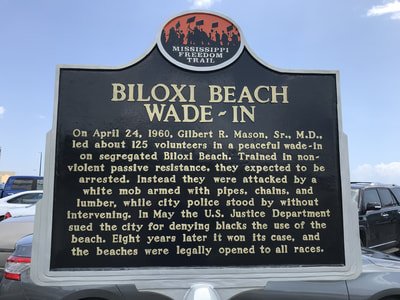 Backstory and Context
A historical marker was unveiled in 2009 to honor the Biloxi Wade-Ins also known as "Bloody Sunday." In 1960 Biloxi's twenty-six mile Gulf of Mexico shoreline was segregated. Frustrated by the segregated shoreline, African American residents protested their exclusion from the public shoreline.

There were a total of three wade-in protests. The first protest occurred on May 14, 1959, when nine people held a public protest with a purpose of seeing how the police would respond. The second wade-in was a solitary protest by one African American citizen, Dr. Mason. Although he was well-known and respected whites refused to allow Dr. Mason to use the beach.
The protest commemorated by this marker and known as "Bloody Sunday" took place on Easter Sunday in 1960. Led by physician Gilbert Mason, the Black community sought to rectify restricted access by enacting a series of "wade-in" protests. Chaos and violence, though, quickly marred this particular demonstration.

Children began swimming in the ocean, while adults attempted to enjoy beach activities, but all were prepared for the possibility of arrest. Instead, a white mob attacked the beach-goers soaking the sand with the blood of peaceful protests. White mobs also began to roll through African American neighborhoods firing guns and making threats of violence.

Sources
Pitt, M. (2010, April 19). A Civil Rights Watershed in Biloxi, Mississippi. Retrieved October 30, 2014, from http://www.smithsonianmag.com/history/a-civil-rights-watershed-in-biloxi-mississippi-20888869/?no-ist=&page=2