Fannie Lou Hamer Statue and Gravesite
Introduction
Fannie Lou Hamer was a sharecropper who risked her life to register to vote during the American Civil Rights Movement. Hamer quickly became one of the leaders of the Mississippi Freedom Democratic Party and entered the national spotlight when she challenged the leaders of the Democratic Party to address the violence and fraud that prevented Southern African Americans from voting. This small park includes Hamer's gravesite as well as a pavilion and statue that honor her legacy.
Images
Fannie Mae Hammer Memorial Garden Entrance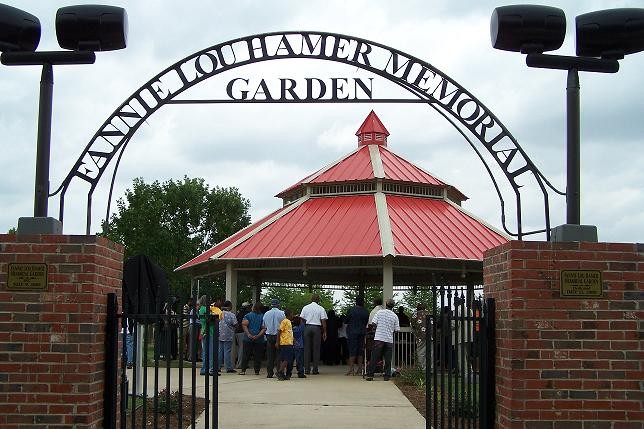 Donors raised over $125,000 and dedicated this statue in 2012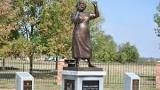 For Freedom's Sake: The Life of Fannie Lou Hamer-Click the link below for more information about this book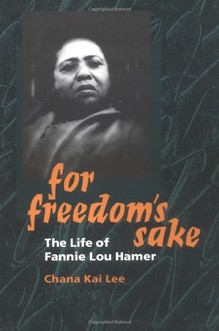 Backstory and Context
"I am sick in tired, come of being sick and tired," are some of the most famous words ever spoken by Civil Rights Activists Fannie Lou Hamer, they are even written on her tombstone located at the . Born in Montgomery County, Mississippi on October 6, 1917 to a family of sharecroppers, Fannie started working in the fields at age in six. As the youngest of twenty children she was forced to drop out of school at age twelve to work in the fields full time to help her parents. After marrying Perry Hamer in 1944 and moving to Ruleville, Mississippi to work on a cotton plantation Fannie began to focus on fighting for her rights along with other African American in her community.
In the summer of 1962, Hamer was encouraged by civil rights activists at a protest meeting to register to vote. Knowing that this was very dangerous but had to be done Hamer along with seventeen other African Americans traveled to the county courthouse in Indianola, Mississippi to register to vote. As a result of registering to vote Hamer was fired and evicted from her home on the cotton plantation where she had worked for the past twenty years. These actions only made Hamer more determined to help other African Americans exercise their right to vote. According to The New York Times, she said "They kicked me off the plantation, they set me free. It's the best thing that could happen. Now I can work for my people."
Hamer soon took a job working for the Student Nonviolent Coordinating Committee an organization who engaged in acts of civil disobedience to fight racial segregation and injustice in the South. During the course of her activist career, Hamer was threatened, arrested, beaten, and shot at. In 1963 Hamer was severely injured after being arrested by police after attending a training workshop in Winona, Mississippi. Hamer was beaten so badly that she suffered permanent kidney damage.
In 1964, Hamer brought the civil rights struggle in Mississippi to the attention of the entire nation during a televised session at the Democratic convention. She then co-founded the Mississippi Freedom Democratic Party, which was established in opposition to her state's all-white delegation. After her unsuccessful bid for Mississippi Congress, Hamer worked to help the poor and families in need in her Mississippi community. She also set up organizations to increase business opportunities for minorities and to provide childcare and other family services. In 1971 she helped establish the National Women's Political Caucus.
Hamer died on March 14, 1977, in Mound Bayou, Mississippi after a long battle with breast cancer. Without the efforts of Civil Rights activists like Hamer we would not have equal rights to vote, opportunities for child care, or assistant programs for our poor. Thanks to her determination for racial equality African Americans can exercise guaranteed rights and live in a nation where equal opportunity truly means something.
Sources
Lee, C. (2000). For Freedom's Sake: The Life of Fannie Lou Hammer. Champaign, IL: University of Illinois Press.
Additional Information