The Ridge Route
Introduction
A portion of what was the Ridge Route passes on the south side of Quail Lake, in front of the Kinsey Mansion, along a portion of Lancaster Road. Originally known as the "Tejon Pass Route" and later affectionately called the "Old Ridge Route," the Ridge Route is now a "ghost highway." The abandoned road is largely impassible by vehicles, but segments remain popular among hikers and bicyclists.
Images
Ridge Route post card date unknown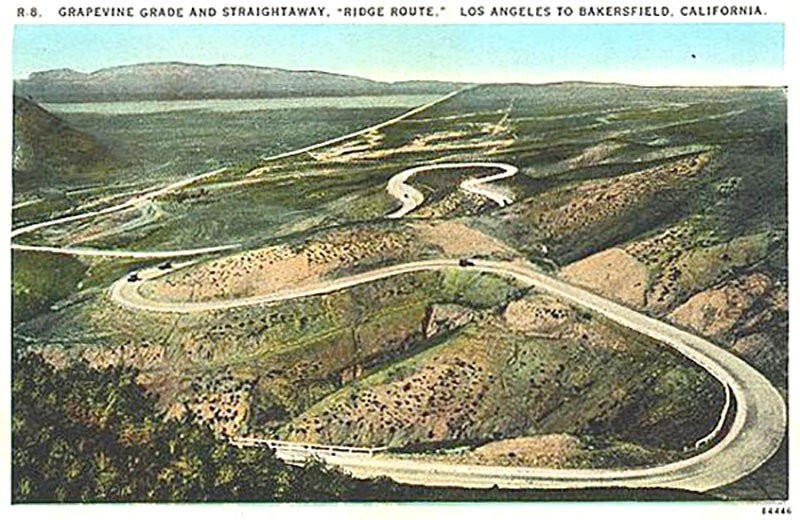 Ridge Route map, southern portion. Automobile Club of Southern California

Backstory and Context
The original Ridge Route was completed in 1919, connecting Los Angeles with Bakersfield. Until that official road was built, the route between central and southern California, first undertaken in 1854, was an impractical meandering alignment, and was nearly impossible to travel on horseback or wheeled vehicle. The road that became the Ridge Route was one of the California Highway Department's early projects. The crucial route followed parts of wagon and stage coach alignments. It was painstakingly built, taking seven years to complete. The resulting highway was narrow, had steep grades, included both blind and sharp curves, washed out frequently and had very few stops for emergencies or basic necessities.
The Automobile Club of Southern California was an early advocate for the construction of the new highway. The organization described the completed road as "the last word in scientific highway building." When it was completed in 1919, the highway between Castaic and Gorman contained more than 600 curves. It was originally an oil and gravel road. Later, parts were paved in concrete and finally in asphalt, but not for its entire length. The route was only 20 only feet wide, had a speed limit of 15 miles per hour and few guard rails or turnouts.
The more modern, fully paved State Route 99 was built nearby in 1933, connecting the San Joaquin Valley with the Los Angeles metropolitan area. With that, the Ridge Route was abandoned and fell into disuse and disrepair. A segment of the Ridge Route located between Templin Highway (near Interstate 5) and the former site of Sandberg's Summit Hotel, at the northern border of Angeles National Forest is listed in the National Register of Historic Places.
Sources
Caltrans. "Historical Resources Evaluation Report, State Route 138 Northwest Corridor Improvement" 2015.
Ridge Route History. Accessed at http://www.ridgeroute.com/history.html on March 8, 2019.
Scott, Harrison Irving. Ridge Route, The Road That United California. Self-Published, Torrance, California. Project," Los Angeles County, California, 2015.
Additional Information