General Lee's Headquarters
Introduction
This stone house was built in 1834 and was the location that General Robert E. Lee made his personal headquarters during the Civil War. From 1920 until 2014, this was the site of a museum that displayed artifacts and relics found on the nearby battlefields. The Civil War Trust acquired the building and has invested six million dollars towards restoration and removal of a hotel that once surrounded the property. The removal of the hotel means that more visitors will be aware of the historic structure and be able to see the house as it would have appeared during the Civil War.
Images
General Lee's Headquarters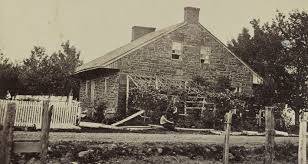 Current picture of General Lee's Headquarters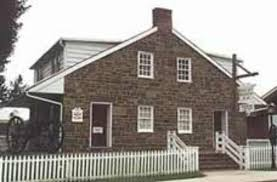 Backstory and Context
The stone home that Robert E. Lee made his headquarters during the Civil War was occupied by a widow Mary Thompson, her daughter-in-law and small grandchildren. The home was owned by Thaddeus Stevens, a Pennsylvania Republican representative. It is believed that Mary and family remained in the cellar beneath the house during times of battle. This location was idea because it was on the road that troops used when approaching the battle fields and it was also at the center and rear of the battle lines. This house was also used to care for wounded soldiers from both sides.
There has been some controversy over exactly where General Robert E. Lee set up his headquarters. Mary Thompson remained in the house after the Civil War, leaving only for a short amount of time after the war due to the number of visitors who wanted to see the house where General Lee stayed. Ms. Thompson passed in 1873 and shortly after her passing articles began to appear in the newspaper questioning where exactly General Robert E. Lee set up headquarters. The most serious allegation was written in 1907 by Henry S. Moyer stating that he had interviewed a women staying in the Thompson house in 1874 (one year after Mary Thompson's death) who stated that General Robert E. Lee had never been present there. He also state that a "good friend" had interviewed General Lee and he stated that his headquarters was located in an apple orchid. There is no evidence that the interview with General Lee ever took place.
In the Spring of 1922 the house was opened to the public as the Lee Museum. The museum displays artifacts and relics found on the nearby battlefields as well as items bought back to town by Veterans. This museum is one of the oldest museums still in operation in Gettysburg, PA.
Sources
Wheeler, Linda. Lee's Gettysburg headquarters restored, set to open Oct. 28. Washington Post. September 15, 2016. Accessed November 13, 2016. https://www.washingtonpost.com/news/house-divided/wp/2016/09/15/lees-gettysburg-headquarters-restore....


Additional Information