George A. Peterson House
Introduction
This Victorian home was built between 1901 and 1904. The T-plan home is named for Swedish immigrant and prominent merchant, George A. Peterson. The home's clip-cornered facade and elaborate front bay serves as a noteworthy albeit unusual variation of the T-plan style, which was highly popular in Austin around the turn of the twentieth century.
Images
George Peterson Historic House (2015)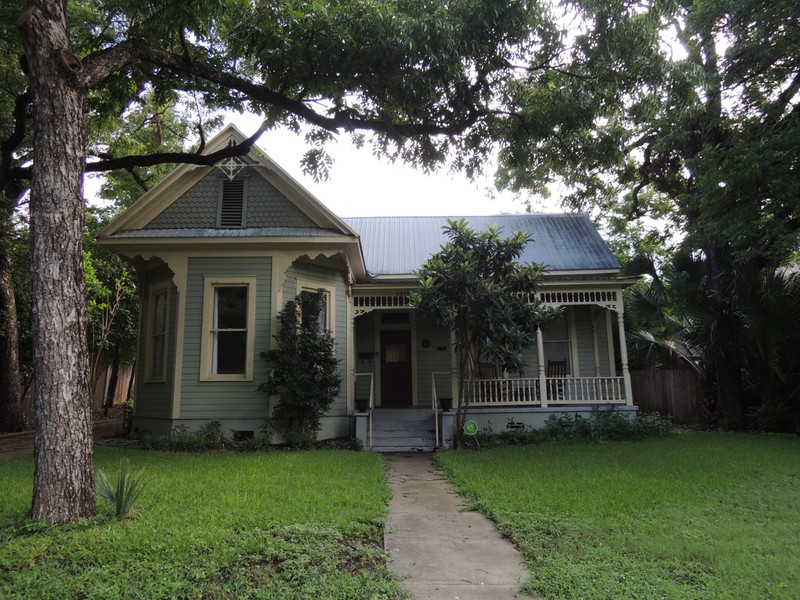 Backstory and Context
This late Victorian, T-plan home was constructed sometime between 1901 and 1904 (sources vary) for George A. Peterson. Peterson was a partner with C.O. Lindahl in a grocery and feed business on east 6th Street. The home stands as an outstanding model of a well-crafted, Victorian, T-plan residence, one of the few remaining homes with a similar style that proved highly popular in Austin in the late nineteenth and early twentieth century.
Although the home arose in the first few years of the twentieth century, the history of the land dates back to 1841, part of a large property owned by Joseph W. Robertson. His descendants eventually sold much of his land, and now many historic homes sit on that land. Indeed, since 1877, the real estate located on that land has been known as the George L. Robertson subdivision also associated with nearby "Robertson Hill."
Peterson came to Texas from Sweden by way of Minnesota in 1890, and evolved into a prominent merchant in Austin; he operated a grocery and dry goods store. Peterson lived in the historic house from sometime between 1901 to 1904 until 1923 when he sold it to Albert H. Stroud, a Southern Pacific Railroad engineer. Though the Peterson house stood among many Victorian, T-plan homes when constructed, the home's clip-cornered, elaborated front bay is a unique variation on the T plan, which is unusual for East Austin. All windows are one-over-one, double-hung sash and the front porch features spindled balusters, elaborate brackets, and a spindled canopy.
Sources
Austin's East End End Cultural Heritage District. "George Peterson House." Harold McMillan, DiverseArts Culture Works, and East End Cultural Heritage District. eastendculturaldistrict.org. Accessed July 24, 2019. http://www.eastendculturaldistrict.org/cms/historic-sites-architecture/george-peterson-house

Freeman, Martha Doty and Kenneth Breisch. "Nomination Form: Historic Resources of East Austin." National Register of Historic Places. nps.gov. September 17, 1985. https://npgallery.nps.gov/GetAsset/ae795ed3-9ae7-41a5-bedd-9474ae3bcf75

----. "Nomination Form: George A. Peterson House." National Register of Historic Places. nps.gov. September 17, 1985. https://atlas.thc.state.tx.us/NR/pdfs/85002273/85002273.pdf

"George A. Peterson House." Texas Historical Markers. texashistoricalmarkers.weebly.com. Accessed July 24, 2019. https://texashistoricalmarkers.weebly.com/george-a-peterson-house.html

Photo Source

2015 Photo of the George Peterson Home: Photo taken by Shane Ford, located at http://www.eastendculturaldistrict.org/cms/historic-sites-architecture/george-peterson-house
Additional Information