Skirvin Hilton Hotel
Introduction
Oklahoma City's landmark historic hotel, the Skirvin Hilton was built in 1911 by wealthy oil baron William Balser Skirvin. Constructed at a cost of $1.8 million, it was the most expensive and elaborate hotel in the city. The hotel initially consisted of two sections and was ten stories tall with 220 guest rooms. By 1928, the hotel had expanded in ways that reflected the growth of Oklahoma City, with three 14-story sections and 525 rooms. The hotel was completely renovated in the mid-2000s and reopened in 2007 with 225 rooms. The building was added to the National Register of Historic Places in 1979.
Images
The Skirvin Hotel was originally built in 1911.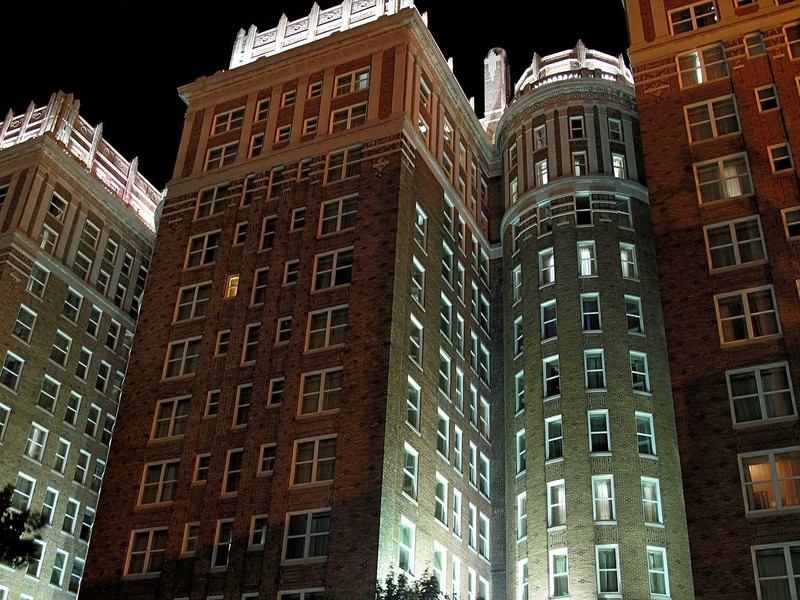 Backstory and Context
The construction of the Skirvin reflected the booming times of the period thanks to the oil industry. Not only was it luxurious, it was also largely self-sufficient in that it had its own water well, electrical generators, and private gas pipeline. Guests during the years before World War II included wealthy cattle ranchers, political figures, and even outlaw figures of the day. Getting to the hotel was convenient, as it was located across the street from the Rock Island Depot.

William Skirvin passed away in 1945 and the hotel was sold to hotelier Dan James. Under his leadership, the hotel continued to thrive. He modernized the hotel and made other changes including a large ballroom and a club on the lower floor. Soon, the hotel became the hottest place in town, attracting celebrities and politicians including Frank Sinatra and Harry Truman.

James also provided employment opportunities for members of the local African American community, which afforded them the chance to gain a semblance of respect. Local African American activists, most notably Clara Luper (1923-2011), organized sit-ins at the hotel, which eventually compelled the hotel to desegregate, becoming the first hotel in the city to do so.

The hotel began to decline after the war, as people started to move to the suburbs. The James family (Dan passed away in 1945) was forced to sell the hotel in the early 1960s. The hotel continued to operate under new ownership until finally closing in 1988. It was then left vacant and fell into disrepair. However, as noted above, it underwent a $50 million dollar renovation and reopened in 2007 as part of the Hilton portfolio of hotels.
Sources
"Historically Modern Since 1911." The Skirvin Hotel. Accessed July 24, 2019. https://www.skirvinhilton.com/about/history.

Nelson, Mary Jo. "Skirvin Hotel." National Park Service - National Register of Historic Places Nomination Form. October 10, 1979. https://npgallery.nps.gov/GetAsset/d7720cf9-e0ff-46b0-994f-bbd12b6d4c7e.

Photo: Wikimedia Commons
https://en.wikipedia.org/wiki/Skirvin_Hilton_Hotel#/media/File:Skrivinatnight.jpg

Additional Information