Leonard Brothers Department Store 1918 - 1967 - Historical Marker
Introduction
This large historical commemorates brothers John and Obadiah "Obie" Leonard who, in 1918, founded what would become one of the largest department stores in Fort Worth. It was so large, in fact, that by the 1960s it occupied six city blocks here in downtown Fort Worth. The store was so successful because the customers could buy almost anything they wanted, from fresh produce to auto supplies, and the brothers treated their employees and customers well. Other draws to the store were the first escalators built in the South and, remarkably, the store's subway line. Called the M&O Subway Express, the subway ferried customers from a large parking lot to the store for free. In effect, the subway was a small-scale mass transit system, encouraging people to not only shop at Leonard's but other businesses as well. As a result, the entire downtown benefitted. The store no longer exists but the tunnel is still there although it is sealed off from the public.
Images
The historical marker features a description of the brothers and the store.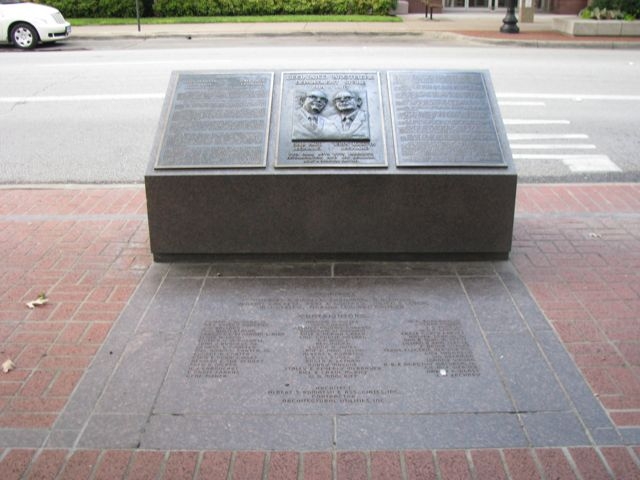 Bas relief of the Leonard brothers on the marker.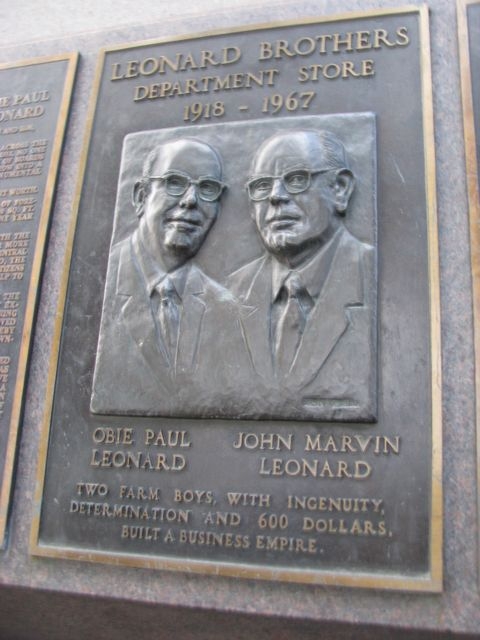 Backstory and Context
The brothers also made strides in the Civil Rights Movement, deciding to desegregate the store in the early 1960s before Congress passed the Civil Rights Act of 1964. The "white" and "colored" signs were taken down from the bathrooms and drinking fountains. African Americans were also allowed to eat in the cafeteria. Desegregation contributed to the store's growth (African Americans constituted a large percentage of the customer base), enabling it to add product lines and floor space.

The store was sold to the Tandy Corporation in 1967, which retained the Leonard name. However, the new owners opened stores in the suburbs and began to only sell products with a high turnover rate (vs. the variety that the store had always sold). As a result, profits declined, leading to the store's closure in 1974.
Sources
Buegner, Walter L. "Leonard Brothers." Handbook of Texas Online. Accessed July 22, 2019. https://tshaonline.org/handbook/online/articles/dhlef.

Dickson, Gordon. "Cowtown underground: M&O Subway gone, but spooky tunnel remains." April 1, 2015. https://www.star-telegram.com/news/local/community/fort-worth/article17124035.html.

"Leonard Brothers Department Store 1918 - 1967." The Historical Marker Database. Accessed July 22, 2019. https://www.hmdb.org/marker.asp?marker=52790.

Photos: The Historical Marker Database
Additional Information