Leila's Hair Museum
Introduction
This small museum displays antique hair art and jewelry within exhibits that present the history of the decorative items made from hair and for hair. The museum was opened in 1986 by local hairdresser Leila Cohoon. Most of the museum's collection has been acquired through purchases at antique stores, estate sales, and from donations by other hair art collectors.
Images
A photo of Leila with one of the hair wreath's in her museum's collection from the museum facebook page.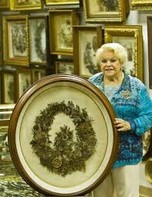 A photo of one of the pieces in Leila's collection from the museum facebook page.
Ozzy Osbourne and his children with Leila in her hair museum.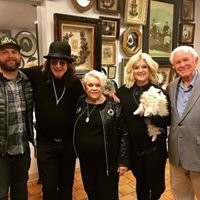 Backstory and Context
Leila Cohoon has been a hairdresser for over 60 years and in addition to creating this museum, she is also the owner of the Independence College of Cosmetology in Independence, Missouri. Cohoon began collecting hair art in 1956 when she purchased a framed piece of hair art from an antique store in Kansas City, Missouri. She bought her second piece, a larger hair wreath later that year from a woman who was visiting her beauty salon. As her collection grew, she began displaying all of her pieces at the cosmetology school she opened in 1960. When she ran out of space she opened up her museum in 1986.
The museum has grown to include over 150 wreaths and 2,000 pieces of jewelry. The majority of the items in the museum's collection are from the 19th and early 20th centuries, but there are a few artifacts that date back even further, with the oldest piece being a brooch containing a piece of hair from the 1680s.
Many of the hair wreaths were created during the 19th century, a time when it was common to make hair wreaths using hair from different family members to create a family tree record. Hair jewelry was also commonly made by women to be given to loved ones, especially lovers, as keepsakes to remember them by. Leila spends time researching the pieces in her collection and sharing with the public the history of these pieces of art and jewelry and the processes in which they were made. Along with displaying her collection she also hosts hair art workshops in the museum.
Sources
First Person: Leila Cohoon. Financial Times. August 30, 2013. https://www.ft.com/content/a688c648-0f78-11e3-8e58-00144feabdc0.
Leila's Hair Museum. Atlas Obscura. https://www.atlasobscura.com/places/leilas-hair-museum.
Additional Information