Martin Hall
Introduction
Built in 1870 in the Second Empire style and named for the university's first president, Alexander Martin, Martin Hall on Woodburn Circle is currently the oldest structure still standing on West Virginia University's downtown campus. Early on in the university's history the building was the site of a number of notable student pranks, most prominently the 1883 firing of a decorative cannon in Woodburn Circle by a group known as the "U. of W.V. Guerillas" (led by Al Jennings, later one of the most wanted criminals in Oklahoma history). The following year, another group of pranksters that included future Minnesota District Court Judge James C. Michael coaxed a steer into Martin Hall, where they left it to be discovered by faculty on the second floor the following morning. On a more serious note, the building was also the site of early radio tests in the 1910s and 1920s by Drs. Robert Colwell, Charles Jolliffe, and James D'Agostino, tests that ultimately led to the creation of FM and color television. The latter has made Martin Hall a particularly appropriate home for its current occupant, the Reed College of Media, which keeps the building open during regular university hours.
Images
Martin Hall from across Woodburn Circle. Martin Hall is currently the oldest building standing on WVU's downtown campus. Photo courtesy of West Virginia University.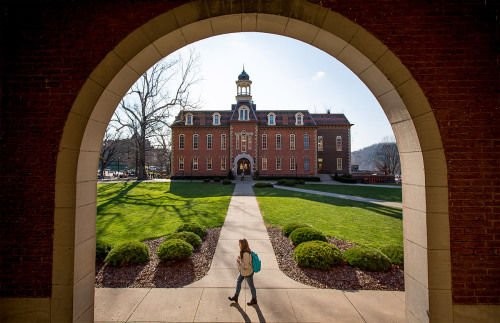 Al Jennings, who attended West Virginia University prior to his career as an Oklahoma outlaw, politician, and movie star. Courtesy of Wikipedia.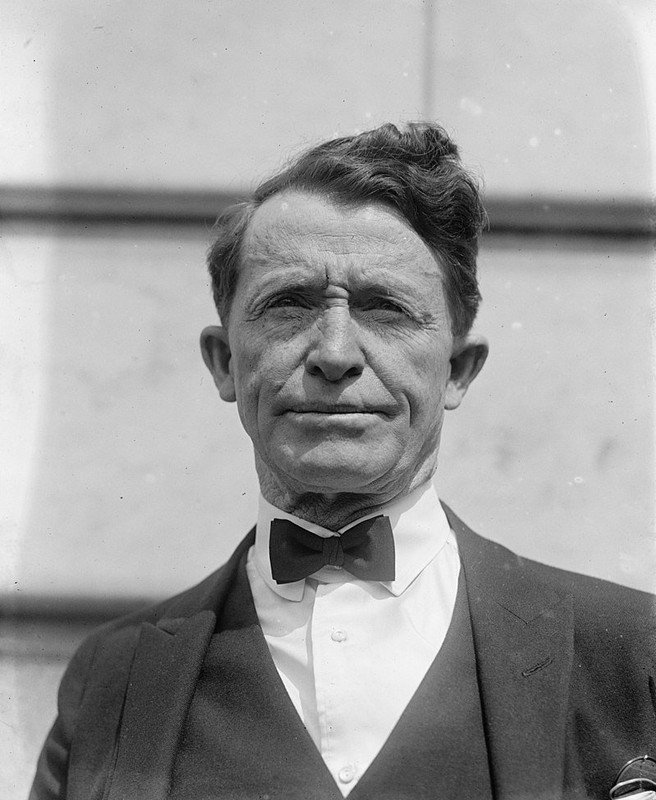 Alexander Martin, first president of West Virginia University and namesake of Martin Hall. Courtesy of The West Virginia Encyclopedia.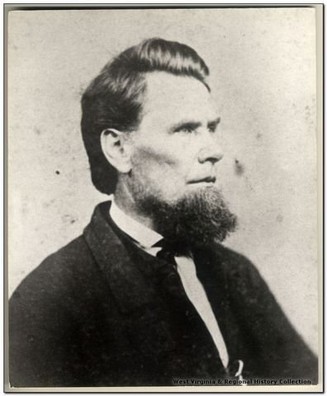 Martin Hall (left) and Woodburn Seminary (right) shortly after Martin Hall's construction in 1870. Courtesy of the West Virginia & Regional History Center.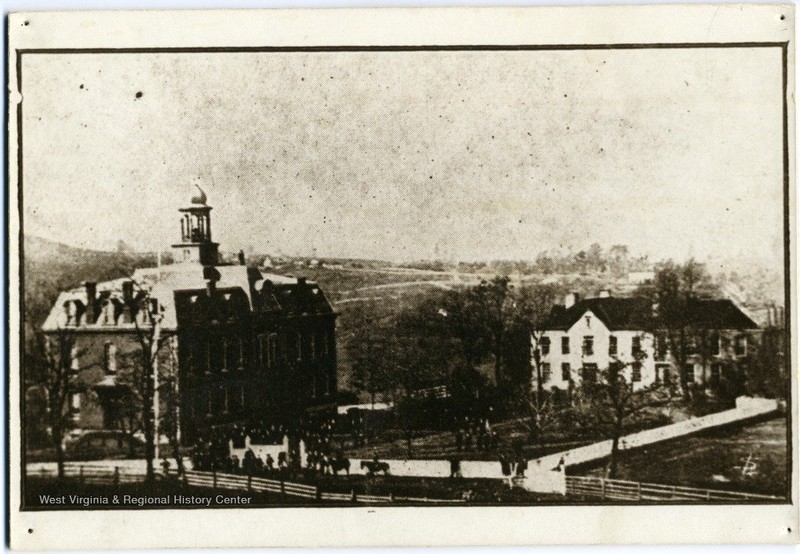 Backstory and Context
The two-and-a-half story brick structure now known as Martin Hall has held a number of names over the years: first as University Hall when construction finished in 1870, then as Preparatory Hall after 1878, and finally as its current moniker from 1899 onwards. It was during its time as Preparatory Hall (named for the college prep school that occupied it at the time) that famous Oklahoma outlaw Al Jennings convinced a number of his fellow students to aid him in the theft of gunpowder from the university armory and subsequent firing of a decorative cannon in Woodburn Circle. It was also during this time that Minnesota District Court Judge James C. Michael participated in the placement of a live steer on the building's second floor, evidently a common occurrence given similar stories surrounding the supposed existence of a bovine spirit that roams the upper floors of nearby Woodburn Hall. It wouldn't be until the building became Martin Hall in 1899 and the university's physics department took up residence there that the structure earned a more substantive legacy. In the 1910s, the department began experimenting with new radio technologies under the supervision of Drs. Robert Colwell, Charles Jolliffe, and James D'Agostino. Their experiments, both on their own and through Jolliffe's later work with the Radio Corporation of America (RCA), would ultimately contribute to the widespread adoption of FM technology and color television. The building's current occupant, WVU's Reed College of Media, has built on that legacy through its ongoing educational forays into radio, television, and journalism.
Prior to the construction of Martin Hall in 1870, West Virginia University (known as the Agricultural College of West Virginia in its first year, 1867) held its classes in the former Woodburn Seminary (the current Woodburn Hall, to the west of Martin Hall, replaced the seminary building after an 1873 fire destroyed it). Within a few years of the university's opening its needs had expanded well beyond the space available to it, and the structure that became Martin Hall quickly arose to meet those needs. Built in brick for a cost of $22,855 (almost half a million dollars today), the new two and a half story "University Hall" is typical of structures designed in the Second Empire style that arrived to late nineteenth-century United States from Napoleon III's Second French Empire. The building's mansard roof (flat top and sloping sides punctuated by dormer windows) is particularly representative of the style. Its central, open belfry is also notable. The iconic Seth Thomas clock now located on top of Woodburn Hall rang out from Martin Hall's belfry until 1911, when it moved to its current position.
The university purchased that clock from the Seth Thomas clock company (which operated from 1853 to 2009) in 1884, the same year that the future Judge James Michael and his friends (who Michael refused to name his entire life) persuaded a local steer to climb the steps to Martin Hall's second floor. When faculty members discovered the animal the next morning, it had gotten its entire head stuck in a window after destroying the room it was in. The student prank committed the previous year, however, was far more damaging. In his first year at the institution, cadet and law student Al Jennings convinced the fellow members of his informal group the "U. of W.V. Guerillas" to steal four bags of gunpowder from the university armory in the middle of the night, load it into the decorative cannon that stood in Woodburn Circle at the time, top the barrel with rags and bricks, and fire. The concussive blast their efforts produced broke every window in Martin Hall facing the circle. It was yet another wild adventure in what quickly became a lifetime full of them for Jennings, who at the age of 17 had already killed a man in a gunfight and bore the scars of another on his knee. When he entered the university on a scholarship secured for him by Judge Virgil Armstrong of West Virginia's Sixth Circuit Jennings had no formal education, but quickly excelled in the school's law program. Despite this fact he never completed his studies, instead moving to the new state of Oklahoma and setting up a law practice under falsified credentials. When another Oklahoma resident killed his brother Jennings swore vengeance, a vengeance that was never satisfied as Jennings was swept up in the allure of the quick money to be made as a train and bank robber. By the end of his career as an outlaw (during which he captured the public's imagination by refusing to rob women or children), he was Oklahoma's most wanted man. After his capture in 1897, he was sentenced to life prison. He ended up serving five years in the Ohio State Penitentiary with the famous O. Henry as his neighbor. O. Henry taught Jennings to write, and he went on to fame as both an author and early actor in silent films. He received a presidential pardon from Theodore Roosevelt in 1904 and went on to campaign unsuccessfully for the governorship of Oklahoma in 1914.
While incidents like the ones involving Judge Michael and Jennings connect Martin Hall to a long- and well-established history of student pranks at WVU, however, it is its associations with the radio experiments of the university physics department that connect it to historical narratives that have arguably been more impactful. In the early twentieth century, the department began experimenting with long range wireless radio technologies that influenced the creation and widespread adoption of frequency modulated (FM) radio waves and color television broadcast. Under the guidance of Dr. Robert Colwell, Charles Jolliffe, and James D'Agostino and with the cooperation of KDKA out of Pittsburgh, the department began work on the transmission and reception of long-range wireless radio signals in Martin Hall's basement. Eventually, their efforts bore fruit, and the trio were able to hear the results of the 1920 presidential election as KDKA broadcast them live. Jolliffe went on to become particularly instrumental in the development of broadcast technologies as first the chief engineer and later vice president of RCA's laboratories division. During Jolliffe's tenure in these positions, he oversaw the development and release of both RCA's FM technology and its color television technologies. These innovations rewrote the face of both wireless broadcast and American society, and it started in the basement of Martin Hall.
Martin Hall's connections to Jolliffe and his compatriots Colwell and D'Agostino make it an ideal location for West Virginia University's Reed College of Media. As the oldest building still standing on WVU's downtown campus, Martin Hall has connections to a long history that extends from the daily lives of its students to the daring escapades of the criminally inclined. Today, through Reed College, it extends that narrative into the future as students learn to utilize the latest techniques and technologies defining the fields of radio, television, and journalism. Anyone interested in that future (or the building's past) may visit Martin Hall during regular university hours.
Sources
"A Brief History of Martin Hall." Reed College of Media. Accessed July 21, 2019. https://mediacollege.wvu.edu/about/about-martin-hall.
"At 135, WVU's Woodburn Hall Still Lights up Hearts at the Holidays." WVUToday Archive. December 2, 2011. Accessed July 21, 2019. http://wvutoday-archive.wvu.edu/n/2011/12/02/at-135-wvu-s-woodburn-hall-still-lights-up-hearts-at-the-holidays.html.
"Charles Jolliffe, 'U' Alumnus and Television Pioneer, Dies." The Morgantown Dominion News, July 21, 1970.
"Dr. R.C. Colwell Succumbs at 73." The Morgantown Post, June 10, 1959.
Hall, John. "Al Jennings: From 'U' to Outlaw." The Morgantown Post, April 14, 1959.
Hart, Bill. "It May Interest You." The Morgantown Dominion News, January 24, 1967.
Hart, Bill. "It May Interest You." The Morgantown Dominion News, December 20, 1969.
Hart, Bill. "It May Interest You." The Morgantown Dominion News, July 22, 1970.
Henry, James O. "The United States Christian Commission in the Civil War." Civil War History6, no. 4 (1960): 374-88. doi:10.1353/cwh.1960.0078.
Jennings, Alphonso J. Beating Back. Nabu Press, 2010.
Morgan, Benjamin Stephen, and Jacob F. Cork. Columbian History of Education in West Virginia.Charleston: Moses W. Donnally, Printer, 1893.
"RCA Sees "Orderly" Color by '53 If System Is Adopted." Billboard Magazine, February 18, 1950, 8.
Slotten, Hugh Richard. Radio and Television Regulation Broadcast Technology in the United States, 1920-1960. Baltimore: Johns Hopkins University Press, 2000.
"Steer at WVU Still a Mystery." The Morgantown Dominion Post, October 5, 1977.
Sullivan, Ken. "Alexander Martin." The West Virginia Encyclopedia.December 07, 2015. Accessed July 21, 2019. https://www.wvencyclopedia.org/articles/1544.
Additional Information