Dallas Fire Station No. 16; Decorative Arts
Introduction
Added to the National Register of Historic Places in 1997, Dallas Fire Station No. 16 was built in 1918. The structure is architecturally unique in the way it combines the Prairie School and Mission Revival styles. As such, the station resembles the suburban residential architecture and reflects a trend in the early 20th century to blend fire stations into the neighborhoods they served. The building served as a fire station until shortly after the end of World War II. Today, the building is home to Decorative Arts, a non-profit community arts center, museum, and film studio.
Images
The former Dallas Fire Station #16 is now the location of Decorative Arts, a local organization dedicated to promoting the arts in the community.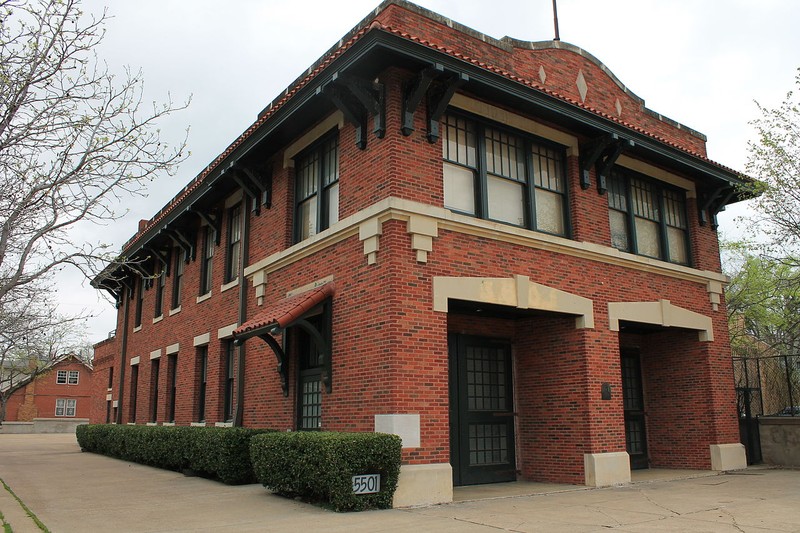 Backstory and Context
Decorative Arts was founded in 1985 by local writer, filmmaker, folklorist, and photographer Alan Govenar. The organization is dedicated to promoting the arts through exhibitions, installations, and public programming. Located across the street is the Texas African American Photography Archive, which Govenar co-founded with his wife, Kaleta Doolin, who is also an artist and arts advocate.
Sources
"About Us." Documentary Arts. Accessed July 17, 2019. http://www.docarts.com/about_us.html.

Charrier, Emily. "Dallas Fire Station #16, 5501 Columbia Ave." Advocate Magazine. June 19, 2017. https://lakewood.advocatemag.com/2017/06/19/dallas-fire-station-16-5501-columbia-ave.

Jensen, Bruce. "Dallas Fire Station No. 16." National Park Service - National Register of Historic Places Nomination Form. April 17, 1997. https://atlas.thc.state.tx.us/NR/pdfs/97000363/97000363.pdf.

Madddox, Will. "Alan Govenar is turning the streets into an artistic destination at the Museum of Street Culture." Advocate Magazine. January 28, 2018. https://lakewood.advocatemag.com/2018/01/26/alan-govenar-the-streets-into-an-artistic-destination.

Photo: Wikimedia Commons
https://en.wikipedia.org/wiki/Dallas_Fire_Station_No._16#/media/File:Dallas_Fire_Station_No.16.JPG

Additional Information