Astor on the Lake/ Astor Hotel
Introduction
Considered one of the finest hotels in Milwaukee when it opened its doors in 1920, the Astor Hotel, historically known as Astor on the Lake, is a luxury downtown hotel for extended stay residents, travelers, and those who call it their permanent home. Designed by architect Herbert W. Tullgren for hotel tycoon Walter Schroeder in the Renaissance Neoclassical style, the hotel encompasses almost an entire city block in Milwaukee's "Gold Coast."
Images
Astor Hotel Vintage Postcard, unknown year. Photo credit: John Rivett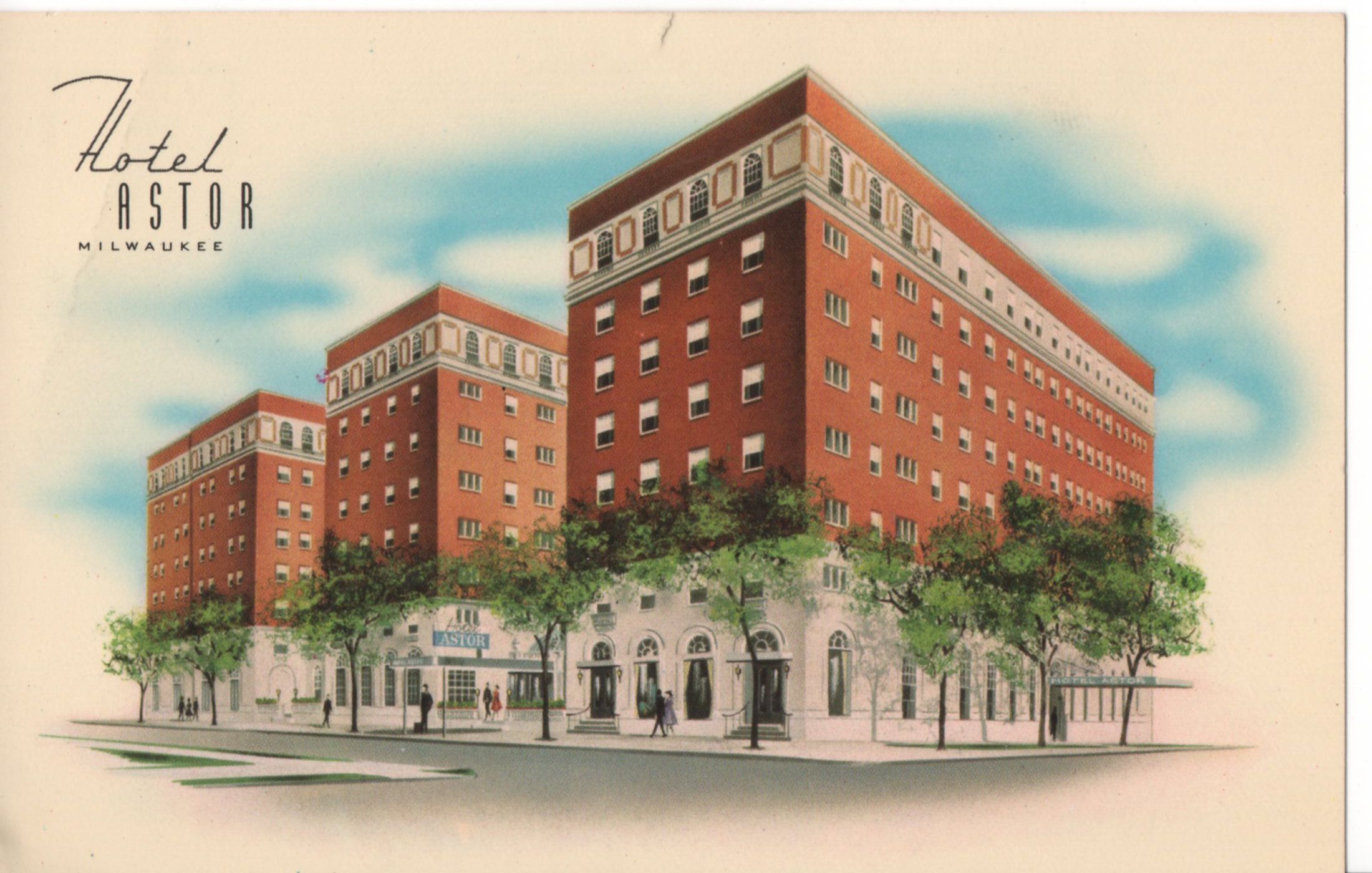 Astor Hotel, 1984. Photo credit: Wisconsin Historical Society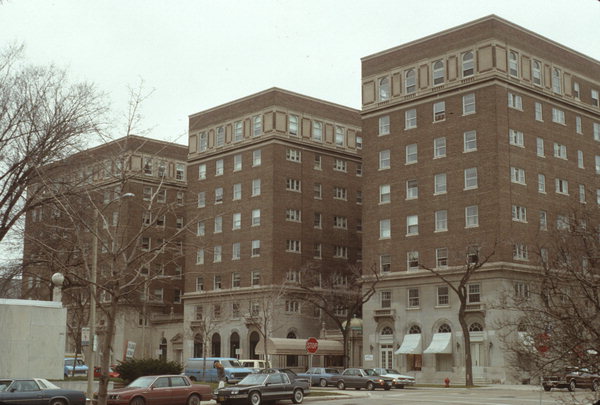 Astor Hotel present day. Photo credit: Wisconsin Historical Society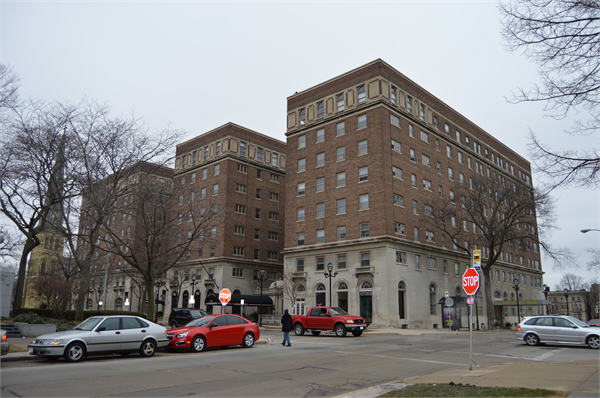 Astor Hotel Stained Glass. Photo Credit: Astor Hotel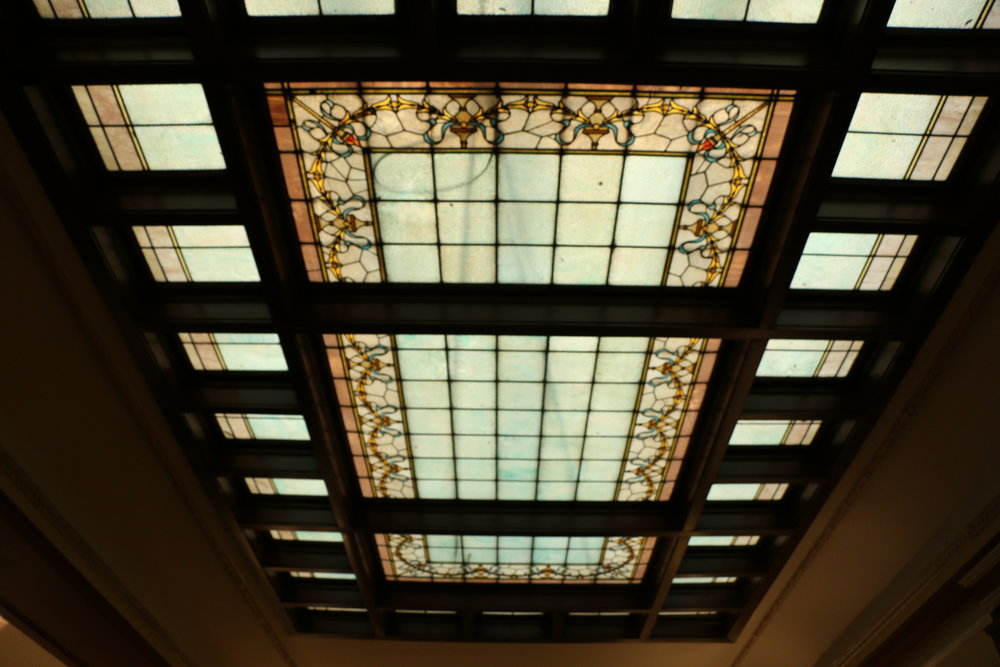 Astor Hotel Rotunda. Photo Credit: Astor Hotel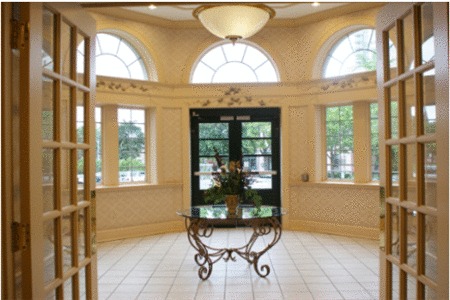 Backstory and Context
The 89,000 square foot Astor Hotel was built in 1920 by prominent local architectural firm Martin Tullgren and Sons, with Herbert Tullgren the leading architect on the project. It is shaped in an 'E' and built of limestone and red brick on the exterior, and the 330,000 square foot interior space is comprised of nine stories of apartments and hotel rooms in a variety of sizes. The interior includes many stained glass structures, including a stained glass domed ceiling in its Rotunda Room. The building was created in the Renaissance Neoclassical style (one of only to such hotels in Milwaukee), with clean lines and ornate details such as crystal chandeliers, crown molding and arched windows.
In 1929, the hotel leased its bottom floor to retailers for luxury shop fronts. Early tenants included Rolls Royce, the Wisconsin Telephone Company, and an Oriental rug dealer. In 1935 the building suffered a devastating fire in the basement, killing two people- a deaf and blind resident and his nurse. With the fire causing financial bankruptcy of its owner, on top of the onset of World War II soon after, it was years before structural improvements could be made to the hotel. After the War ended in 1945, the building was restored to its former glory. The hotel was again renovated in 1981, but close attention was made to preserving the original architecture and design. It was added to the National Register of Historic Places in 1984. Today the Astor Hotel is a mix of permanent residential apartments and hotel rooms for luxury travelers owned by Watercrest Real Estate company, still an architectural focal point of the Yankee Hill/East Town neighborhood of Milwaukee.

Sources
About Us. The Astor Hotel. . Accessed July 16, 2019. https://www.theastorhotel.com/.

Zeitlin, Richard. Astor on the Lake. NPS National Register Record. July 18, 1984. Accessed July 16, 2019. https://npgallery.nps.gov/GetAsset/fa69e53d-d1be-4f00-a5b6-d6c03fa582ae.

"Milwaukee Hotel Burns; 2 Lives Lost." The Telegraph-Herald (Dubuque) February 18, 1935. , Society and Personals sec, 7-7.

Astor Hotel. Wisconsin Historical Society. . Accessed July 16, 2019. https://www.wisconsinhistory.org/Records/Property/HI16739.


Additional Information