Jackie Robinson's Ballpark and Mounment
Introduction
Jackie Robinson was born January 31 1919 in Caivo, Georgia. Attending the University of California, he was their standout baseball player. Baseball was segregated, and Robinson signed to the Kansas City Monarchs in the Negro League. He was an important figure in baseball and played his first professional game with the Montreal Royals.
Images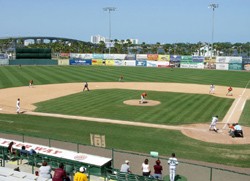 Statue of Jackie Robinson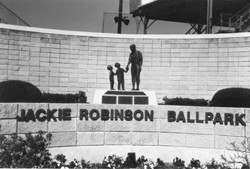 Backstory and Context
Found in Daytona Beach Florida is a ballpark dedicated to Robinson. It was originally called the Daytona City Island Ballpark, and the home of the Daytona Clubs and Bethune-Cookman Wildcats. The ballpark was opened on June 4, 1914.
Jackie Robinson Ballpark was the new name in 1990. Having a rich history in baseball, it was the first ballpark to host the first integrated game. It's named after Robinson because Daytona Beach was the first city in Florida to allow him to play. He was the reason why full integrated games were allowed here.
This ballpark has remained the same since it was first constructed, except for upkeep. One change is the wooden bleachers constructed in 1910 was replaced in 1920. Robinson died on October 24, 1972. There is also a statue in his remembrance.
Sources
http://en.wikipedia.org/wiki/Jackie_Robinson_Ballpark http://www.nps.gov/nr/feature/highlight/city_island_ball_park.htm http://www.milb.com/content/page.jspsid=t450&ymd=20100223&content_id=8118192&vkey=team1