Hotel Jalta
Introduction
Hotel Jalta (now known as Jalta Boutique Hotel), is a Cold War Era hotel. It is known for its fallout shelter in the basement. Currently, the hotel is running as a five-star boutique hotel, with the bunker open as a museum. The building was designed by Czech architect Antonín Tenzer.
Images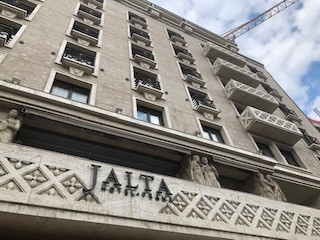 Close-up view of the sculptures on the front of the building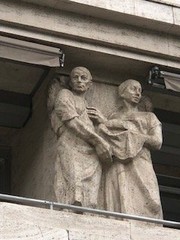 Statue of Saint Wenceslas, less than a minutes walk from the hotel.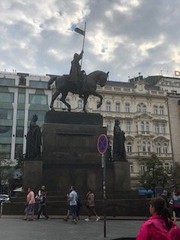 Additional close-up of building's facade.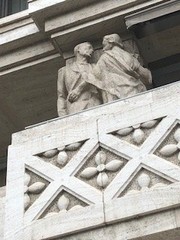 Backstory and Context
At 61 years old, Hotel Jalta is fairly young by Prague's standards. However, it's Cold War history marks it as a UNESCO Czech heritage site.

Architecturally, the facade of Hotel Jalta is a clear example of Stalinist architecture, with it's square shape and uniform windows. However, it's functionalist influence by Czechoslovakian architect Antonin Tenzer shows up in it's interior. Additionally, the stonework on the facade was overseen by Czechoslovakian president Antonín Zápotocký, who also commisioned the building.

Most unique about the building is the fall-out shelter located in the basement, which was only revealed to the public in 1990 after the end of the Soviet Occupation. This fall-out shelter is notable for it's size: it was built to hold 250 people, and included kitchens, living areas and offices.

In addition to it's use as a fall-out shelter, the basement was also used during the Soviet Occupation as a communication center for the secret police. Since many foreign guests were visitors of this hotel, the secret police wire-tapped and followed conversations in the hotel rooms.

61 years later, this location is still an operating hotel (Jalta Boutique Hotel), and the former underground bunker is home to the "Cold War Museum," where guests can take tours of the former bunker. As an example of Socialist Realism architecture and a glimpse into Soviet Occupation era history, Hotel Jalta is a significant location.


Additional Information