Henry Maier Festival Park
Introduction
The land that eventually became Henry Maier Park was one of the first landfill areas created along the lakefront, which began in the 1910s. The park has been home to Summerfest since 1970 and also hosts numerous other festivals and events. The land that where the park now stands has a long history that serves as a window towards understanding the history of Milwaukee. Formed in the early 20th century as part of a massive earth-moving project that created dry land from a shallow portion of Lake Michigan, this land has been home to an airport, a school for seaplane pilots, and an Army post. This park is an icon of Milwaukee history as well as a place to hear your favorite bands, experience multiple world cultures, or run for your cause of choice.
Images
Aerial view of Maitland Airport (from the WI Historic Aerial Imagery Finder), 1937.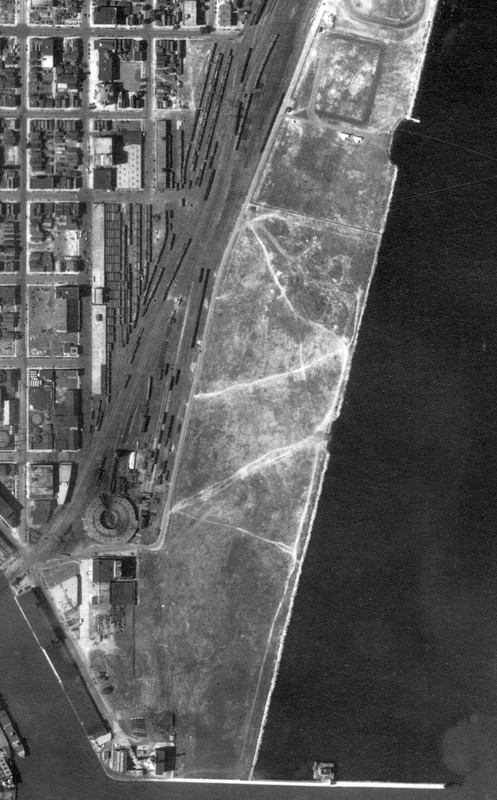 Loening Air Yacht descending Maitland's seaplane ramp, 1930.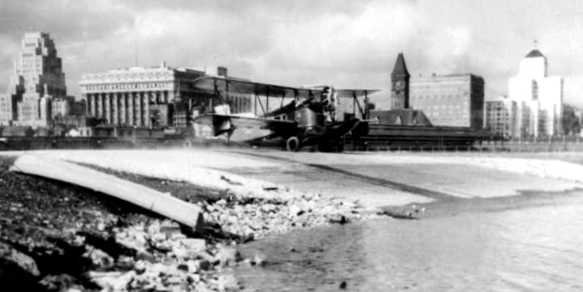 June 1946 Milwaukee Sectional Chart depicting the Milwaukee Seadrome.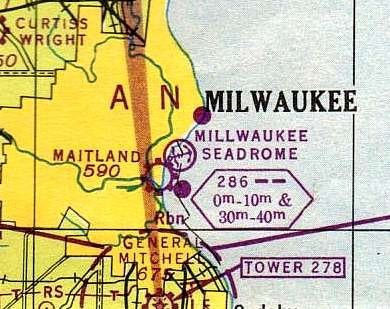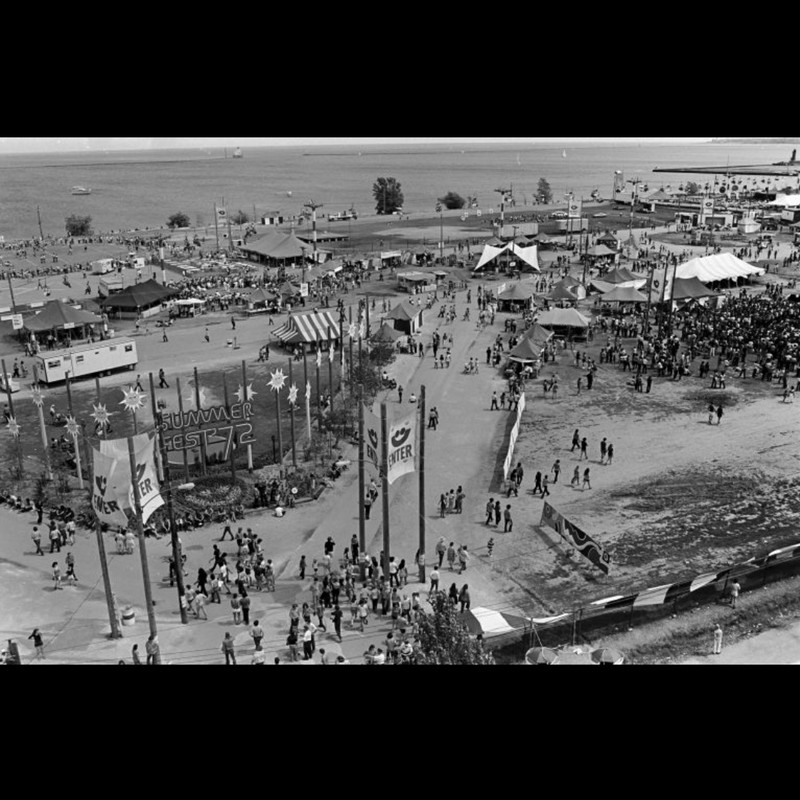 Henry Maier Festival Park today.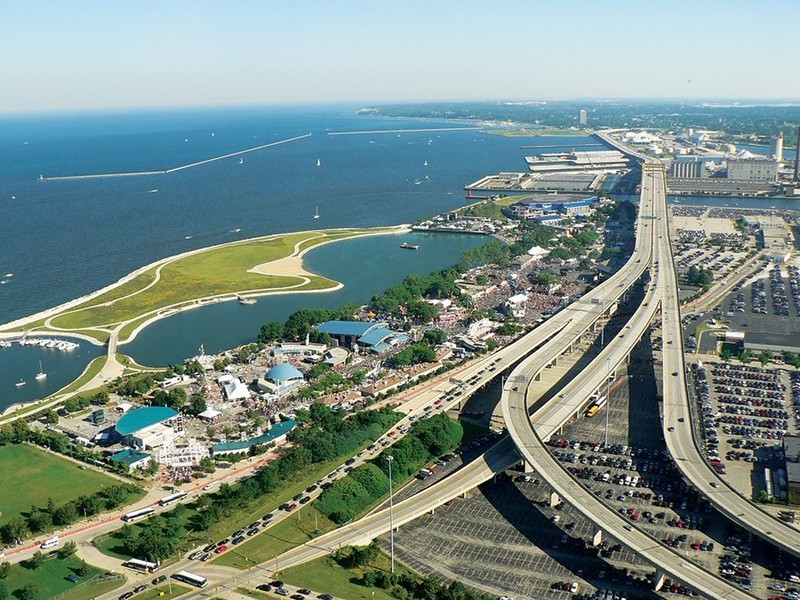 Backstory and Context
In order to provide more space in the fast-growing city of Milwaukee in the early 20th century, new land was formed along the coastline by dumping earth and stone into the water. The current park space is part of that massive earth-moving project that began in the 1910s. Other landfill projects along the coast continued over the next 100 years.
After the landfill was finished, city leaders decided to use the land as a downtown airport that would complement the newly built Mitchell Field on Milwaukee's south side. This airport was called Maitland field to honor local pilot Lester Maitland who had just set a world record for flying from California to Hawaii in 26 hours. The airport opened in 1927 to high hopes for increased commercial traffic to the city. The Milwaukee Journal reported in 1930 that "no other large city is said to have the natural advantage presented to Milwaukee, by which an airplane can taxi up to a railroad terminal and discharge its passengers within a few feet of a waiting train." However, the small space afforded to the airport caused the federal government to declare Maitland airport unsafe due to dangerously narrow runways. The crash landing of two airplanes in 1933 sealed its fate.

In 1937, the Milwaukee Seadrome became the next property to occupy this space. Operated by local inventor and entrepreneur Anthony "Tony" Lange, the Seadrome was a facility specializing in the storage of seaplanes, and airplanes that took off and landed on water. It was also used as a training school for seaplane pilots, one of only six schools in the nation where civilians could receive seaplane training. The Seadrome lasted only 10 years, however, and closed in 1947.

After sitting idle for nearly a decade, the land was sold to the Army in 1956. The Army built a post that served as one of eight anti-aircraft missile defense sites during the Cold War. The intent was to protect the area from potential Soviet nuclear attacks and housed 100 men and 12 Ajax missiles. However, by the time the site was fully operational, the Soviet nuclear scare had largely passed. The Army decommissioned the site on September 1, 1969. Milwaukee congressman Henry Ruess called the base a "boondoggle that has outlived its usefulness, if it ever had any."
Henry Maier Festival Park became the official Summerfest grounds in 1970, the third year of the festival, after being leased to the festival organizers by the Harbor Commission for $1. The grounds were named for Milwaukee mayor Henry Maier, who conceived of the vision of Summerfest in the early 1960s. After visiting Munich, Germany's Oktoberfest, he, along with a mayoral panel, proposed a 10-day event aimed to celebrate the city's German heritage. What began from nothing but water has evolved into "The World's Largest Music Festival," a title given by the Guinness Book of World Records in 1999. The grounds now cover 75,000 square feet and welcomes millions of visitors each year.
Sources
Prigge, Matthew J.. A Brief History of Milwaukee's Festival Grounds. Shepherd Express. June 15, 2017. Accessed July 09, 2019. https://shepherdexpress.com/news/what-made-milwaukee-famous/brief-history-milwaukee-s-festival-grounds/#/questions/.

Prigge, Matthew J.. Building Milwaukee's Lakefront. Shepherd Express. April 09, 2018. Accessed July 09, 2019. https://shepherdexpress.com/news/what-made-milwaukee-famous/building-milwaukees-lakefront/#/questions/.

Steffan, Katie. Airports and Air Transportation. Encyclopedia of Milwaukee. . Accessed July 09, 2019. https://emke.uwm.edu/entry/airports-and-air-transportation/.

Callahan, Liam. Field of Dreamers. Milwaukee Magazine. October 21, 2012. Accessed July 09, 2019. https://www.milwaukeemag.com/FieldofDreamers/.

Haig, Barbara. Summerfest. Encyclopedia of Milwaukee. . Accessed July 09, 2019. https://emke.uwm.edu/entry/summerfest/.

Freeman, Paul. Maitland Airport. Abandoned & Little-Known Airfields: Southeastern Wisconsin. . Accessed July 09, 2019. http://www.airfields-freeman.com/WI/Airfields_WI_SE.htm#downtownmilwaukee.


Additional Information