Battle of Smithfield Crossing
Introduction
The Battle of Smithfield Crossing occurred from August 25 to August 29, 1864 between two Confederate infantry divisions and one Union Calvary division. The battle was a result of an ongoing campaign between Union forces led by General Phillip H. Sheridan and Confederate forces led by General Jubal A. Early. The goal was to take control of the Shenandoah Valley region, along with its key strategic points. Late in the summer of 1864 many battles and skirmishes would occur between the two forces, with the Battle of Smithfield Crossing being one of them. This battle is ranked in the top 3 percent of the more than 16,000 recorded armed encounters in the Civil War. It holds a certain significance to the fight for control of the region and can be considered a big piece of cause and effect in the struggle across the valley in 1864.
Images
Map of battles between Confederate and Union forces in the Shenandoah Valley, including the Battle of Smithfield Crossing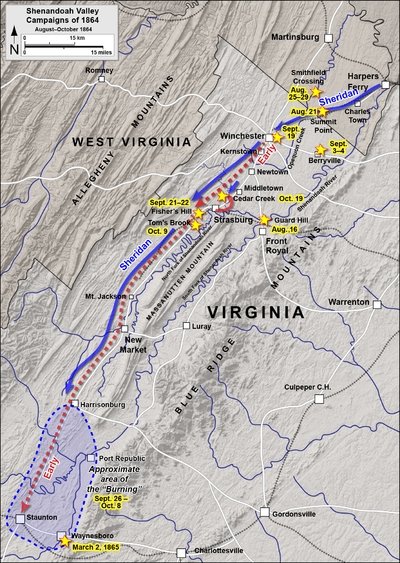 Map of the Battle of Smithfield Crossing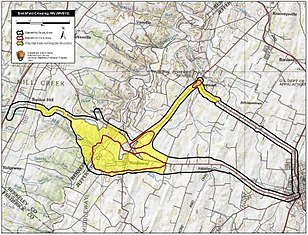 Backstory and Context
In 1864 he Shenandoah Valley had drawn significant attention from both Confederate and Union armies who looked to gain control of the region. The area held key strategic points such as mill, ports, bridges, and riverways. These points would allow the transportation of supplies and troops with ease for whatever side controlled them. The area was extensively used by General Robert E. Lee to keep his armies in and around Virginia supplied and reinforced as the Civil War raged on. Union General Ulysses S. Grant looked put a stop to this after the disaster at Kernstown, Virginia and the Confederate burning of Chambersburg, Pennsylvania.
General Grant dispatched General Phillip H. Sheridan to the region with the goal of defeating Confederate General Jubal A. Early who commanded the Confederate forces in the Shenandoah Valley. General Sheridan commanded a force of 50,000 Union soldiers, as he conducted strategies of total war, which meant they would not only battle the enemy but burn any resources or useful structures so that they could not be used by the enemy. However, even with such a large force causing so much damage, General Early continually received reinforcements and supplies sent by General Robert E. Lee. Sheridan was aware of the large Confederate force in the area and had been ordered to move cautiously and avoid defeat. This lead for Confederate General Early to pursue an attack on Sheridan's Union forces which lead to a Battle at Cameron's Depot. General Sheridan followed his orders to be cautious and withdrew. General Early and his Confederate infantry chased after the Union forces to Summit Point, Charlestown, and finally south of Harper's Ferry where Sheridan's forces dug in. Jubal Early then attempted to push into Maryland in order to continue with his army's momentum and was intercepted by a force of Sheridan's Calvary. The Calvary force was defeated, and Sheridan's forces were then pushed even further south to Stephenson's Depot, near Opequon Creek.
Confederate General Early's strategy was working as he continually pushed Union General Sheridan's forces further and further south. The Battle of Summit Point or also called the Battle of Cameron's Depot resulted in 1,000 casualties but unknown as to how many each side suffered. This battle occurred on August 21, 1864, several days before the Battle of Smithfield Crossing. This was part of General Early's strategy, to attack multiple points along Opequon Creek in an attempt to break through the defenses established by the Union forces. The battlefield stretched across the Shenandoah Valley as both sides struggled to gain control of key points and drive the other side out of the region for good.
Opequon Creek had a significant crossing called Smithfield Crossing. Early's forces dug in along the western bank of the creek from Bunker Hill to Stephenson's Depot. On August 28, 1864 Union calvary drove Confederate cavalry forces from around Leetown, south towards Smithfield, across the Opequon Bridge. On the morning of August 29, 1864, the cavalry force was pushing towards Bunk Hill in pursuit of the Confederate forces. Led by General Custer, the Union cavalry force was met by two Confederate infantry divisions. The Confederate forces then began to pursue and push at the crossing point in order to infiltrate and begin to attack the rest of the Union forces. However, Union cavalryman Wesley Merritt rallied his forces and the next day, with Major General James Rickett's infantry sent to reinforce the brigade, the Confederate force was pushed back. Rickett's infantry, armed with repeater carbines, overwhelmed the Confederate divisions and forced them to retreat across the bridge. The Battle of Smithfield Crossing totaled 300 casualties and is considered an inconclusive battle with no clear victor, even though the Union ended up controlling the crossing.
Sources
"Battle of Smithfield Crossing." Battle of Smithfield Crossing West Virginia Civil War Map, www.thomaslegion.net/battleofsmithfieldcrossing.html.
"Battle of Smithfield Sesquicentennial Commemoration." Isle of Wight County Museum Smithfield, Virginia USA, www.historicisleofwight.com/battle-of-smithfield-sesquicentennial-commemoration.html.
"Civil War in West Virginia." Legends of America, www.legendsofamerica.com/civil-war-west-virginia/3/.
"Sheridan's 1864 Shenandoah Campaign." Shenandoah at War, www.shenandoahatwar.org/history/sheridans-shenandoah-campaign-1864/.
Additional Information