Keene Springs Hotel
Introduction
Constructed in 1841, this historic Kentucky hotel is a wood-frame, Greek Revival-style building that was a leading destination for travelers seeking what was long believed to be the healing waters of the nearby white sulfur springs. The hotel was sought after as a place of refuge during cholera epidemics that struck Lexington in 1833 and 1859. The Jessamine County structure was added to the National Register of Historic Places in 1984. The building is significant not only for its age but for its connection to the early development of the area as travelers came from throughout the country to experience the spring water available nearby that was believed to offer medicinal benefits.
Images
Landmark sign outside Keene Springs Hotel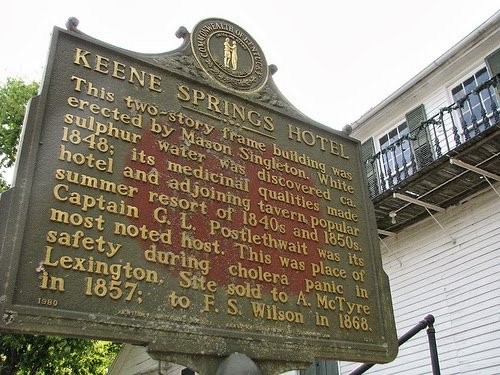 New owners are slowly working to restore the Keene Springs Hotel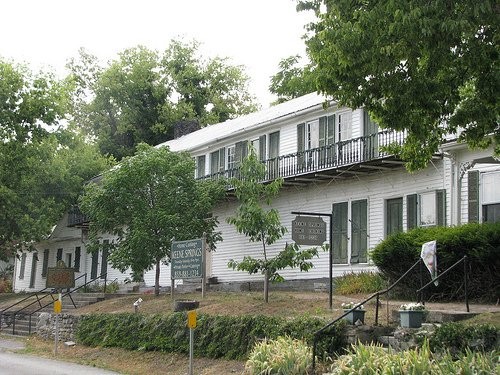 Keene Springs Hotel, 2007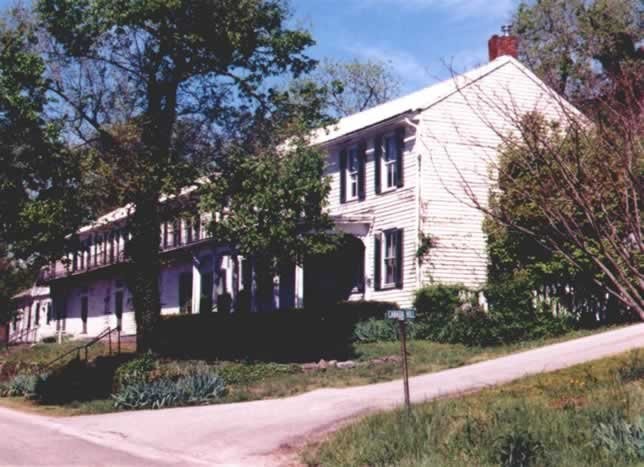 Keene Springs Hotel, circa 1868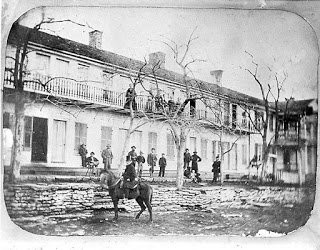 This painting of the Keene Springs Hotel was created in 1916 and held by the Kentucky Historical Society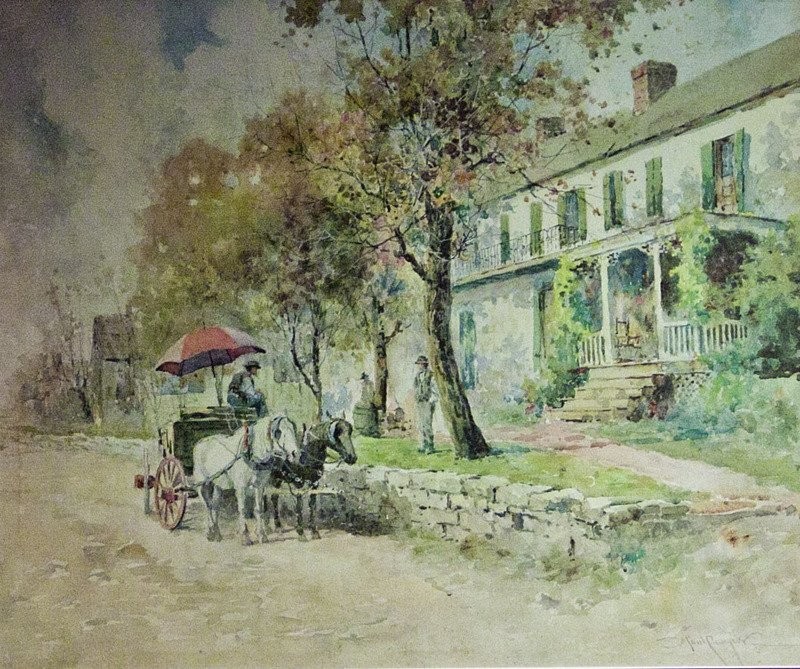 Backstory and Context
The Keene community was initially established in 1813 as Liberty, a name that was common to many other towns throughout the country at that time. Because of the resulting confusion, the community eventually began to be referred to as Keen. This became official in 1830 when Postmaster Ephraim Carter established a post office in the town and named it after his hometown, Keene, New Hampshire. The community of Keene became an incorporated community in 1844.
Just four years later, local residents discovered that some nearby springs contained white sulfur. While scientists today cannot offer any conclusive medical studies to suggest that sulfur water has medicinal advantages, for many decades in the 19th and early 20th centuries people around the world believed this water to be conducive to good health. In addition to the belief that it was relaxing and good for the skin, it was believed that bathing and ingesting the water could help internal organs.
Many of those in the Keene community during the 19th Century believed that the water offered salubrious health benefits, including Dr. Robert Peter of Transylvania Medical College. Peter declared that the white sulfur water in the springs near Keene was "incomparably the best medical water on this continent ... eminently adapted to the cure of every species of Indigestion, Liver Complaint, Scrofula, Cutaneous Affections, Mercurial Disease, a variety of nervous diseases and nearly all diseases that are usually denominated chronic." 1
As such, seeking the curing and healing powers of the water and temporary refuge from indiscriminate danger, many of those capable of leaving Lexington during its 1849 cholera epidemic did so and arrived at the Keene Springs Hotel. During this time, the hotel was owned by Mason Singleton, son of Manoah Singleton, who had first come to the area now known as Keene in 1794 to establish a grist mill.
In 1857, Singleton sold the hotel to Alfred McTyre following is general decline in popularity in the region. In 1868, after a decade of operation under McTyre, the hotel was then sold to Fielding S. Wilson, whose family it has remained in control of ever since. The Wilson family mainly utilized the building as a general store and residence until the 1960s.
Today, the building is operated by a lessee as a home-style restaurant available for private catering three days each week. It has been reported the building has been in the process of being gradually restored by the current lessee for over a decade.
Sources
Brackney, Peter. "Keene Springs Hotel A Refuge During Lexington's 1849 Cholera Epidemic." Kaintuckeean. 23 July, 2012. 6 July, 2019. https://www.kaintuckeean.com/2012/07/KeeneSpringsHotel.html.

1 Brackney, Peter. "Keene Springs Inn enjoys rich history." Kaintuckeean. 18 October, 2013. 7 July 2019. https://www.kaintuckeean.com/2013/10/keene-springs-inn-enjoys-rich-history.html.

Flairty, Steve. "Kentucky by Heart: Historic Keene community might not be fancy, but it's home … and always will be." Kentucky Forward. 23 May, 2017. 6 July, 2019. https://www.kyforward.com/kentucky-by-heart-historic-keene-community-might-not-be-fancy-but-its-home-and-always-will-be/.

"Keene, Kentucky." Kentucky Atlas & Gazetteer. 7 July, 2019. https://www.kyatlas.com/ky-keene.html.

"Keene Springs Hotel." Jess Historical. 2010. 7 July, 2019. http://www.jesshistorical.com/northwest8.htm.

"Keene Springs Hotel." National Register of Historic Places. 1984. 6 July, 2019. https://nationalregisterofhistoricplaces.com/KY/jessamine/state.html.

"Keene Springs Hotel." Revolvy. 7 July, 2019. https://www.revolvy.com/page/Keene-Springs-Hotel?cr=1.

"Keene Springs Hotel." Road Trippers. 7 July, 2019. https://maps.roadtrippers.com/us/ky/accommodation/keene-springs-hotel."

Additional Information