Mark Twain Memorial Lighthouse
Introduction
The Mark Twain Memorial Lighthouse honors the life and legacy of American writer, Mark Twain, who grew up here in Hannibal. The lighthouse, which is merely ornamental and not a navigational aid, is located on Cardiff Hill, which is where two of Twain's more popular fictional characters—Tom Sawyer and Huckleberry Finn—played with their friends. The current structure is not the original one, which was first erected in 1935 to commemorate Twain's 100th birthday. A second lighthouse was built in 1960 after the first was blown over by a windstorm. This one was torn down and replaced by the current structure in 2019. Visitors reach the lighthouse via a staircase that leads up from Rock Street (it also appears that one can reach it from the Tom Sawyer and Huck Finn statue on North Street). The site also includes an interpretive sign describing the history of the lighthouse. It is not clear whether visitors can climb inside it.
Images
The Mark Twain Memorial Lighthouse (this is the second one) was originally built in 1935, which was the 100th birthday anniversary of the famous writer.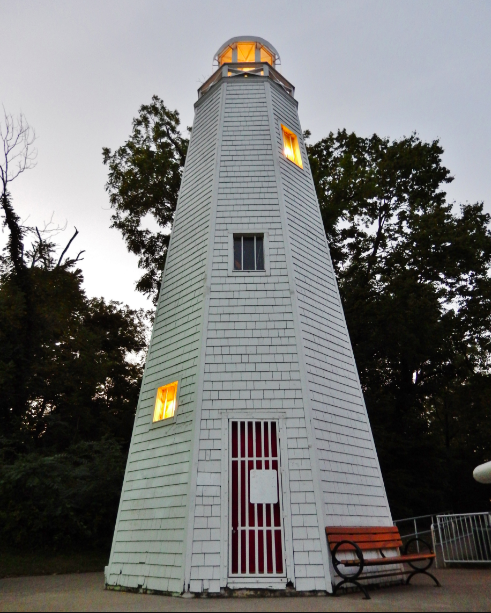 Visitors reach the lighthouse using this staircase.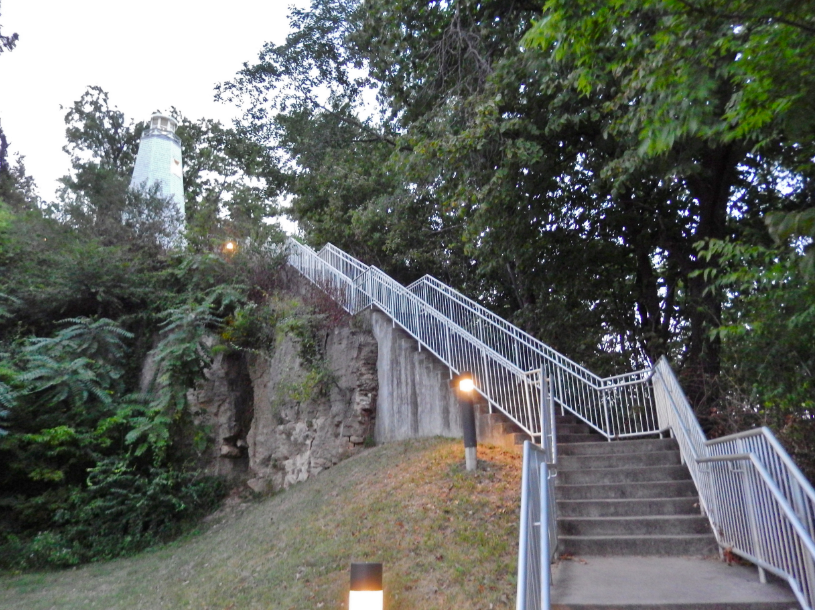 Sources
"Mark Twain Memorial Lighthouse." Hannibal Parks & Recreation Department. Accessed July 5, 2019. https://www.hannibalparks.org/parks/mark-twain-memorial-lighthouse.

"Mark Twain Memorial Lighthouse." The Historical Marker Database. Accessed July 5, 2019. https://www.hmdb.org/marker.asp?marker=131895.

Szatala, Ashley. "Hannibal to replace Mark Twain lighthouse entirely, with new lighting component." May 25, 2018. https://www.whig.com/20180515/hannibal-to-replace-mark-twain-lighthouse-entirely-with-new-lighting-component.

Photos: The Historical Marker Database
Additional Information