Battle of Springfield Historical Marker
Introduction
During the Revolutionary War, British Lieutenant General Wilhelm von Knyphausen launched an offensive throughout this part of New Jersey in 1780. The campaign was not authorized as Henry Clinton was fighting further south and was not aware of the campaign. After a brief skirmish on June 7th, 1780, Wilhelm decided to fall back to a fort and when he received word that Clinton was returning with more troops and he was to wait for these reinforcements. When Henry Clinton learned of the attack without permission he was initially irate, but after hearing of troop movements by Washington he ordered his own offensive in New Jersey.
Images
Battle of Springfield Historical Marker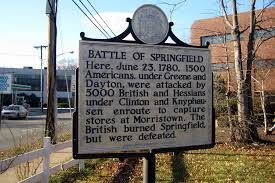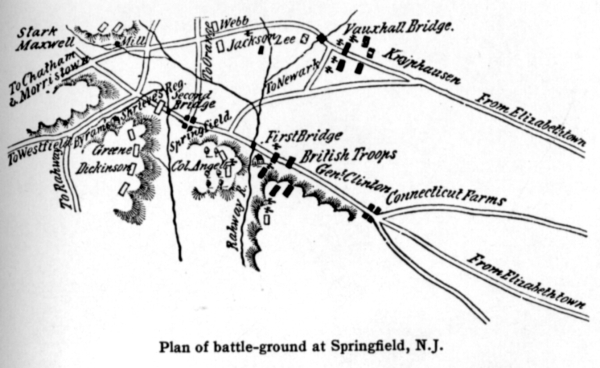 Backstory and Context
In 1780 the British employed a new strategy of attacking the less rebellious southern colonies in hopes of dividing the colonies. General Henry Clinton moved his men south to start the southern invasion leaving the British soldiers in the north and their leaders to their own devices. Lieutenant General Wilhelm von Knyphausen decided to move his forces into New Jersey without permission from Henry Clinton. His attack met resistance and Clinton called on him to wait for reinforcements.

Washington believed that when Clinton arrived back in New York that he would make an effort to attack the fort of West Point. Unkown by Washington, however, was the secret agreement of Benedict Arnold to deliver West Point to the British. Washington was moving some of his troops to reinforce West Point, leading Clinton to approve the invasion of the same area of New Jersey. American soldiers capably repelled the impending British and Hessian under Lieutenant General Wilhelm von Knyphausen and they would do the same once again.

Greene had his American troops in columnns behind a defensive position with a small force of reserves. The initial advance by the Hessian troops under British command was stopped by the stiff resistance of the American defenders but artillery forced the Americans to fall back to the hills outside of Springfield.

Greene rushed two regiments north and stopped the second advance. In response, General von Knyphausen decided not to attack the soldiers and burnt the town down instead and retreated. This would be the last major battle fought in the area during the American Revolution.

Additional Information