Mark Twain Boyhood Home & Museum
Introduction
The Mark Twain Boyhood Home & Museum is dedicated to promoting the legacy of writer Mark Twain (1835-1910) and preserving the historic properties associated with him here in Hannibal, most notably the house in which lived in between c.1843-1853. The museum complex consists of eight buildings, a garden, and a statue depicting two of Twain's famous characters, Tom Sawyer and Huckleberry Finn. The historic structures are: the Boyhood Home, the WPA Stone Building (located next to the home), the John M. Clemens Justice of the Peace Office, Grant's Drug Store, the Becky Thatcher House, the Interpretive Center, the Huckleberry Finn House, and the Museum Gallery building. The Interpretive Center is the starting point for museum visitors, and the Museum Gallery building features exhibits displaying Twain books and items belonging to him, as well as 15 original Norman Rockwell paintings depicting Tom Sawyer and Huckleberry Finn. The Boyhood Home is a National Historic Landmark and a contributing property of the Mark Twain Historic District (some of the buildings of the museum complex are contributing properties to the district as well). The museum opened in 1912 when the Boyhood Home was donated to the city.
Images
The Mark Twain Boyhood Home is one of several historic properties at the museum.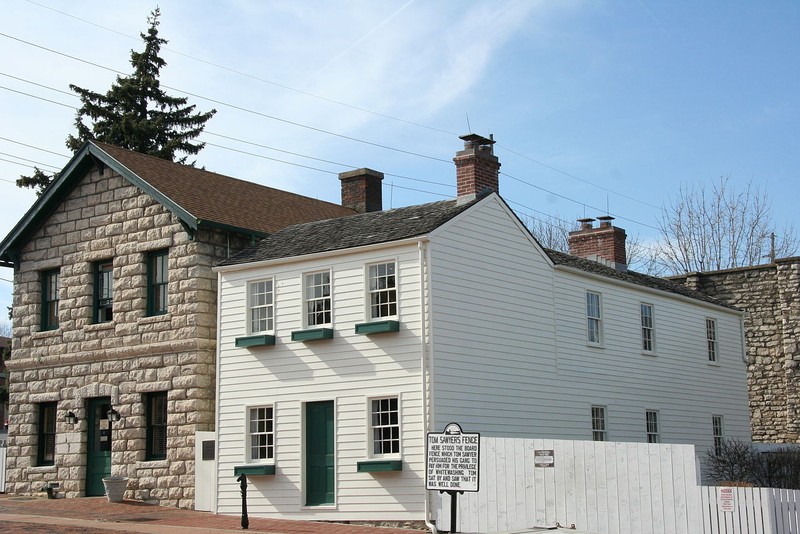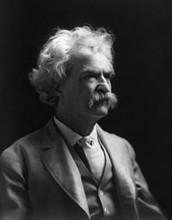 Backstory and Context
Mark Twain, whose real name was Samuel Langhorne Clemens (he used a number of other pen names including Sieur Louis de Conte and Thomas Jefferson Snodgrass), was one of America's greatest writers. He was born on November 30, 1835 in Florida, Missouri to a large family; he was the sixth of seven children (he and three siblings would survive into adulthood). The Clemens moved to Hannibal when Twain was four. This move would be consequential for his development as a writer because many of his stories, most notably the Adventures of Huckleberry Finn and the Adventures of Tom Sawyer, were based on his experiences living here.

Twain's literary career began when he became a printer's apprentice at the local Missouri Courier newspaper after completing fifth grade. He was tasked with placing the type for newspaper's stories, which gave him the opportunity to read them. In 1851, he started working for his brother, Orion, who had owned a publication called the Hannibal Journal. Twain worked as a typesetter and published articles. He also became the editor when Orion was away.

For the next few years, after he turned 18, Twain headed to St. Louis, Philadelphia, New York City, and then Cincinnati where he found employment at other newspapers. He returned to Missouri in 1857 to become an apprentice "cub" river pilot under Captain Horace Bixby, who was a well-known steamboat pilot at the time. Twain received his pilot's license two years later. It was during this time that he adopted his pen name; "mark twain" is a term to describe twelve feet deep of water.

At the outbreak of the Civil War, traffic on the Mississippi River was halted. Twain then joined a local Confederate militia but quit after just two weeks. He then moved to Nevada to work for his brother Orion who had been recently appointed Secretary of Nevada; Twain became Orion's secretary. However, he caught mining fever and hoped to become rich. His life as a miner did not pan out despite traveling around the territory. But he did write humorous pieces and articles for the Virginia Territorial Enterprise. In 1863, he began using the pseudonym, Mark Twain.

In the coming years, Twain moved to San Francisco and spent a few months as a correspondent in Hawaii. He got a big break in 1865 when he wrote a story called "The Celebrated Jumping Frog of Calaveras County." It became an immediate hit around the country. The next year, Twain went on a lecture tour around the country. His life became even better in 1870 when he married his wife, Livy.

They moved to Hartford, Connecticut and built a large home (also a Clio entry) in 1874. During the next couple of decades, Twain would write his most famous works including The Adventures of Huckleberry Finn, The Adventures of Tom Sawyer, and A Connecticut Yankee in King Arthur's Court. Unfortunately, while Twain earned a lot of money for his work and lectures, he got into serious financial trouble after making a series of bad investments. He and his family were forced to sell the house and moved to Europe in 1891. However, he was able to gradually pay back his debts by writing and giving lectures, and he also got financial help from friends.

Twain suffered a number of personal losses in his later years. In 1896, his daughter Suzy died of meningitis. His wife Olivia passed away in 1904, and another daughter, Jean, died in 1909. Twain himself passed away on April 21, 1910 in Redding, Connecticut and was buried at Woodlawn Cemetery in Woodlawn, New York. He was 74.

Sources
Lissandrello, Stephen. "Twain (Mark) (Samuel Clemens) Boyhood Home." National Park Service - National Register of Historic Places Nomination Form. https://npgallery.nps.gov/GetAsset/fcc2e231-23c6-4da7-b382-cf5dbf9c9867.

"Mark Twain Biography." The Hannibal Courier-Post and Gatehouse Media. Accessed July 3, 2019. http://www.marktwainhannibal.com/twain/biography.

"Twain's Life and Works." Mark Twain Boyhood Home & Museum. Accessed July 3, 2019. https://www.marktwainmuseum.org/twains-life-and-works.

Photos: Wikimedia Commons
https://commons.wikimedia.org/wiki/Category:Mark_Twain_Boyhood_Home_%26_Museum

Additional Information