College Street Historic District
Introduction
Pikeville's College Street Historic District consists of nine homes and has been listed on the National Register of Historic Places since 1984 despite significant redevelopment since that time. The neighborhood included the former shop of Kate Dils Thornberry Hatcher which opened in 1909 and is believed to be the first female-run business in the community. Most of the buildings are located along College Street in downtown Pikeville. The district, which begins next to the Pikeville College Academy Building, includes nine historic homes including this former shop and the Methodist Parsonage, one of the oldest religious buildings in Pikeville.
Images
View of several houses along College Street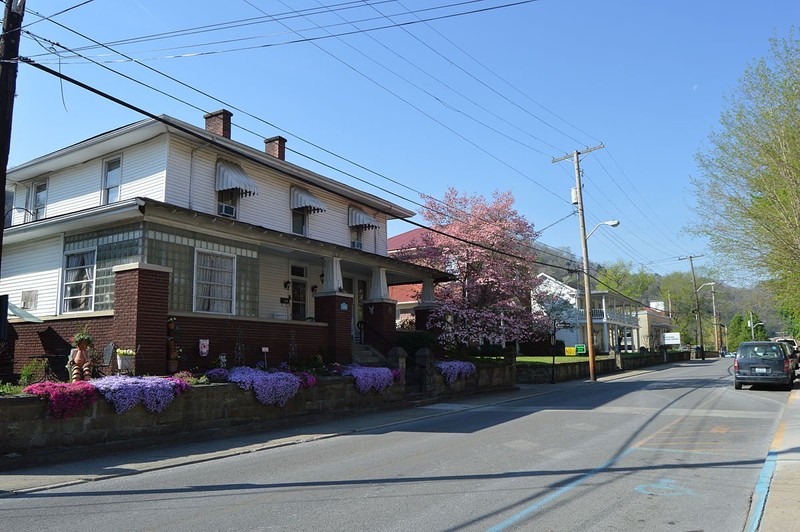 Backstory and Context
The College Street Historic District is made up of nine residences and is located nearby the Pikeville College Academy Building, the city's first educational facility, after which the street is named. Though the area and its homes were already inhabited by the time of the Academy Building's construction and opening in 1889, the area's development flourished at a quicker pace, with many of Pikeville's notable figures as well as those associated with the college taking up residence along the street. Because of the period in which these residences were constructed and remodeled, during the late nineteenth and twentieth centuries, the historic district is comprised of vernacular and classical revival architectural styles.

One of the most notable of the residences included in the College Street Historic District is the Kate Dils Thornsberry Hatcher House, located at 229 College Street. The home was purchased in 1906 by Kate following the death of her husband, Columbus Hatcher, whose family was affiliated with the board of trustees of the Pikeville Academy. In addition to her connection to the Hatcher family through her marriage, Kate was related to Col. John Dils, a well-known abolitionist and namesake of the Dils cemetery located in Pikeville. Most significantly, Kate is believed to be the first female business owner Pikeville, having opened a hat shop in her home before later renting another building for her shop.

The district's significance, as outlined by the National Register of Historic Places, lies primarily in the district's status as a prime example of late nineteenth to early twentieth-century transitional neighborhood. It developed both immediately before and after the turn of the century, something which is reflected not merely in the architecture but the evolving uses and purposes of the residences within the district. Today, all of these residences are inhabited by residents of Pikeville, though they have, for the most part, retained their original designs.



Sources
Historical Designation Nomination Form - Pikeville College Street Historic District . National Park Service. August 8, 1984. Accessed June 28, 2019. https://npgallery.nps.gov/GetAsset/24a4e43e-036f-4128-b181-1cc12808304b.
Additional Information