African Church (1855)
Introduction
This small historic house of worship, named the African Church by its founders, holds tremendous significance for the local African-American community of St. Charles. The sanctuary was built c.1855 by enslaved persons and was the first church building of the St. John African Methodist Episcopal Church, a congregation now located in a larger structure nearby on Washington Street. The original building is an important religious, social, and educational symbol for the African-American community. It is also a well-preserved example of antebellum (pre-Civil War) vernacular architecture. For these reasons, the church was added to the National Register of Historic Places in 1980.
Images
The historic African Church building was built around 1855 by slaves and served as the first house of worship for the St. John African Methodist Episcopal Church congregation.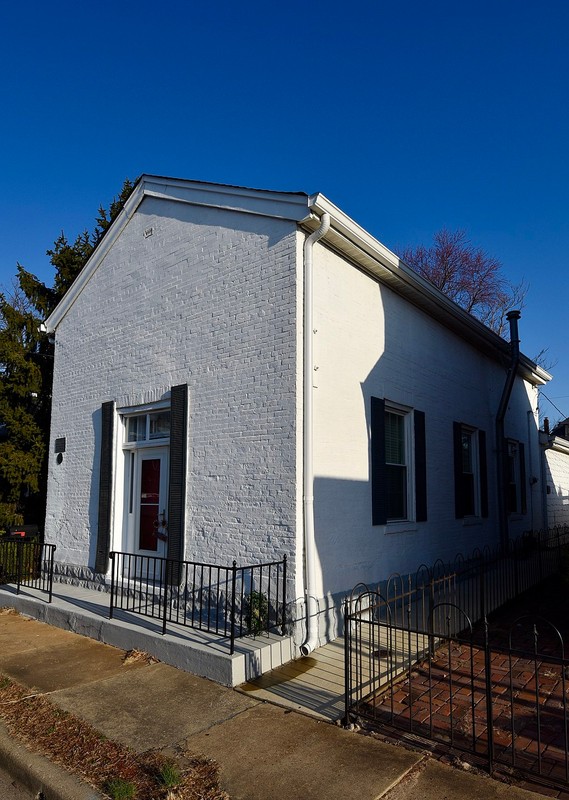 Backstory and Context
The church was built with handmade bricks and hand-hewn timbers. During the week, it was used as a school for children during the day and adults in the evening. The first service held in the church was such an important event for the African-American community that the first mayor of St. Charles, Dr. Ludwell Powell (who was a slave owner), attended.
A few months after the Civil War ended, a group of five Black trustees assumed ownership. Within a few years, however, the building became too small for the growing congregation and a new building was erected in 1872. The original church was sold to the Union Benevolent Society of St. Charles in 1874 which used it until 1943. A few years later, a local couple bought the building and converted it into a home. It was then rented out beginning in 1975 and later restored to its current use as a historic site.
Sources
Cameron, Janice. "African Church." National Park Service - National Register of Historic Places Nomination Form. November 21, 1980. https://dnr.mo.gov/shpo/nps-nr/80004366.pdf.
Photo: Wikimedia Commons https://commons.wikimedia.org/wiki/Category:A.M.E._Church_of_St._Charles#/media/File:African_American_Church.jpg
Additional Information