Fred French Building, Manhattan
Introduction
Completed in 1927, the Fred French Building is one of Manhattan's most striking structures. The ornately detailed building was constructed to serve as the headquarters of developer Fred French who is best known for Tudor City, the world's first residential skyscraper. The thirty-eight story building was built in the Art Deco style with Babylonian design elements on both the interior and exterior. The building is a New York City Landmark and is listed on the National Register of Historic Places.
Images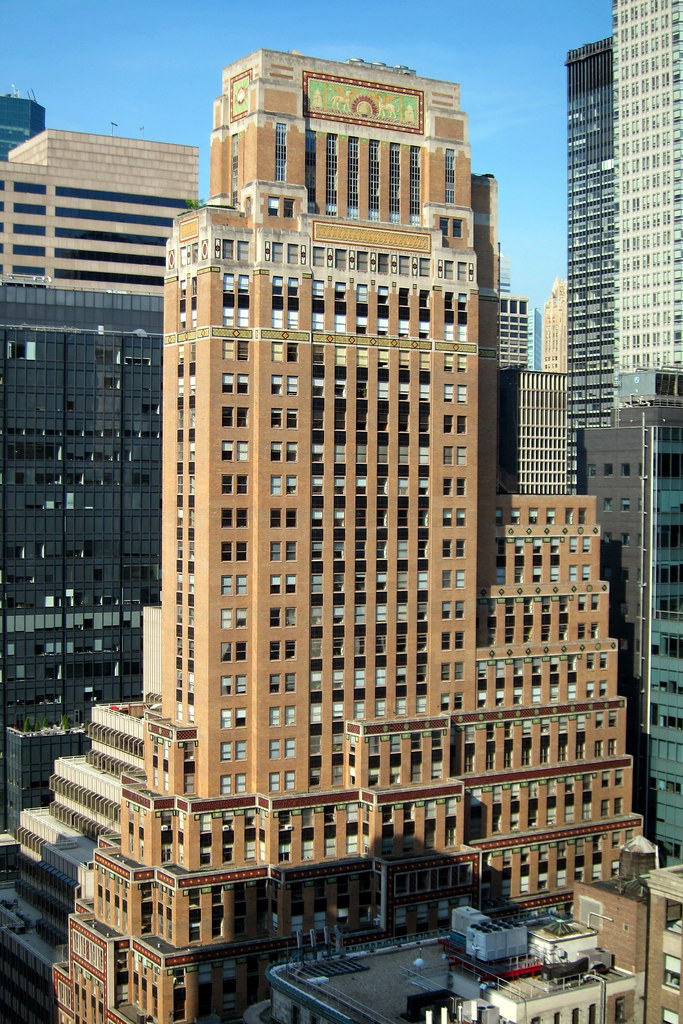 Detail of the top of the building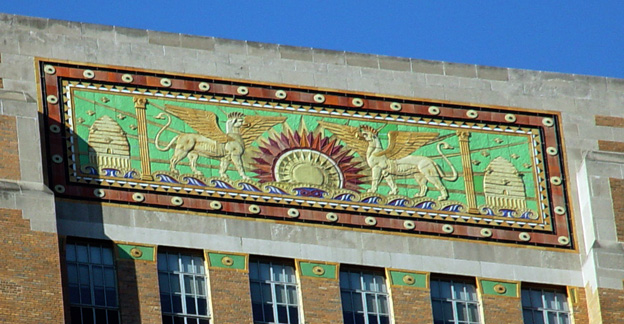 Entrance to the French Building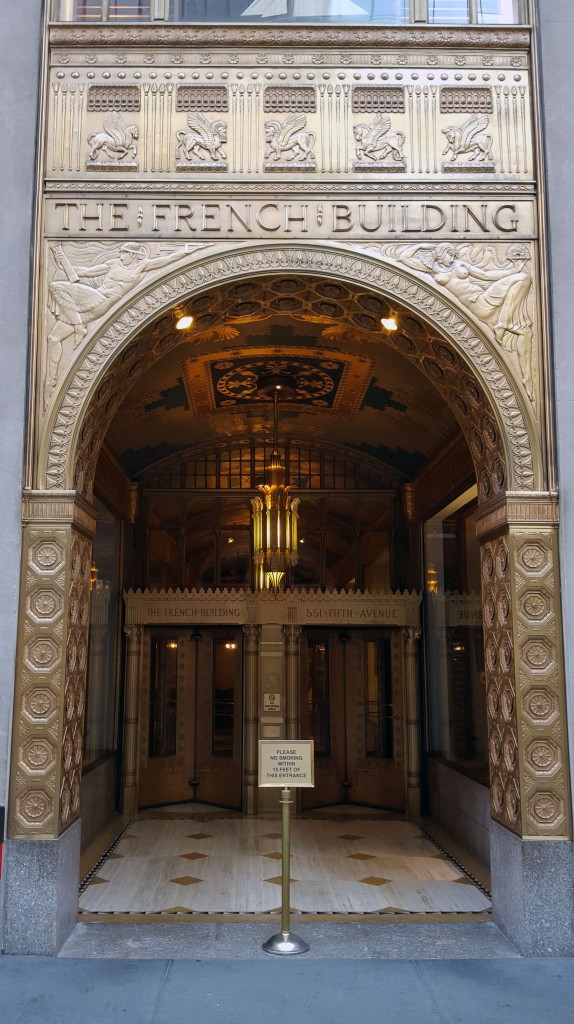 Backstory and Context
In the early twentieth century, Fred French was one of Manhattan's most successful and influential developers. French was the brain behind both Tudor City, which was, at the time, the largest housing development in the city, as well as Knickerbocker Village. His Art Deco masterpiece on Fifth Avenue served as the developer's headquarters.

French's biography reads like a classic Manhattan story. French rose from poverty to become one of the city's self-made real estate tycoons, whose expertise was largely developed on the job. His success was also due to what he termed the French Plan, which involved paying back investors their original investment plus a six percent dividend before his company took a profit. He was content to have a small profit margin on a large project.

Though less well-known than many of the city's other early twentieth century skyscrapers, the French building is nonetheless striking. Its most noticeable feature is arguably the warm orange color of its masonry, a stark contrast to the grays of the surrounding structures.

In addition to its unusual color, the building is also distinguished by its ornate detailing, which combines Art Deco sensibilities with references to the ancient Near East. Its most noteworthy design element is perhaps the rooftop panels that feature a rising sun, two winged griffins, and the heads of Mercury. The building's entrance is adorned with embossed bronze motifs and is said to have been inspired by the might Ishtar Gate, and its lobby is also richly embellished. Babylonian motifs are repeated throughout the building.

MetLife acquired the building in the 1980s and commenced a thorough modernization, while retaining the building's signature Art Deco elements. Numerous tenants have occupied the building since its sale and currently, Morton's the Steakhouse occupies the ground floor. The French building is a New York City Landmark and is also listed on the National Register of Historic Places.
Sources
551 Fifth Avenue, the Fred French Building. Landmark Branding LLC. November 18, 2015. Accessed June 22, 2019. http://landmarkbranding.com/551-fifth-avenue-the-fred-f-french-building/.

The Fred French Building. Newyorkitecture.com. . Accessed June 22, 2019. https://www.newyorkitecture.com/fred-f-french-building/.

Morrison, James. Who in the World Was Fred French?. city-journal.org. . Accessed June 22, 2019. https://www.city-journal.org/html/who-world-was-fred-f-french-11719.html.