The Battle of Beech Creek Historical Marker
Introduction
On August 6th, 1862, a group of Confederate soldiers led by Lieutenant Colonel Vinson A. Witcher skirmished with a group of Union soldiers. The short battle occurred near Beech Creek in present-day Mingo County, West Virginia. The fighting resulted in the severe injury of Confederate Major William Stratton as well as the death of the Union's commanding officer Major Hull. The battle was not officially or correctly recognized until August 2017, partly owing to the changing boundary lines of Logan County and Mingo County which were not originally taken into consideration when reviewing the contemporary reports about the battle.
Images
The historical marker for the Battle of Beech Creek was dedicated in 2017 at this location.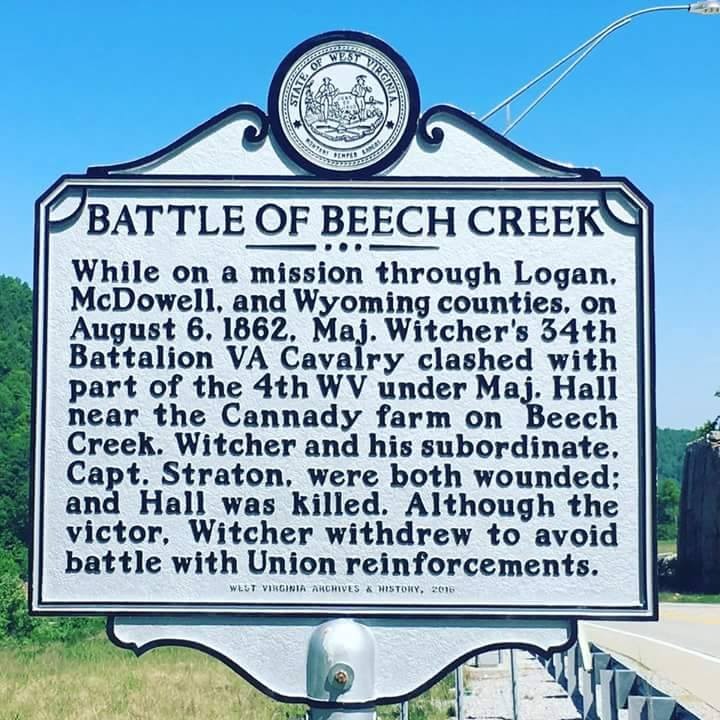 Lieutenant Vincent A. Witcher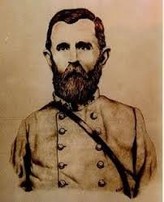 Backstory and Context
On August 6th, 1862, while on a mission which had previously seen them trek across McDowell and Wyoming counties in West Virginia, a group of Confederate soldiers from Virginia, led by Lieutenant Colonel Vinson A. Witcher, making up the 34th battalion under his command, encountered and clashed with a portion of the 4th West Virginia Union regiment under Major Hall, resulting in a battle. The two groups confronted each other near the Cannaday farm on Beech Creek in what was then Logan County, West Virginia but is now considered Mingo County.

During the battle, Witcher's right hand man, the 34th battalion's Major William Straton, was severely wounded in both his right arm and his chest, though he later recovered and was able to rejoin the Confederate army. The men of the 4th regiment fared worse, however, with their leader, Major Hall, being dealt a fatal blow that reportedly killed him nearly instantly. Soon after Hall fell in battle, Witcher, fearing the appearance and subsequent confrontation with other Union soldiers who may be nearby, withdrew. He and his men continued the mission they had originally been set upon, making their way across the remainder of what was then Logan county.

The Battle of Beech Creek was not officially recognized or commemorated until August 201, when Mingo County native and local historian Eric Simon, who had previously unearthed bullets and small artifacts from the battle site, lobbied West Virginia's State Division of Culture and History. Prior to his efforts, the battle, known only from the few surviving reports about it from the time, had been mistakenly assumed to have occurred in modern day Logan, WV, the reason being that, during the Civil War, Beech Creek was once considered Logan County, as indicated in reports of the incident. The official recognition of the site of the battle, then, commemorates what is so far the only confirmed Civil War battle to have occurred in Mingo County, West Virginia.
Sources
Lovern, Kyle. "Historical Sign Dedicated to Battle of Beech Creek." Williamson Daily News (Williamson, WV) August 06, 2017. , 2-3.


Additional Information