Seaholm Power Plant
Introduction
Designed in 1948 and built in two phases in the 1950s, the power plant arose out of a need to manage Austin's increased need for electricity, both due to its population increase and because people were using more electric items than ever before. However, by the 1980s, continued increases in substantial electricity usage rendered the power plant ineffective; it no longer provided Austin with electricity by 1986. It's masonry architecture differed from most brick powerhouses built from the 1930s to the 1950s and, today, it stands as an office space that's connected to a high rise condo unit (along with restaurants, retail, and meeting spaces).
Images
The former Seaholm Power Plant located in the Seaholm District of downtown Austin, Texas. It now stands with, and is connected to, a high-rise condominium.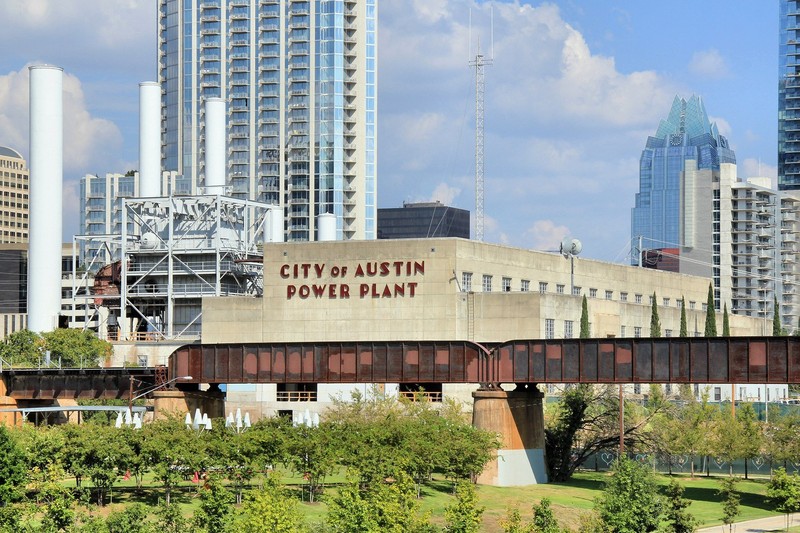 Backstory and Context
Commissioned in 1948, the two-phase construction of the Seaholm Power Plant took place in 1951 and 1955. Five years later (1960), the city renamed it after the late Walter E. Seaholm, who served as a leading figure in developing and managing Austin's utilities from the 1920s until the mid-1950s. The need arose for a new power plant as Austin's population grew during and after World War II from nearly 88,000 in 1942 to 132,000 in 1948 and there also existed enhanced stress on power plants due to the addition of such items as air conditioning, televisions, and refrigeration to homes and businesses. However, while Seaholm appeared abundantly capable of handling Austin's increased needs, more power plants were already necessary by the 1960s and by the 1980s, Seaholm no longer served as part of Austin's expansive, modern electricity network.
The acclaimed engineering firm Burns & McDonnell designed the Seaholm plant. The Seaholm Plant also serves as an example of the Art Moderne architectural style that proved common among municipal waterworks and powerhouses built from the 1930s through the 1950s. However, unlike other pre-1950 utility building projects, Burns & McDonnell chose to rely entirely on masonry construction rather than brick. As a result, Burns & McDonnell had to provide intricate drawings that detailed the pipe system in case problems arose; brick structures allowed for bricks to be removed and replaced to check for pipes whereas masonry removal was far more daunting.
The powerhouse served as Austin's primary source of electricity during the 1950s, then served as part of a network of power sources that provided for an ever-growing need for electricity, both due to population increases and exponential growth in electrical products. By 1989, Seaholm could no longer provide power worthy of financially justifying its operating costs. Thus, the city turned Seaholm into a training facility. By 1996, the city closed the building.
One could argue that it's rather short operating history speaks to the societal evolution that occurred during the last half of the twentieth century, one that saw a marked need for electricity. The U.S. electricity consumption increased ten-fold between 1950 and 2010, an annual increase of 4% each year. By the 1970s, the entire nation faced an energy crisis, which forced municipalities to find or build more power sources, from nuclear and hydro to traditional methods. Thus, when Austin deemed Seaholm outdated by the 1980s, it spoke volumes about how the designers in 1948 could not that foresee the dramatic cultural shift to an electricity-dependent society that occurred within a matter of decades (and that rate increased steadily through the first decade of the twenty-first century, before finally slowing down).
In recent years, the power plant has been renovated alongside a high-rise so that they combine to form a mix of 143,151 square feet of office space within the old power plant along with 280 condos and 48,363 square feet of retail shops, restaurants, and meeting space in the adjacent high-rise.
Sources
"Electrical Power." Texas State Historical Association. Accessed June 21, 2019. https://tshaonline.org/handbook/online/articles/dpe01

Mod, Anna, Grace Cynkar, and Roger Ciuffo. "Nomination Form: Seaholm Power Plant." National Register of Historic Places. nps.gov. July 6. 2013. https://www.nps.gov/nr/feature/places/pdfs/13000614.pdf.

"Two Perspectives on Household Electricity Use." U.S. Energy Information Administration. March 06, 2013. https://www.eia.gov/todayinenergy/detail.php?id=10251.

Photo Source

By Larry D. Moore, CC BY-SA 3.0, https://commons.wikimedia.org/w/index.php?curid=28268647


Additional Information