Perry Cline Gravesite
Introduction
Perry Cline was born in 1849 in Mingo County, WV. Though orphaned at a young age, he went on to become a lawyer in addition to a sheriff's deputy in Pikeville, Kentucky. Clime is perhaps best known as one of the key outside forces involved in the Hatfield and McCoy feud, a position made possible by his proximity to the two families in addition to his job and his marriage to Martha McCoy resulted in him becoming. Perry was frequently involved in disputes with the Hatfields before eventually serving the arrest warrants for the Hatfield family members who carried out the New Year's Day attack against the McCoys, an action which eventually led to the end of the feud. Perry died in 1891 of tuberculosis, after which he was buried in the Cline Cemetery in Pikeville, KY.
Images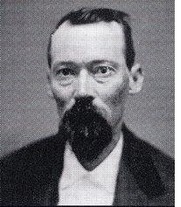 The marker for Perry Cline's grave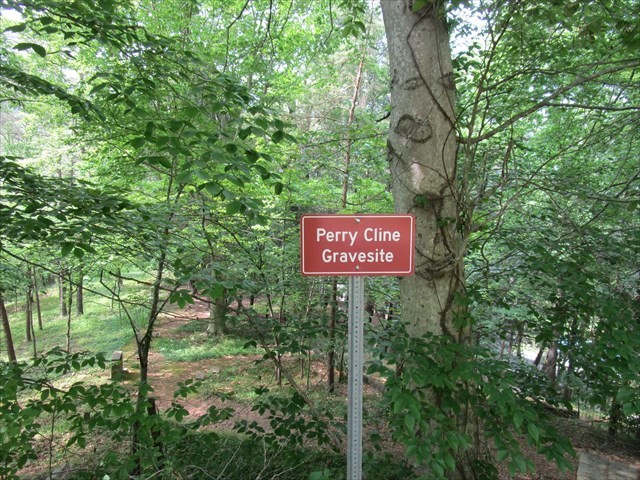 The front view of Perry Cline's tombstone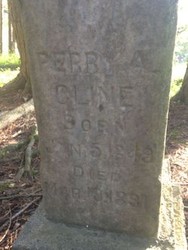 The back of Perry Cline's tombstone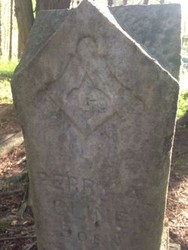 Backstory and Context
Perry Anderson Cline was born near the Gilbert area in what is now Mingo County, WV to Jacob Cline and Nancy Fuller on January 5th, 1849. Shortly after his birth, both of his parents died, leaving him an orphan in the care of his family's housekeeper and slaves, as well as leaving the home, the five hundred acres surrounding it, and a large sum of money to split between Perry and his brother, Jacob Jr. After Perry reached adolescence and adulthood, he was taken under the wing of Colonel John Dils, who acted as benefactor to Perry and aided his efforts to become a lawyer.

In addition to working as an attorney, Perry also worked as both a deputy sheriff and a deputy jailer in Pike County, KY, during the height of the Hatfield and McCoy Feud. This, coupled with his own ties to the family given his marriage to Martha McCoy on September 19, 1868, and his sister, Martha's, marriage to Asa McCoy, the latter of which was killed by the Hatfields after returning home from the Civil War, and whose death is the earliest recorded act of violence associated with the feud, resulted in him becoming a key outside forces of the feud. Because of his close, familial ties to the McCoys, Perry often found himself at odds with the Hatfields, something that stems from an 1877 accusation from Devil Anse, leader of the Hatfield clan, that Perry stole lumber from the Hatfield residence, an accusation which led to a court ruling that all of Perry's land in Logan County, WV, would be surrendered to Devil Anse as payment. This decision reportedly led to Perry's resentment and hatred of the Hatfields, in particular Devil Anse.

After the mandated surrender of his property, Perry relocated to Pikeville, KY, where he was able to develop and maintain a close relationship to clan leader Randolph McCoy, even briefly employing his daughter, Roseanna, as a caretaker for his and Martha's sick child. Because of his new residence as well as his friendship with Randolph, Cline was able to provide assistance to the man and his family following the 1888 New Years Day attack which resulted in the death of two of Randolph's children as well as the destruction of the family homestead by helping them relocate to Pike County, Kentucky, in addition to helping him obtain a job as a ferry operator in Pikeville. In addition to aiding in the escape of Randolph and his wife, Sarah, the night of the attack, Perry also took it upon himself to lobby for the arrest of the men responsible for the attack, eventually serving the arrest warrants for them and, by some accounts, acting as an ill-advising lawyer for some of the men on trial, all of whom were granted life in prison. After the sentencing of the Hatfield men responsible, which was ultimately seen as the official end of the feud, Perry devoted himself to getting rid of Devil Anse, the man who once took away his land and home, intending to similarly drive the man out of his own home. Though he ultimately succeeded, he died soon after, in 1891, after contracting tuberculosis. Upon his death he was buried at Cline cemetery in Pikeville, where his grave has been recognized as a landmark and is often featured on Hatfield and McCoy driving tours.



Sources
Perry Cline's Gravesite. GeoCache. September 01, 2012. Accessed June 18, 2019. https://www.geocaching.com/geocache/GC3QEQ4_perry-cline-gravesite?guid=b3076b8a-161b-4c6f-81f1-1d5e1c34288b.

Perry Cline's Involvement in the Hatfield and McCoy Feud. Cline Association. . Accessed June 18, 2019. http://clinefamilyassociation.com/hatfield_mccoy_feud.


Additional Information