402 1st Street - Hansen-Hubbard building
Introduction
The building you see today, originally known as the Hansen-Hubbard building was erected in 1909 by Cheneyite, George Yeaman for Charles I. Hubbard and Peter C. Hansen. The one-story brick building was divided into two stores with their entrances facing 1st Street. Our focus is on the left half, 402 1st Street owned by Mr. Hubbard.
Images
Hansen Hardware at far right, about 1948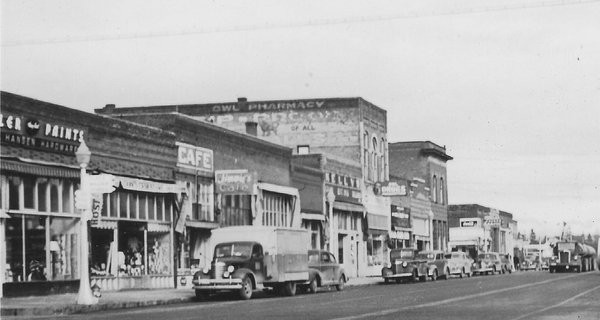 Hubbards Grocery on 1st Street around 1907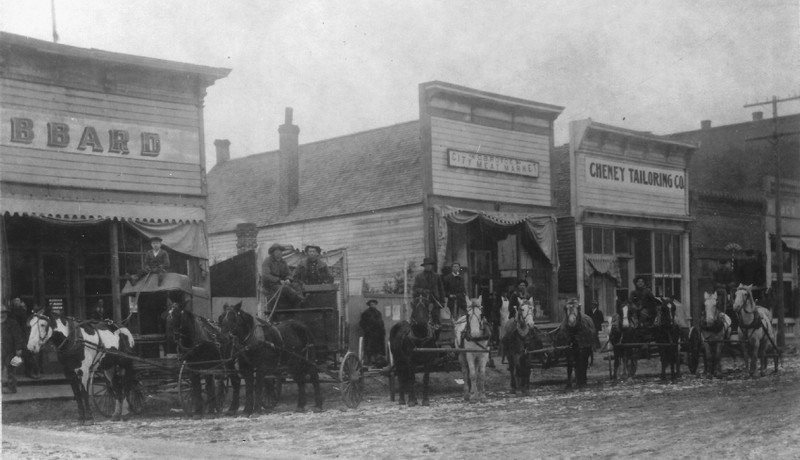 May and Charles Hubbard with grandchild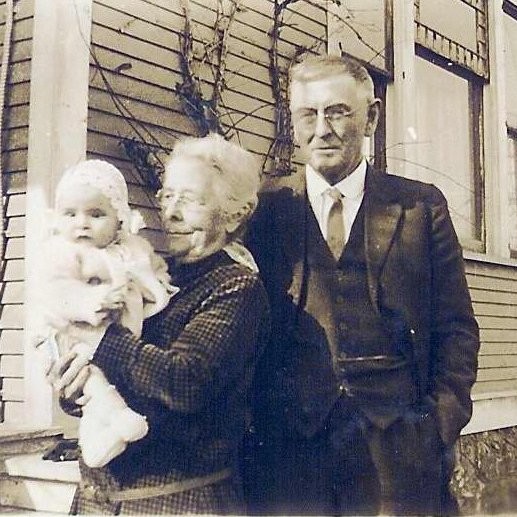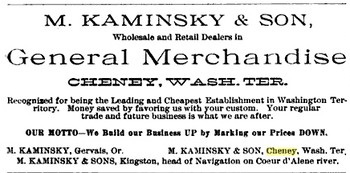 1904 Hubbard advertisement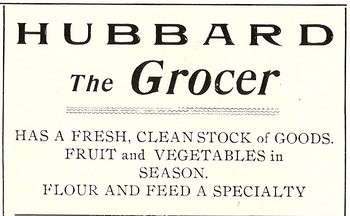 1920 Hubbard advertisement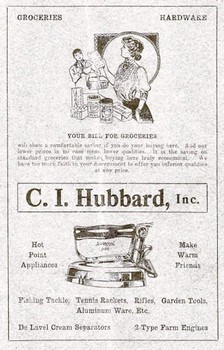 1935 Safeway advertisement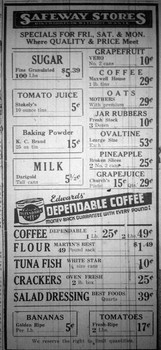 1956 Hansen Hardware advertisement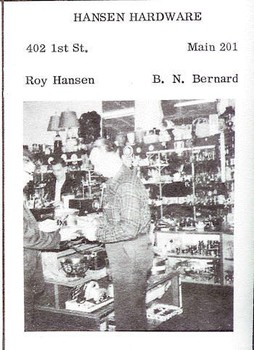 Holmes Hardware about 1965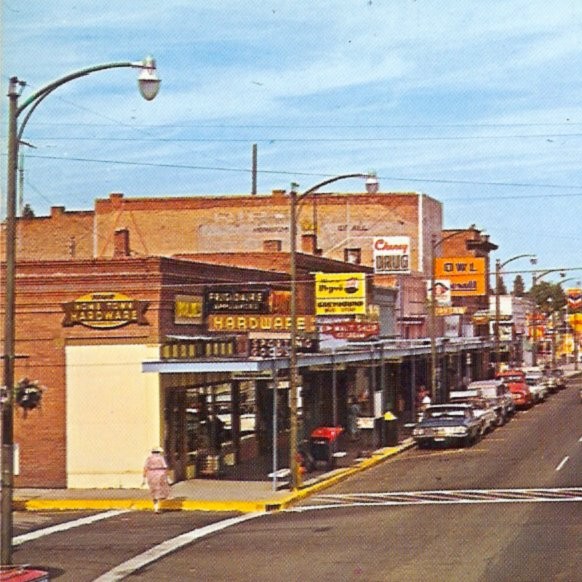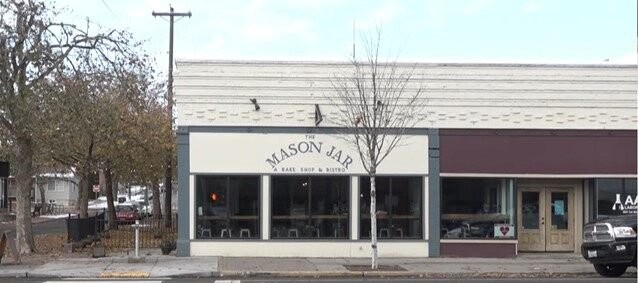 Interior of The Mason jar shows the restored stamped tin ceiling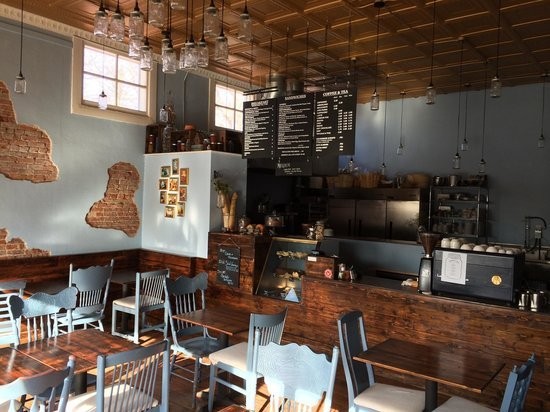 Backstory and Context
Author-Uploaded Audio
What was here before? We can go back to 1882 when Marcus Kaminsky & Son operated a general merchandise store from a one-story wood building on this corner. Kaminsky left town in 1890. The building served as the temporary home of Switzer Drug store after the February 1890 fire, sharing the space with J.A. Wise's dry goods store. It was briefly a saloon around 1897. In 1904, the building was the temporary location of the Farmers & Merchant Bank while they waited for their new brick building to be completed across the street where Wild Bill's Longbar is today. Charles I. Hubbard brought in his grocery and hardware goods into the wood-frame building September 1904. 
In April 1909, Hubbard and Peter C. Hansen commenced excavation for two one-story buildings, each 25 by 90 feet at the corner of First & F Streets. While these were separate buildings and owners, from the outside they had the same design and were separated inside by a single brick wall. At the corner, Mr. Hubbard's building was replacing his former wood one, which was hauled away. On the right, Mr. Hansen's building was replacing an abandoned small wooden structure that had housed the office of a draying or freight business. See 404 1st for history on that building.
Charles I Hubbard, and later his son, ran Hubbard's until about 1930. Charles and May Hubbard came with their two children from Wisconsin in 1900. The former farmer started a general store, creamery, and feed mill at a different location in Cheney before his move to 1st & F. Mr. Hubbard was actively involved in the community. He was elected to the city council in 1904, the same year he was named president of the newly formed Men's Commercial Club. He was also a member of the Odd Fellows and the Whist Club. May Hubbard was also active in community affairs as a charter member of the Tilicum Club, as well as a member of the Rebekahs, and the Women's Christian Temperance Union.
In July 1912, a fire destroyed the roof of Hubbard's store and damaged much of his stock. He set up temporary quarters in the corner building across 1st Street, but was back in his store in a couple months. In 1917, his list of goods included automobile parts, and in 1922 he also advertised auto tires.
Eleanor Jones, who was born in 1913, cherished her early years in Cheney, especially her short-term business arrangement with Hubbard's Grocery where she took candy bars, putting the charge on her father's account until the day of reckoning when her parents discovered her devious scheme.
In 1927, Hubbard sold the hardware and automobile goods to Abe Bottorff' hardware, continuing with groceries only. After his wife's death in 1928, it was son, Clarence Hubbard who managed the business. The store closed around 1930. Mr. Hubbard passed away in 1936. D.E. Kelly's Cheney Table Supply was located here, but a fire that started in the office of the store did smoke damage to merchandise and Mr. Kelly closed in March 1934. The following month, Piggly Wiggly grocery rented the building, but was short-lived in the space.
Safeway took over the in July 1934, continuing there until July 8, 1941 when they traded places with Roy Hansen's Hardware. Safeway moved to 321-327 1st, while Hansen's moved to 402 1st. Each business remodeled their new space to better fit their needs. Hansen's Hardware continued until June 1959 he sold out to Norval Holmes who operated Holmes Hardware until 1967.
In 1968, 402 was absorbed in 404 1st Street after the Ben Franklin store was sold, becoming part of Larry Zimmerman's Cheney Variety Store. The single-store use of the building continued until 2012, when The Mason Jar opened with a new entrance on F Street. Two other businesses have occupied the subdivided length of the building along F Street since 1997.
The original stamped tin ceiling and brick walls can be seen from inside The Mason Jar. Hints of the old casement windows can be seen above the large glass windows along the front, and in the brick along the side of the building are the ghosts of old doorways.
Sources
Cheney Free Press
Northwest Tribune
Sanborn maps 1884, 1888, 1890, 1891, 1897, 1905, 1908, 1916
1884 drawn map of CheneyCheney telephone directories
Durham, N.W.; History of the City of Spokane and Spokane County Washington; From Its Earliest settlement to the Present Time. Illustrated; Vol 3; The S.J. Clarke Publishing Company; 1912; pg 56-57
Cheney Historic Preservation Commission 402/404 1st Street
Southwest Spokane County Historical Society image collection 
. .
Additional Information