Historical Marker: The Civil War Comes to Washington
Introduction
On October 2, 1864, a Confederate force led by General John S. Marmaduke raided Washington as part of a larger campaign to retake control of Missouri and rekindle the Confederate cause. The campaign was orchestrated by Major General Sterling Price, who moved to Missouri as a young adult and served as governor from 1853-1857. He commanded an army of 12,000 men and divided it into three divisions, one of which was led by Marmaduke (he would also become governor in 1884). On the night of the September 30, the Confederates camped at the town of Sullivan, which is located to the south. Warned of their impending approach, the local militia built some breastworks but it was clear that defending the town would be impossible against the much larger force. The town surrendered but the troops ransacked homes and businesses and plundered whatever they wanted. The next day, a remaining contingent set fire to the ralroad depot to prevent it from being used by the Union. In the end, Price's Missouri Expedition, as the campaign was called, failed—a result that contributed to the eventual defeat of the Confederates the next year.
Images
This historical marker describes the raid on Washington and the effect it had on the town. Photo: The Historical Marker Database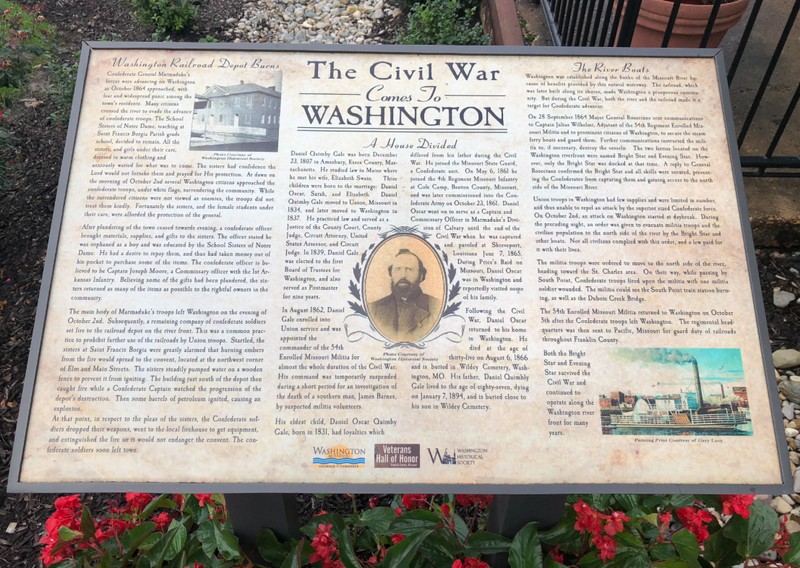 John S. Marmaduke (1825-1887) led the division that raided Washington. He would later become governor of Missouri in 1887.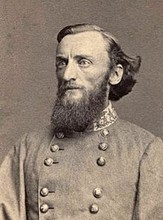 Sterling Price (1809-1867) devised the campaign to retake control of Missouri. He served as governor from 1853-1857 and before that was a member of the House of Representatives from 1845-1846.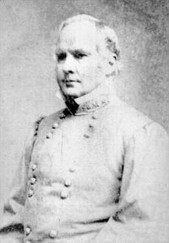 Sources
"The Civil War Comes to Washington." The Historical Marker Database. Accessed June 18, 2019. https://www.hmdb.org/marker.asp?marker=125893.

"The History of Washington, Missouri: The Civil War - 'Price's Raid'". WashingtonMO.com. Accessed June 18, 2019. http://www.washingtonmo.com/HistoryofWashingtonMO/historychap4.htm.

O'Neil, Tim. "Events recall 150th anniversary of last major Civil War battles in Missouri." St. Louis Post-Dispatch. September 13, 2014. https://www.stltoday.com/news/local/metro/events-recall-th-anniversary-of-last-major-civil-war-battles/article_bedde314-c634-5f9f-b694-ddb95434bde1.html.

Additional Information