Huntington Tumbler Company (1891-1932)
Introduction
The Huntington Tumbler Company was one of the earliest glass factories to exist in the area. It opened as the West Virginia Flint Bottle Company around 1891 along with the nearby Central City Window Glass Company, which was owned by the same investors. It was acquired by the Zihlman family in 1901, who renamed the company and expanded its range of products. Huntington Tumbler became known for making ornate, high quality glass pieces such as tumblers, stemware, vases, and candlesticks. Its glassware was sold both locally and internationally, with products exported to places such as Latin America and Europe. The economic downturn caused by the Great Depression forced the business to close in 1932. The factory was demolished in the 1940s, leaving no physical remnants.
Images
Huntington Tumbler during the Flood of 1937. The factory, of which nothing remains, stood on Fifteenth Street between Jefferson and Madison Avenues. Image courtesy of Marshall University Special Collections.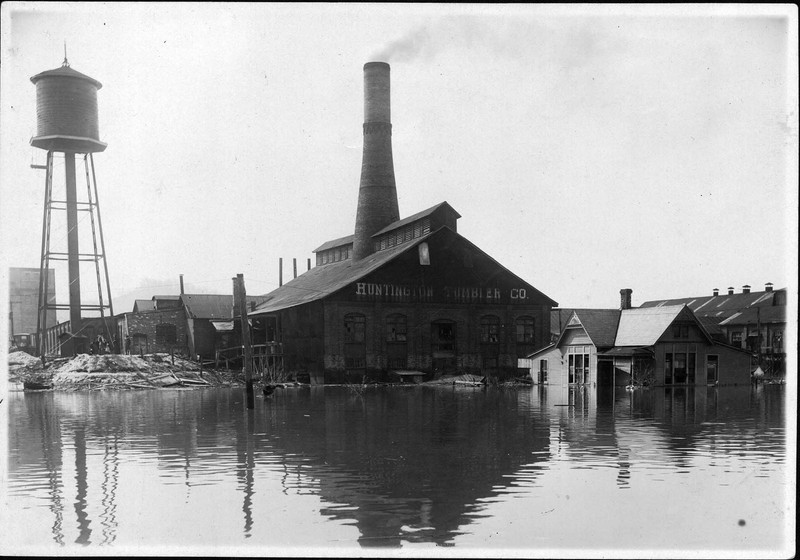 Members of the Glass Workers Union, Local #93 in 1903. Huntington Tumbler experienced much labor union activity during its existence. Image courtesy of Marshall University Special Collections.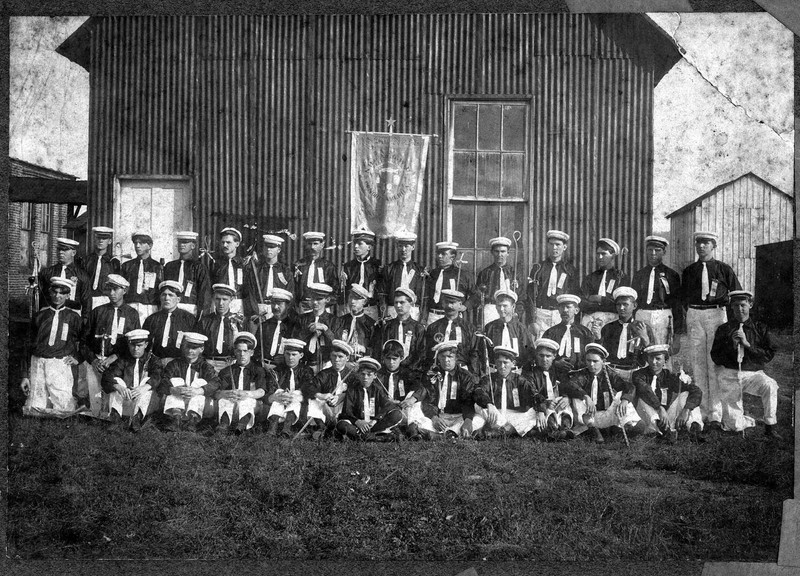 Huntington Tumbler's Furnace room. Image courtesy of Marshall University Special Collections.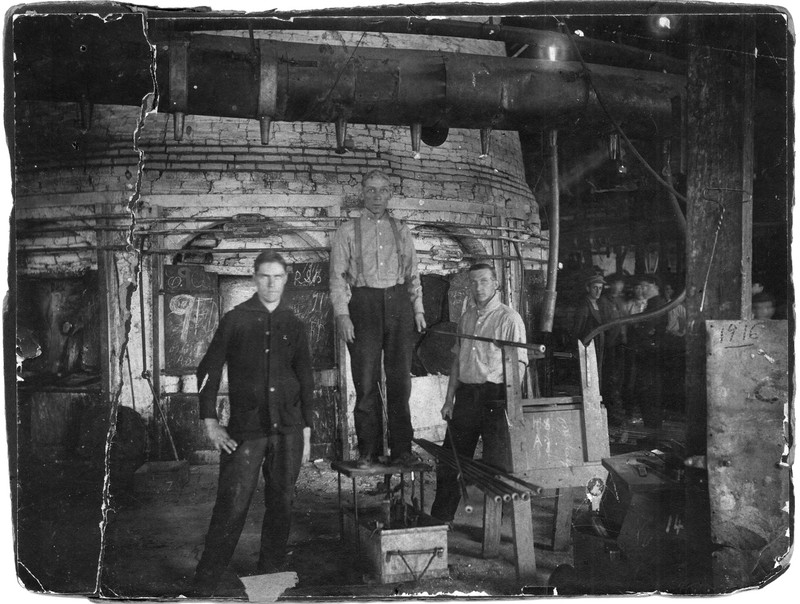 Huntington Tumbler's water tower, seen here in 1905, was the tallest in Central City, making it a local landmark for years. Image courtesy of Marshall University Special Collections.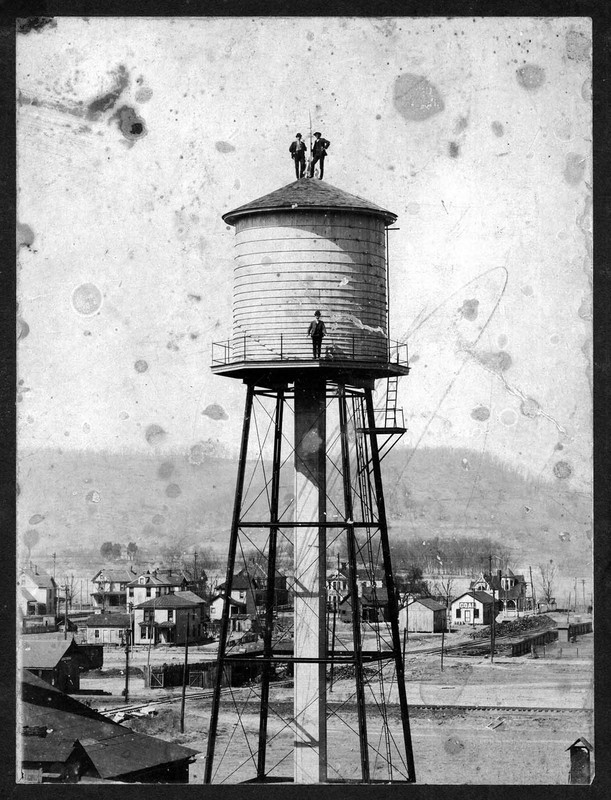 Advertisement for the Huntington Tumbler Company from the early 1900s. Image courtesy of the West Huntington Public Library.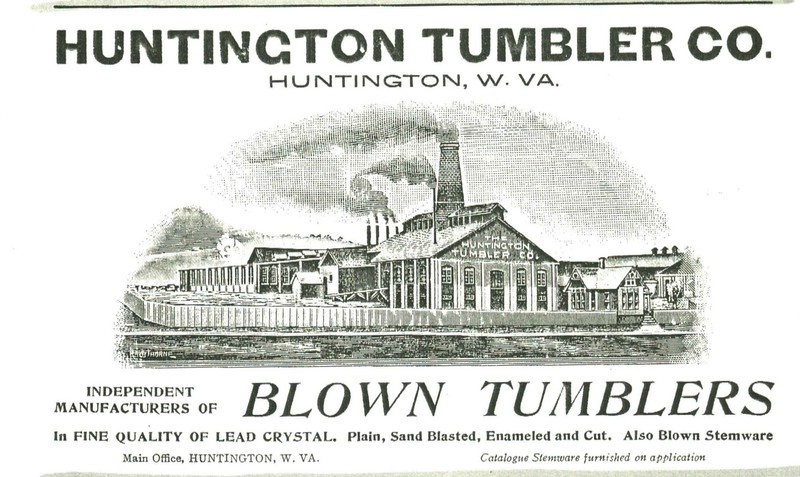 Backstory and Context
In 1891 a group of Ohio investors including L. H. Cox opened two glass factories in the new Central City community, the West Virginia Flint Bottle Company and the Central City Window Glass Company. West Virginia Flint was located on Fifteenth Street between Madison and Jefferson Avenues. Both companies were owned by the same group but specialized in making different products; West Virginia Flint manufactured fruit jars and bottles, while Central City Window Glass made window panes. About two years later West Virginia Flint was sold to Forbes Holton. The factory soon afterwards closed around 1895 or 1896; this was possibly due to an economic recession that impacted the nation during the mid-1890s. In 1901 the plant reopened under the ownership of Anton Zihlman as the Huntington Tumbler Company. Central City had not yet been annexed by Huntington, but the company name suggests that the community anticipated its occurrence.
Anton Zihlman was born in Lucerne, Switzerland in 1842. At the time the city was home to a flourishing glass industry, and Zihlman received training to be a glass blower. He immigrated to the United States in 1869 and spent the next few decades operating different glass factories in Maryland and Ohio. Zihlman and his family came to the Huntington area around 1900 to take over the former flint bottle plant. His leadership and glass blowing skills enabled the company to prosper after having sat idle for six years. Zihlman died in 1912, but his family continued to manage the factory afterwards.
Huntington Tumbler initially produced mainly tumblers, glass cups that were typically used for drinking alcohol. In 1909 newspaper reports stated that the factory had either shut down or was contemplating shutting down due to a drop in orders for tumblers because of the growing temperance movement nationwide. At any rate the plant was operating again by 1910. It seems that the company survived by expanding its range of products. It made everything from stemware and cut glass to vases and candlesticks; workers even made ornamental glass canes for themselves. Huntington Tumbler became known for producing very ornate, high quality glassware. One account claimed that at some point Woolworths approached the company seeking to stock its glassware in their stores, but Huntington Tumbler declined because their glass was too upscale to be mass produced. The company sold its glassware all around the nation and exported some to Latin America, Europe, and as far away as Java.
Huntington Tumbler employed anywhere from 150 to 400 workers according to differing accounts. For much of its existence the company apparently dealt with unions and labor disputes. The glass blowers were represented by organizations such as the American Flint Glass Workers' Union and the National Glass Workers Union. The earliest issue occurred in 1892 when workers opposed the installation of eight new machines that made many jobs redundant. In 1902 workers went on strike over a disagreement regarding how often pots should be skimmed. Two years later they went on strike again over wage scale negotiations. A strike was conducted in 1910 to receive company recognition of their union. Another strike in 1913 resulted in Huntington Tumbler agreeing to hire only union workers and pay union wages.
The Huntington Tumbler Company closed permanently in 1932. It was a victim of the Great Depression; the market for ornate, upscale glassware had been severely diminished. All of its facilities were demolished in the 1940s. Glass products from Huntington Tumbler can still be found around the local area and they are popular collectors' items.
Sources
"About Old Central City." Old Central City Association. Accessed May 16, 2019. https://www.oldcentralcity.org/about
Casto, James E. "Lost Huntington: Huntington Tumbler Company." Herald-Dispatch. July 27, 2015. Accessed June 15, 2019. https://www.herald-dispatch.com/special/lost_huntington/lost-huntington-huntington-tumbler-company/article_dc6ce3b5-d1a3-5780-ad11-4d7c38569a74.html.
Dickinson, Jack L. and Alison K. Summer-Ramirez. Historic Huntington Businesses: The Birth of Huntington, W.Va. 1871-1900. Huntington, WV: Marshall University Libraries, 2016.
Evening Star. August 13, 1910.
"Five Hundred Glass Workers." Fairmont West Virginian. November 22, 1904.
"Glass Blowers and Machines." Evening Journal. September 24, 1892.
"Glass Blowers Strike." Clarksburg Telegram. August 4, 1910.
"Glassworkers Organize Local Tumbler Plant." Socialist and Labor Star. June 13, 1913.
Larry E. Ellis, Architects, Inc. "Old Central City Redevelopment Plan." Huntington, WV: Larry E. Ellis, Architects, Inc., December 1983.
Miller, Lola Roush. Central City, WV 1893-1909: A Short History. Huntington, WV: Scaggs Printing & Office Supplies, 1993.
Miller, Lola Roush. Images of America: Central City. Arcadia Publishing, 2006.
Miller, Doris. A Centennial History of Huntington, West Virginia 1871-1971. Huntington, WV: Franklin Printing Company, 1971.
"Prohibition Closes Many Glassware Plants." Midland Journal. May 7, 1909.
Roanoke Times. July 23, 1891.
Rock Island Argus. August 29, 1901.
"Strike Over Pot Skimming." The Star. January 29, 1902.
"Tumbler Glass Works Resume." Indianapolis Journal. August 29, 1901.
Additional Information