Railroad Pass Labor Camp and One-Room School
Introduction
Railroad Pass is at the saddle of the mountain divide, near the junction of Route 93 and Interstate 11, west of Boulder City. Now the site of the Railroad Pass Casino, in the early 1930s it was a wild labor camp with alcohol and gambling, conveniently just outside the boundary of the tightly-regulated federal government reservation of Boulder City.
Images
The one-room Railroad Pass School, circa 1932. (Clark County School District archives)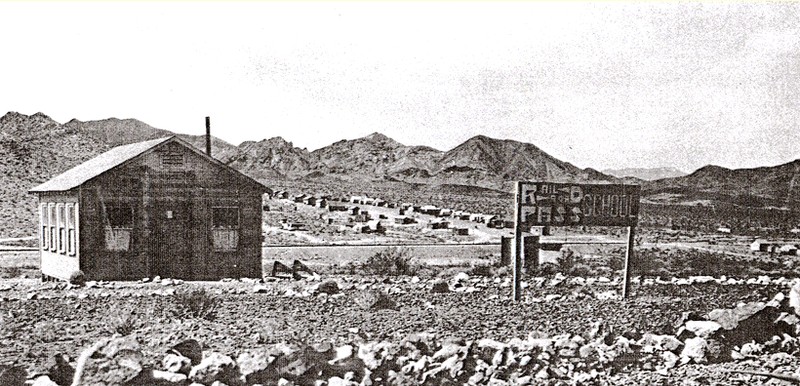 Tommy Nelson, Tommy Nelson's Orchestra, moved to Boulder City in 1931 to work on the Boulder Dam Project and stayed. He played in the SeaBee Orchestra led by George Liberace during World War II. (Arizona Daily Sun, November 28, 1947)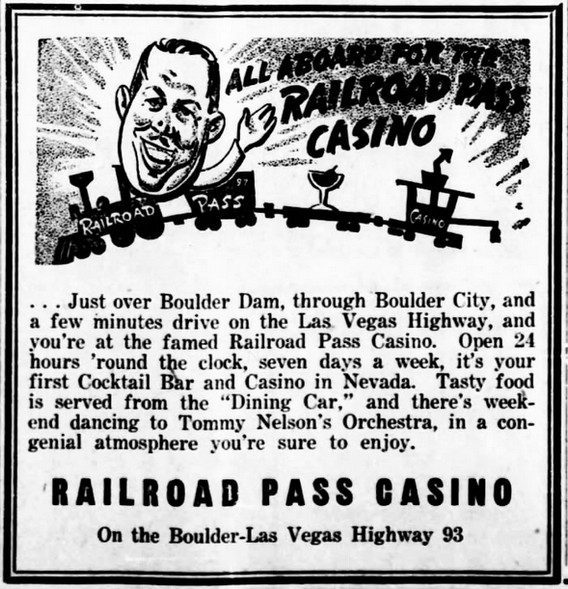 Backstory and Context
Railroad Pass was home to what one Nevada newspaper called a "wild labor camp", where workers on the Boulder Dam Project engaged in gambling and drank illegal liquor. From Railroad Pass heading into Las Vegas, there was a collection of "gambling casinos, speakeasies, and resorts of vice" that flourished during the era of prohibition and Boulder Dam construction. Gambling and alcohol were banned on the federal reservation of Boulder City, where gambling is still illegal today.

The original casino at Railroad Pass opened in the summer of 1931, as the Railroad Pass Club. With air conditioning not yet available and faced with the triple digit heat of the Mojave Desert, there were a reported 25 electric fans blowing air through damp sheets to cool the casino. At opening, the casino featured a five-piece orchestra for dancing, roulette, craps, big six, twenty-one, and poker. Men working long hours building Boulder Dam in the heat of Black Canyon left some of their hard-earned money at Railroad Pass.

The casino at Railroad Pass is one of Nevada's oldest operating gambling casino licenses, having held Gaming License Number 3 and Gaming License Number 4. It is common knowledge the 1931 gambling casino was a cover for the speakeasy, whose secret password was "gaiety".

According to oral histories of the 1931 pioneers, the Pass obtained 200-proof alcohol, diluted it, added flavoring, and served it on ice. The ice was welcomed by those coming in from the heat, one early resident joking "I hate to drink all this whiskey to get to that ice."

Gaming and alcohol made the Pass a popular getaway for those who lived in the federal government reservation town of Boulder City. Workers returning to town had to pass through a guard gate, where they might be checked for bootleg liquor.
Prohibition agents often raided Railroad Pass for liquor. Newspapers during Boulder Dam's construction frequently reported on men arrested at the Pass for disorderly behavior and possession of liquor. The fine amount averaged $100, which was steep considering the basic wage for unskilled Boulder Dam workers was 50-cents an hour. The casino and nearby Bootleg Canyon were an annoyance to Boulder City's federal authorities, due to the free-flowing booze and vice.

Thousands came to work on the Boulder Dam Project and housing was scarce. Some preferred to live outside the government reservation. Despite its wild reputation, a tent camp of families formed at Railroad Pass. This prompted the creation of a small one-room school and the creation of the Railroad Pass School District, which existed until the town of Basic, now Henderson, established in the early 1940s.

The wild tent camp days at Railroad Pass are long gone. The former Railroad Pass Club, now the Railroad Pass Casino, has been remodeled and expanded, but includes the footprint of the original casino around which the labor camp formed. Along with Boulder City, Railroad Pass will mark its 90th anniversary in 2021.

Sources
"Boulder Dam progress, step by step, on Uncle Sam's mammoth power project." Reno Gazette Journal(Reno)April 11, 1934. .

"Fined for possession." Reno Gazette Journal(Reno)April 05, 1933. .

"Fined, sentenced for having liquor." Reno Gazette Journal(Reno)August 23, 1932. .

Shine, Conor. "Railroad Pass has a lot of casino history — and it's not on the Strip." Las Vegas Sun(Las Vegas)August 02, 2011. . https://vegasinc.lasvegassun.com/business/gaming/2011/aug/02/lot-casinio-history-and-its-not-strip/

Hall-Patton, Mark. Railroad Pass - 2009. Queho Posse. June 20, 2009. Accessed June 16, 2019. https://quehoposse.org/index.php/plaques/32-railroad-pass.

King, R.T.. "Hoover Dam and Boulder City, 1931-1936: A discussion among Some who were there." . Published 1987. University of Nevada Oral History Program.

Shine, Conor. "Oldest operating casino in Nevada turns 80." Reno Gazette Journal(Reno)August 07, 2011. .