Interwoven Mills, Martinsburg (1890-1976)
Introduction
Interwoven Mills was a textile factory that specialized in the manufacturing of men's hosiery. The mill opened in 1890 under the name Middlesex Knitting Company. The plant that stood at this location on Porter Avenue was the first textile mill to be powered by electricity in the United States. The company went through several ownership changes and operated under a few different names until 1962 when it was acquired by the Kayser-Roth Corporation. That textile manufacturer is still in business and based in North Carolina, but the Martinsburg plant was closed in 1976.
Images
A vintage postcard depicting Interwoven Mills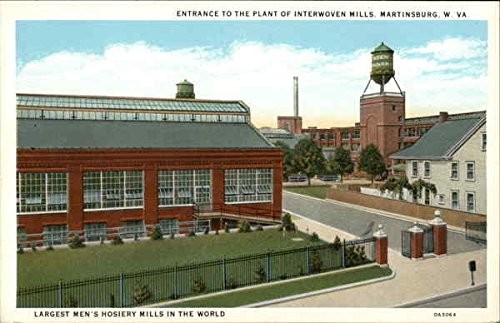 A current photograph of the Interwoven Mills building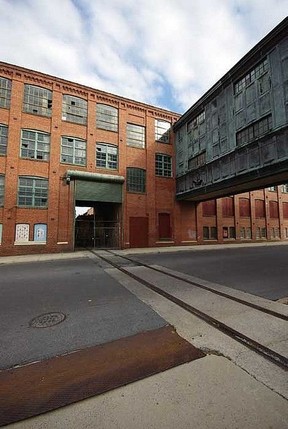 Backstory and Context
When Interwoven Mills opened, it was the first textile factory powered by electricity in the United States. The factory building was built along the B&O Railroad line in Martinsburg, and the company also expanded building other several other manufacturing facilities in West Virginia, Maryland and Pennsylvania in the 1920s.
The company encountered financial and labor difficulties during the 1930s and early 40s, but they had some financial success producing socks for the United States military during World War II. Interwoven saw a decline in business and workers during the 1950s and 60s, and the company was bought out by Kayser-Roth in 1962.
After Interwoven was acquired by Kayser-Roth, the factory was shut down in the early 1970s, and production was moved to North Carolina, where Kayser-Roth is based. Kayser-Roth is the producer of the brand "No nonsense," which is a sock and hosiery brand that is carried by Walmart and other retailers.
The former Interwoven Mills buildings are vacant as of 2019 although local officials and developers hope to convert the property into retail space or apartment housing. The property is currently listed for sale.
Sources
Interwoven Mills. The West Virginia Encyclopedia. https://www.wvencyclopedia.org/articles/863.

Owner of former Interwoven Mills factory in Martinsburg open to ideas, investors. Herald-Mail Media. December 12, 2014. https://www.heraldmailmedia.com/news/tri_state/west_virginia/owner-of-former-interwoven-mills-factory-in-martinsburg-open-to/article_01645ad0-7434-52e1-850d-04517e9ade01.html.