Gauley Bridge Railroad Station
Introduction
Shrouded in hidden history, the Gauley Bridge Railroad Station, or the C&O Station of Gauley Bridge, constructed in 1893 likely without the help of an architect, is one of few remaining examples of train stations often referred to today as company trademarks. The station was added to the National Register of Historic Places in 1980, partially because of its status as a representation of small-town American railroad stations of the late 19th and early 20th Centuries. It was constructed entirely by underpaid and overworked African American laborers.
Images
Modern Gauley Bridge Railroad Station building, which now functions as the Gauley Bridge Town Hall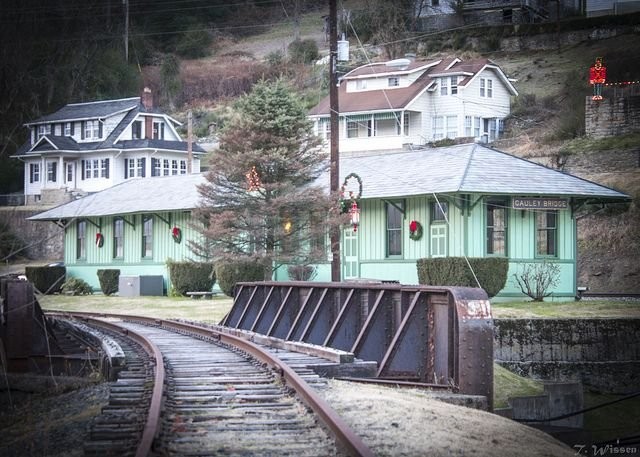 Undated photo of Gauley Bridge Railroad Station while still functioning

Undated photo of Gauley Bridge Railroad Station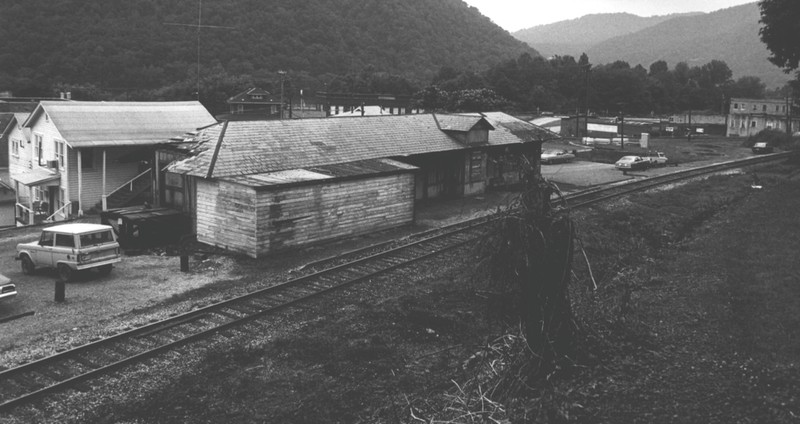 Backstory and Context
A company trademark railroad station refers to one constructed in the style for which the companies designing the stations, without architects, became known for. Such stations are smaller than usual and designed to accommodate relatively lesser populated towns like many of those in West Virginia, including Gauley Bridge, where more traditional, larger terminals were deemed unnecessary. One of the last still-standing examples of such stations, the Gauley Bridge Railroad station was initially built by Kanawha and Michigan Railroads, but later became a Chesapeake and Ohio station.
Thousands of travelers migrated to West Virginia, whether to visit or to stay, via the Gauley Bridge station and several other similar and nearby stations including the Norfolk Western Railway through Pocahontas, and the Virginia Railway through Winding Gulf. Many of these visitors came in search of jobs maintaining railroads and/or working in the countless nearby coal mines.
The majority of workers who constructed the Gauley Bridge Railroad Station along its winding path through the mountain state between 1869 and 1873 were African Americans, many of them former slaves. Many of these laborers, following the railroad's completion, were also able to find jobs working at the new stations during a time when job opportunities were scarce, especially for Black men in the Deep South and in Jim Crow-segregated southern communities. Despite having the opportunity of employment, many of these workers continued to suffer as a result of their incredibly demanding work and comparatively miniscule salaries.
After closing in 1958, the Gauley Bridge Railroad station was converted into a fire station on behalf of the Gauley Bridge Volunteer Fire Department. In 1973, the building was abandoned seemingly permanently, but it has since undergone significant restoration and now serves as the Gauley Bridge Town Hall building.
Sources
"African Americans and the Railroad: Gauley Bridge Depot; Gauley Bridge, WV." National Park Service. Last updated: February 9, 2017. June 15 2019. https://www.nps.gov/neri/planyourvisit/african-americans-and-the-railroad-gauley-bridge-depot-gauley-bridge-wv.htm. 
Callahan, James Morton, Semi-centennial History of West Virginia, Charleston, W. Va.. 1913.
Meeks, Carroll L.V., The Railroad Station, an Architectural History, Yale University Press, New Haven, 1964, c. 1956.
"National Register of Historic Places Registration Form for Gauley Bridge Railroad Station." West Virginia Division of Culture and History. December 21, 1979.
Poor's Manual of Railroads for 1895, New York, 1895.
Additional Information