United States National Bank Building
Introduction
Grand bank designed by Albert E. Doyle and constructed in 1917 and expanded in 1925. Constructed of reinforced concrete and clad in terra cotta, it is the first edifice built in Portland with a steel frame. The bronze lobby doors were sculpted by Avard Fairbanks.
Images
U.S. National Bank. Photo by Cynthia Prescott.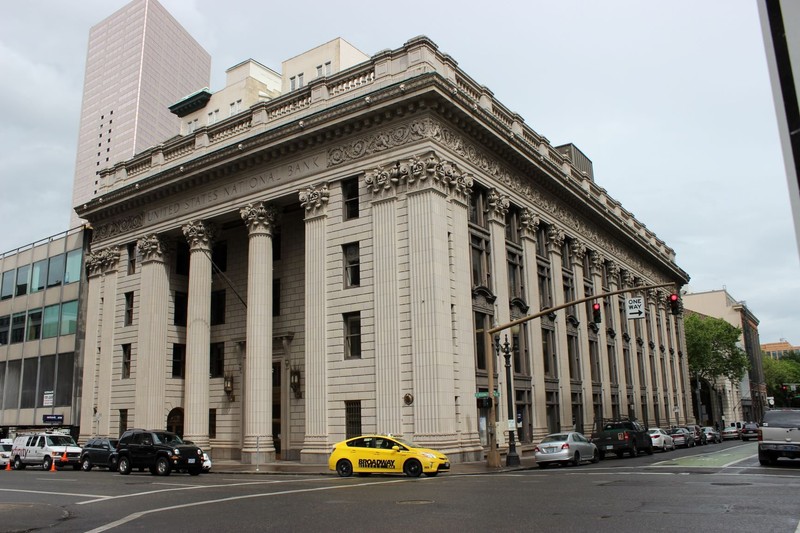 U.S. National Bank lobby doors. Photo by Cynthia Prescott.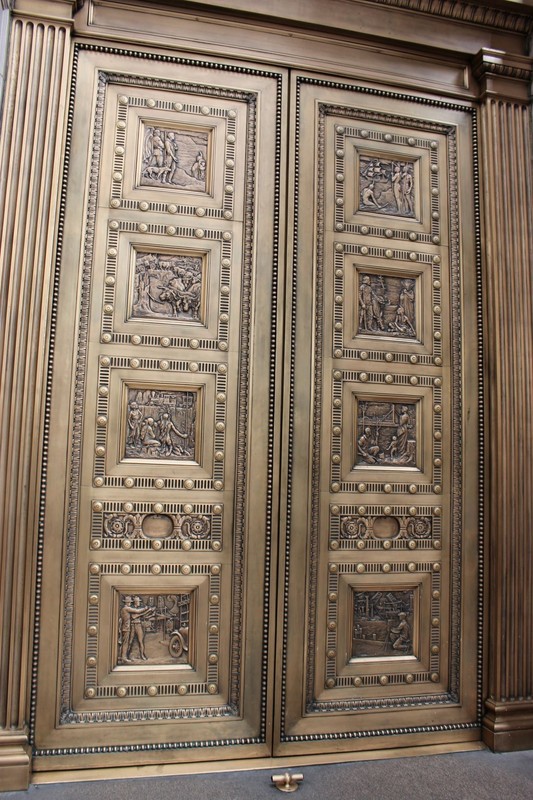 Backstory and Context
The United States National Bank building opened for business in 1917, and roughly doubled in size in 1925. The company eventually merged with U.S. Bancorp, but continues to operate as the bank's main Portland branch.

United States National Bank was established in Portland in 1890. It soon acquired several other banks and outgrew its available space. The 1917 building and its 1925 expansion were designed by A. E. Doyle. Doyle apprenticed in the prominent Portland architecture firm Whidden & Lewis and later studied at Columbia University. He also designed other prominent Portland buildings, including Reed College, three major department stores, the Benson Hotel, the Central Library, and the Pacific Building.

The US Bank building combined classical architectural design with new construction materials: steel frame and reinforced concrete. Exterior decorative elements were made from glazed terra cotta. The lobby interior is decorated extensively with marble. A.E. Doyle designed the addition to blend seamlessly with the original building. The bank later expanded to other locations, most notably the 42-story U.S. Bancorp tower that opened in 1983, but maintained this 1917/25 building. A third-floor museum displays artifacts from the turn of the twentieth century.

The bronze lobby doors were designed by Avard Fairbanks. Fairbanks taught art at the University of Oregon, before returning to his home state of Utah. Fairbanks' design for these doors was inspired by the famous Renaissance-era "Gates of Paradise" doors to the Baptistry of Florence. Doors facing Broadway emphasize 19th century transportation and technology. Scenes include the Lewis & Clark Expedition, a covered wagon on the Oregon Trail, Captain Robert Gray exploring the Columbia River in his ship "Columbia," a steam ship, drawbridge, and automobile. Native Americans appear in several of these scenes as uncivilized observers of manifest destiny. The Sixth Avenue doors emphasize progress through science and enterprise. These scenes resonate with Fairbanks' monumental Pioneer Mother sculpture for neighboring Vancouver, Washington, and other pioneer monuments erected in Salem, Oregon, and throughout the American West. (Lobby doors are only visible when bank is closed for business.)
Sources
Prescott, Cynthia Culver. Pioneer Mother Monuments: Constructing Cultural Memory. Norman, OK. University of Oklahoma Press, 2019.

The Oregon History Project. United States National Bank, Portland. Accessed June 13, 2019. https://oregonhistoryproject.org/articles/historical-records/united-states-national-bank-portland/#.XQK3W4hKhPY.

PDX History. Financial Institutions. Accessed June 13, 2019. http://www.pdxhistory.com/html/portland_banks.html.

Wikipedia. United States National Bank Building. Accessed June 13, 2019. https://en.wikipedia.org/wiki/United_States_National_Bank_Building.

A Century of Possibilities. US Bank. Accessed June 13, 2019. https://www.usbank.com/newsroom/stories/a-century-of-possibilities.html#.


Additional Information