Louis Kohmueller House
Introduction
The Louis Kohmueller House is a historic 19th-century home located in Washington, Missouri. The home was built in 1879 by Louis Kohmueller on property that had been purchased by his father Frederick in 1844. The house is a well-preserved example of typical Missouri-German architecture from the late 1800s. It was constructed with red bricks, which were made using the clay found on the property. The property, which is called the Kohmueller Farmstead, also includes a large barn built c.1908, and smokehouse connected to the main house by a roof. The farmstead is owned by the City of Washington and is operated by the Washington Historical Society, which uses the house for living history demonstrations and tours. The house was added to the National Register of Historic Places in 2000.
Images
The Louis Kohmueller House is a well-preserved excellent example of Missouri-German architecture.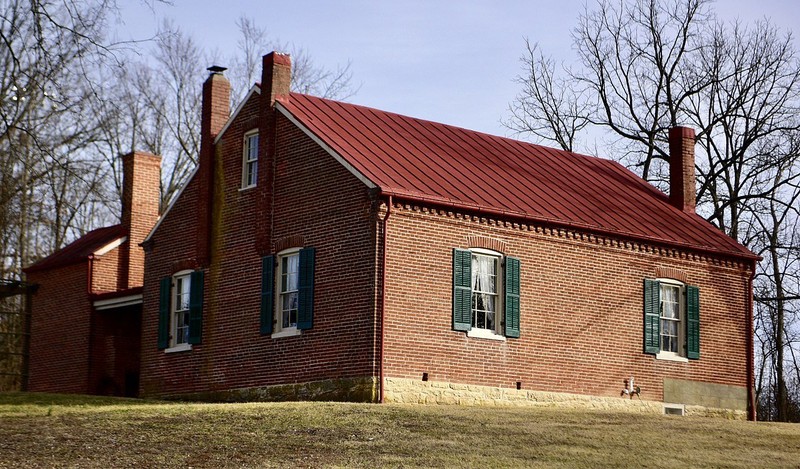 Backstory and Context
Frederick Kohmoller, was born in 1805 in Hanover Province, Germany. He arrived in the United States in late 1843 and made his way to St. Louis by November. In February, he bought the 80-acre property for $900. He married his wife, Anna, in April and they had seven children; five died before the age of nine. At some point, Frederick opened a clay mining business on the property, selling the clay to brick makers in St. Louis. 
When he was 18 (in 1864), Louis joined the 54th Enrolled Missouri Militia; it is not clear whether he participated in any battles during the Civil War. He married his first wife, Anna Niemann, in 1873 and they had a daughter. As stated above, Louis built the house in 1878. He acquired the property by 1885, likely not long after Frederick died (the exact date of his death is unknown). Louis continued to operate the clay mine and the farm, which had various livestock, an orchard, and field crops. He married again in 1878 and had four more children. He died in 1921.
Interestingly, the family made ice cream in the 1920s using ice in the smokehouse and milk from their cows. The property remained in the family until 1947 when one of Louis' daughters moved out due to illness. The house was then rented and fell into disrepair by the 1980s. The city bought it at this time and eventually the property was converted to athletic fields and trails for the adjacent YMCA. The Washington Historical Society acquired the house in 2012.
Sources
"Kohmueller Farmstead." Washington Historical Society. Accessed June 13, 2019. https://www.washmohistorical.org/kohmueller-farmstead. 
Sheals, Debbie. "National Park Service - National Register of Historic Places Nomination Form." September 14, 2000. https://dnr.mo.gov/shpo/nps-nr/00001102.pdf. 
Photo: Wikimedia Commons
https://en.wikipedia.org/wiki/National_Register_of_Historic_Places_listings_in_Franklin_County,_Missouri#/media/File:Louis_Kohmueller_House.jpg
Additional Information